Elizia Volkmann reports
Just over two yeas ago Knitting Industry reported on a brave new knitwear manufacturing venture, which had just opened in London (see: Entrepreneurship at its finest as London gets its first ever high-end fully-fashioned knitwear manufacturer). Elizia Volkmann returns to The Albion Knitting Company to check on progress.
London based, knitwear manufacturer Albion is set to more than double its turnover within three years and become a serious name in the luxury and high-fashion knitwear production market. Founded in 2014, Albion has undergone significant growth in a very short time.
Knitting Industry has returned to talk with Director Christian Murphy about what it takes to be a multi-million-pound venture based in North London.
For Murphy, 2017 is in effect the coming of age for Albion as a knitwear company. "I think that the business has matured in that the workforce feels more professional and more seamless," he said. "In 2015/6, we turned over £1.2 million, which is not too bad, and last year we were £1.8 million and we are hoping to get up to £3 million [this year]."
Now in its third year of business, Albion began running night shifts in May to become a fully 24/7 operation. "We are really concentrating and consolidating and getting the maximum productivity our of factory, which could easily take us to £5 million [turnover]," he said.
Choosing London
Historically, London is not a sourcing destination for knitting, but Murphy took a calculated risk. "First of all, the British knitting industry was really at a low point. I don't think it could have got any more contracted and I'm a great believer about hitting things in the right time in the cycle," said Murphy, who had previously run the successful Beijing based knitting company Alphatex for the Swiss luxury fibre trading company Alphatops SA.
"I felt that the industry was ready for new blood: we had a sister company (in China) that could support a new business in London; without Alphatex it would have been impossible," he went on to say.
"Having the factory in such close proximity to these brands is a significant value for Albion," said Murphy. "For luxury brands who are selling knitwear for a few hundred to several thousand pounds a piece, the customer wants to know that it has been made with integrity and in a factory that shares some of the values that their customers are buying into and I thought that has made a good argument for opening a factory in London and that has proved to be the case."
Core philosophy
Central to the growth of the business is a core philosophy that he brought from his experience running Alphatex in Beijing. "We knit what designers want. We are not a typical old school Scottish or English knitwear factory that has machinery with certain limitations, or knit in a certain way," he explained. "Our motto is flexibility and design, we want to deliver what our customers need and not what we are good at."
"Here we serve design houses, so we have to have the knowledge skills and machinery to deliver very sophisticated and highly varied designs. It means we have to have very good product developers who understand the design brief and highly skilled programmers who are able to interpret the knitwear design through to the software design system using Stoll's M1+." His team includes three M1+ programmers.
Main customers
Albion's main customers are from the Richemont Group. Initially they brought Alphatex "legacy customers" Chloé and Peter Millar. They were followed by Dunhill and Alexander McQueen, and also British Tailoring brand Gieves and Hawkes, currently owned by Li and Fung.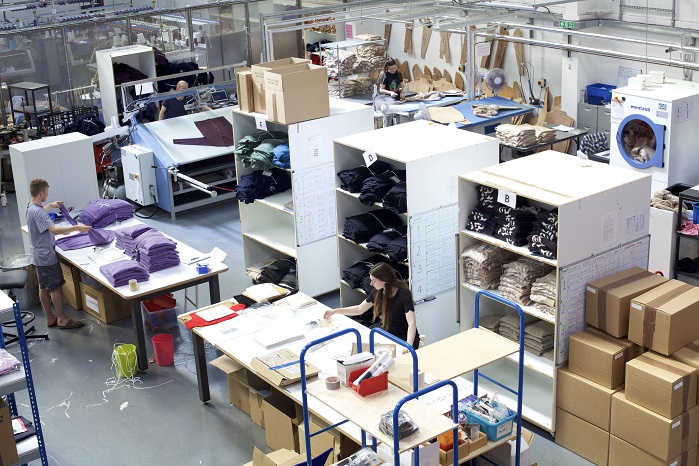 Albion specialises in high quality knitwear in noble fibres. "Cashmere is our biggest seller. We do more cashmere than any other single yarn and we do it in varying gauges, it could be 3, it could be 7, it could be 12 or sixteen we are doing across all weights," said Murphy. The company also works in high quality wool blends.
Training and young talent
Central to the Albion story has been training. The company has trained over 50 people, including 7 apprenticeship graduates. "The biggest changes we've seen are an increase in the skills of our staff," he said. "We feel that they have reached a level of skill now that is commensurate with the type of product we produce. So the training that we did across 2014/5 has really paid off so we have a more stable and skilled workforce than we had in the first 18 months."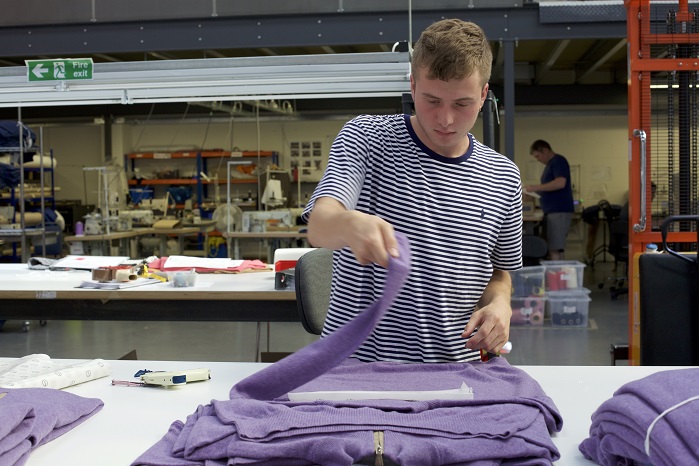 Visiting the factory, Knitting Industry saw a team of young people focused intently on their work – there's not much chitchat just the steady hum of concentrated activity. Murphy also noted the big improvement in professional confidence making the running of the factory smoother.
Technical support
Another ingredient has been technical support from Stoll GB in Leicester. "They have been very supportive on technical and mechanical issues," Murphy commented. For Albion, Stoll has been a good fit. "I think that Stoll is very forward thinking in designing and pushing the boundaries of what is possible in electronic knitting. We have Stoll 520C machines which is basically a hand knit 3-gauge needle bed with sinkers to create certain types of hand knit look to 2.5.2-gauge then we have 7.2-gauge machines. We are well known for our fine gauge and 16-gauge production."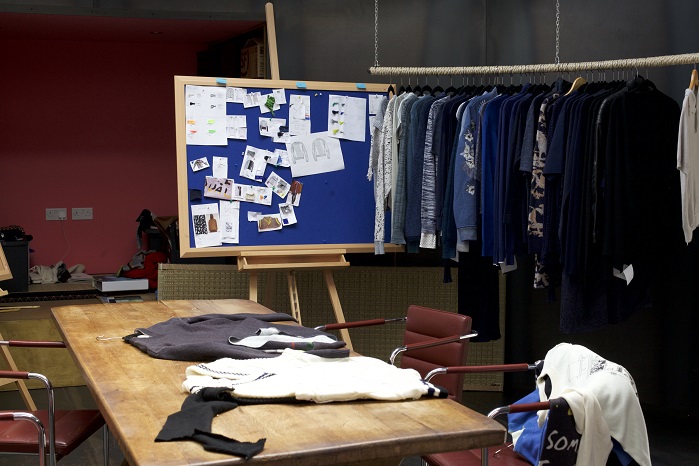 He also believes that "to knit in London you have to supply the global luxury brands or the maths would not work."  A further key ingredient is the company's speed to market. Murphy said: "There is definitely a case for using high value yarns being knitted in UK to reduce production times that could be wasted in shipping yarns spun in the EU to China and this certainly is the case for Italian or Scottish spun cashmere. It would be a disaster if we left the [European] economic area."
Real market value
For now, Albion's London location has real market value. "I think for most of our clients they are happy with Made in England. We haven't had anyone asking us for Made in Great Britain. Some of our Japanese customers have actually asked for Made in London." In practical terms, for many fashion houses, Albion is just a few tube stops away, so no time is wasted in airports waiting for flights and long road trips to factories in Eastern Europe, Turkey or China."
Murphy reflected on where Albion is currently and what he sees is the future for the company. "We are still concentrating on our contract knitting business," he said. He also hinted at future ideas about creating its own brand. He said this was still a long way off. Currently, he said, "a huge challenge for any knitwear business is to start a big spring summer business." He cited the down season as a time when money can be lost.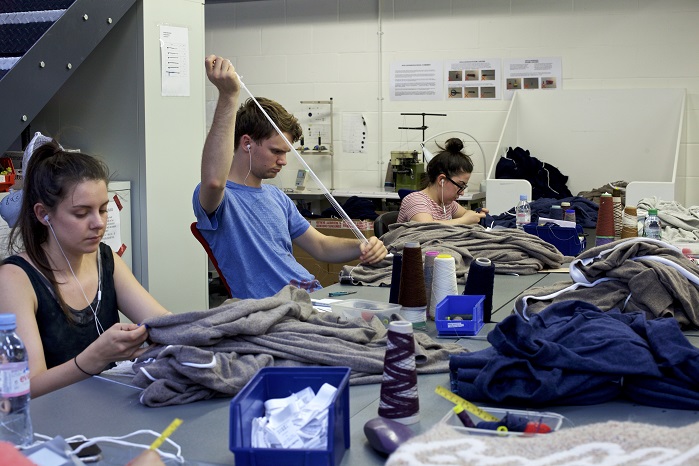 He says the company is looking at "lighter weight fabrics, finer gauge production. "Interestingly enough, spring and summer drop very early these days so it doesn't [necessarily] mean fine gauge." The key issue he says is "convincing [the brand/customer that] there is a place for knitwear in their Spring/Summer collection."
Finally, he said that "to build a good spring summer business really will be a game changer."