Janet Prescott reports from Florence
Pitti Uomo becomes more like an interactive arts event every edition. The 93rd edition seemed more high-octane than ever, as high-quality designer clothes for Autumn/Winter 2018-19 were shown in a series of venues in the Fortezza da Basso and the alluring city of Florence itself.
The exhibition area was this time surrounded by massive cinemas billboards telling the live tale of the theatricals, gathering brightly dressed followers and staged happenings snapped by the world's fashion press. The International Woolmark Prize for Innovation, Womenswear and Menswear, was staged in the old looming Stazione Leopolda, which has its own dramatic allure.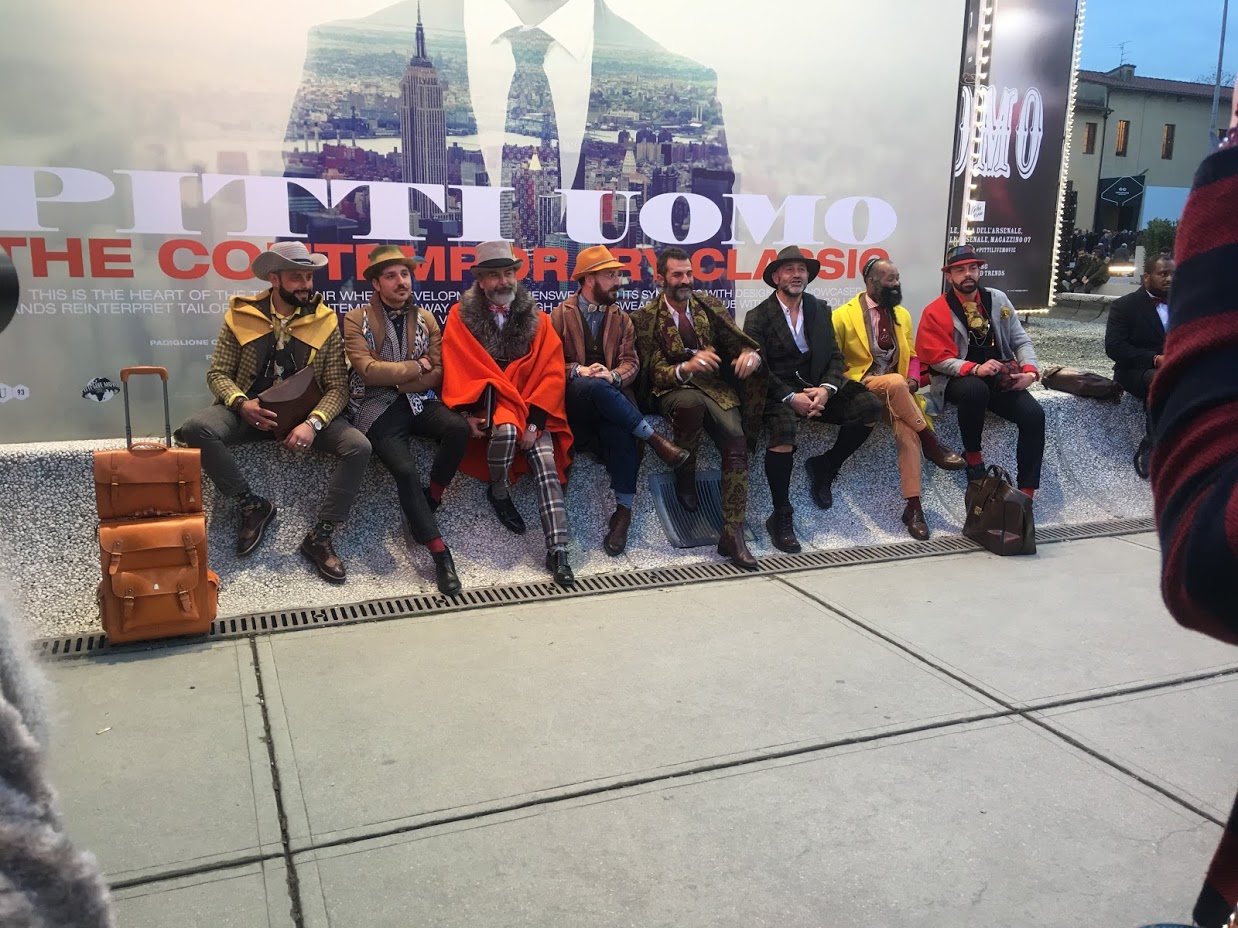 The Gucci museum added extra rooms to its building drawing fashion crowds, while Michelangelo David – the real statue – had fabric images projected on to his famous limbs in the Accademia by Lanificio Luigi Ricceri in a typically Italian confluence of the almost sacred with the modern art form of fashion.
In a show, which was full of layering as a concept, knitwear was an integral and striking part of the mix. It was the clothing layer, which carried pattern and colour, like Fairisles, hand knitted micro patterns, as well as large rope designs and twisted cables, sometimes picked out in different colours as at Z Zegna, while many outer layers were dark and urban, or in stand-out red. Every outfit had an accompanying piece of stand-out knitwear.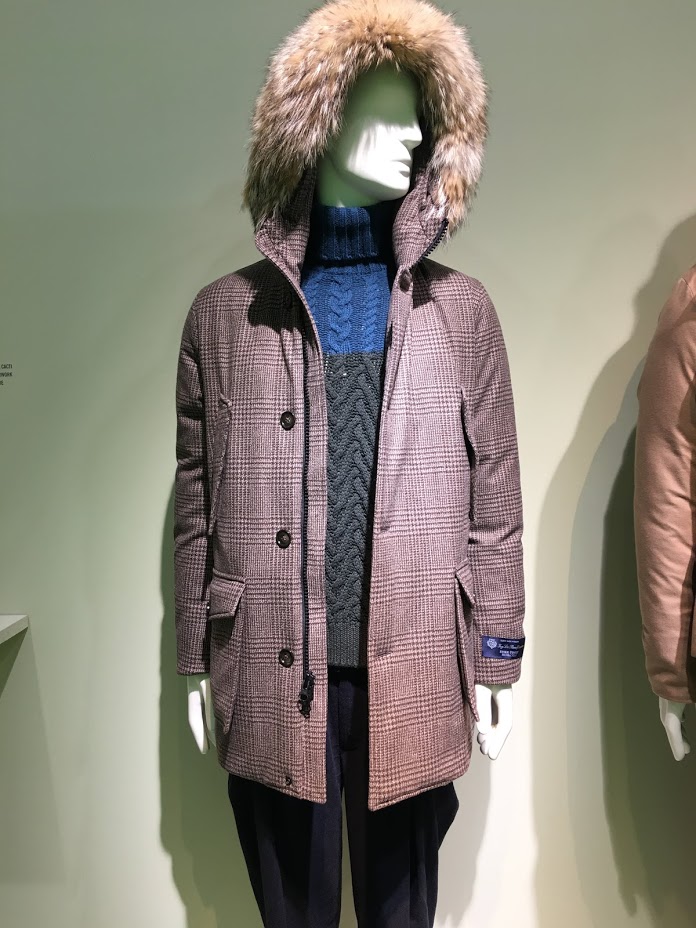 Pure wool in chunky yarns produced large cosy winter jumpers. Knits in general saw hairier yarns like alpaca or mohair, and synthetics added for knops and marls. Finer yarns in moss stitch and fancy patterns gave a ripple effect, contrasted with shiny duvet coat surfaces, brushed cotton shirts and cord trousers. WoolRich, Z Zegna, and Corneliani's label CC, Falke and Eden Park layered sweaters, as a very northern look took hold, faux fur trims, heavy felt jackets, big duvet ski coats. Finland Guest Nation eight designers were in this mode with their own take on clothes and fabrics, many intricately knitted, which seemed to come from the North Country fair.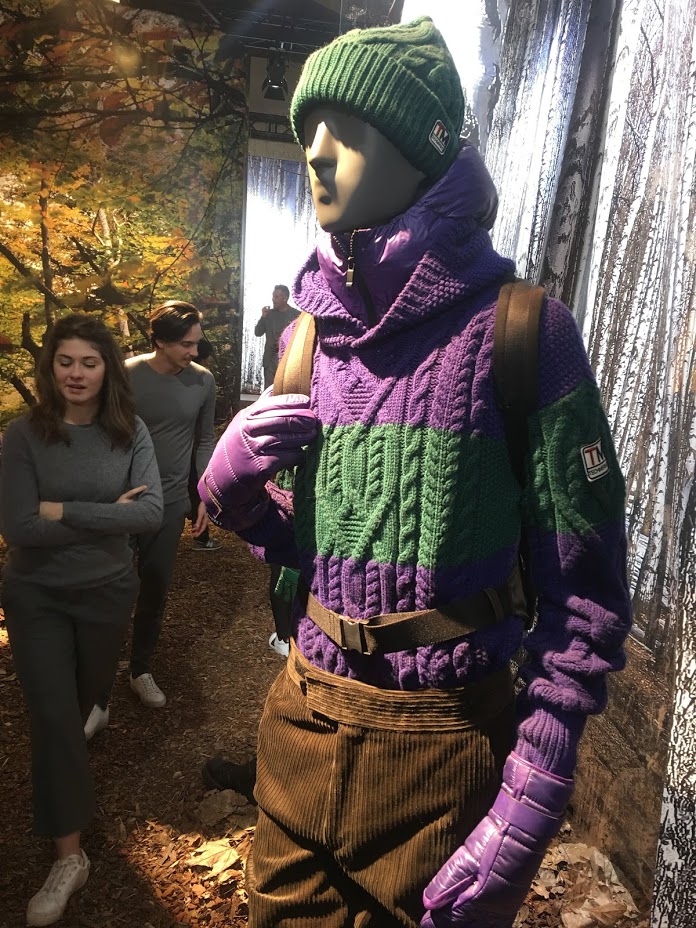 Excellence was a frequent term, targeted marketing emphasising individuality, quality manufacture and raw materials produced in a sustainable way. Cashmere knitwear labels remain a major feature of Pitti Uomo, including stalwarts of innovation, Johnston's of Elgin which had particularly clever jacquards to show. Designers using fine Merino layers took advantage of its natural performance with informative point of sale material.
Colour formed a strong feature of the offer, the cutting edge of the strong ungendered fashion trend. Knits and cardigans for men ranging from pinks and greens to purples and red, Interpreted in traditional knitwear patterns such as Fairisles, transformed into bright face-forward fashion, including genuine, intricate sweaters from the Shetland Islands by Jamiesons.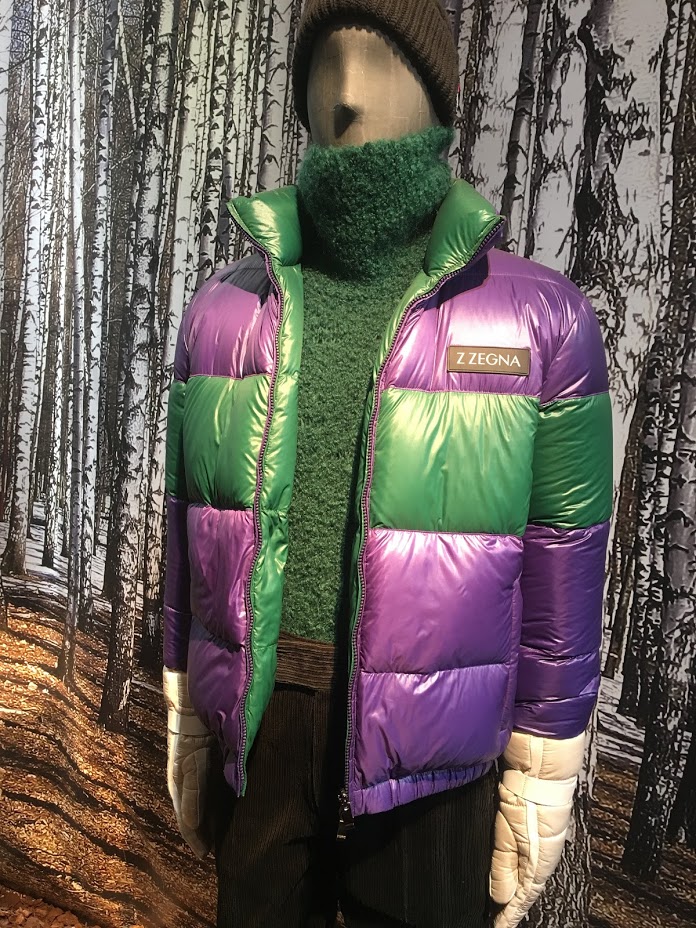 The 1970s thread of Pitti Uomo 93 brought in large cardigans, some loosely knitted, sloppy Joe sweaters, and many examples of large, varied yarn and stitch patchwork, cut and sew cardigans with novelty buttons, bone, shiny plastic, matt surfaces. Large heavy fisherman's knits in navy oiled wool and rope-like cabling were transformed by bright colours like grass green and purple at Z Zegna, polo necks, turtle necks and funnel necks, like salt and pepper marls at Mc Lauren.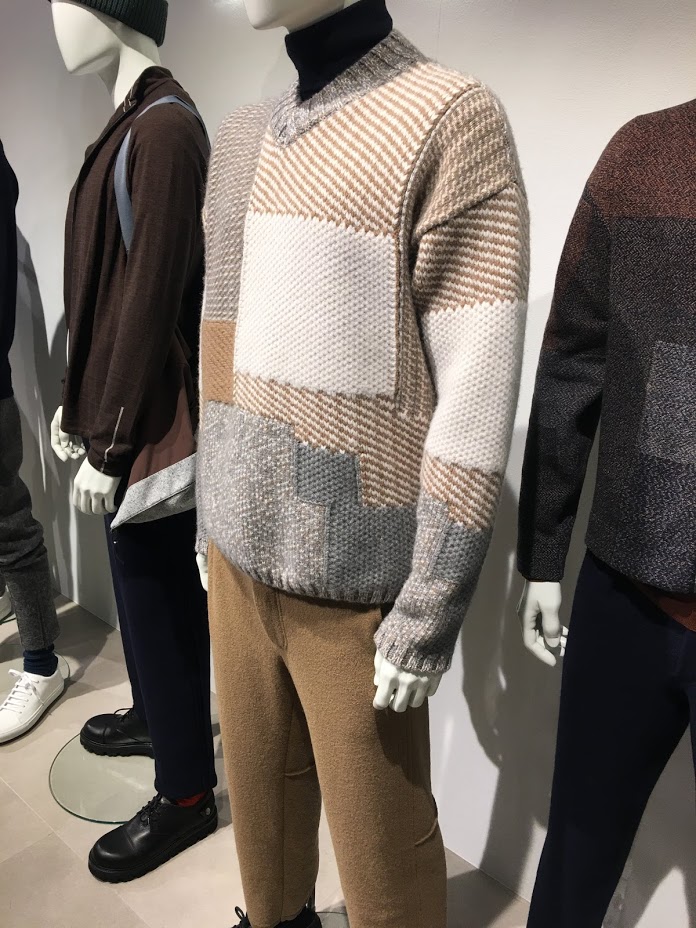 Jumpers had clever effects, knitted in two different colours, the top to the bottom, chevrons at the bottom of the garment fading out to plain at the shoulders. Wide stripes of geometrics, diamonds, circles and arrows gave a recognisable 1960s American crooner look which went well with the short jackets and skinny zipped tops for a clean, retro look. Sporty tops with running stripes at the neck and cuffs had a craft look when knitted in a larger gauge from wool with a slight fuzz on the surface.
Performance requirements in the fashion market extend increasingly to knitwear, with garments needing to be washable, at the very least. Base layers and T-shirts are accepted fine gauge layers which are as likely to be wool as cotton. The wicking and temperature regulating features of engineered collections are high profile, as layers of fabrics and padded over-layers are built up with various qualities to make a responsive set of clothing.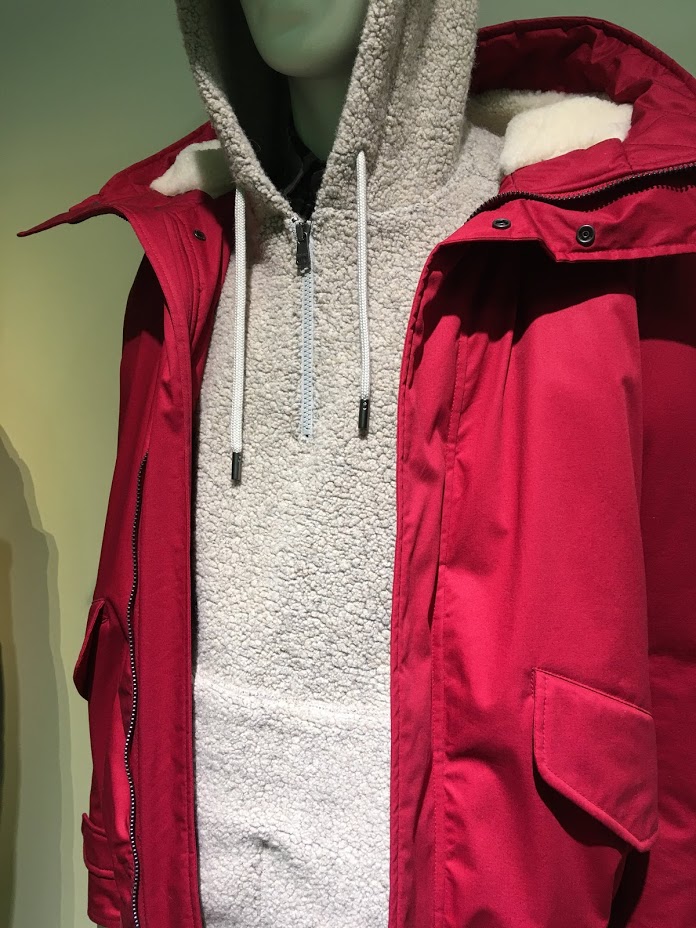 Knitted indoor leisure wear, hard to distinguish from pyjamas in many cases, showed soft knitted tops and trackie bottoms tied in by colour or design, including ranges franchised under designer labels, that being the important feature in many cases, many in sporty jersey. This is a growing area of interest, especially in the Middle East – clothes specifically to wear at home.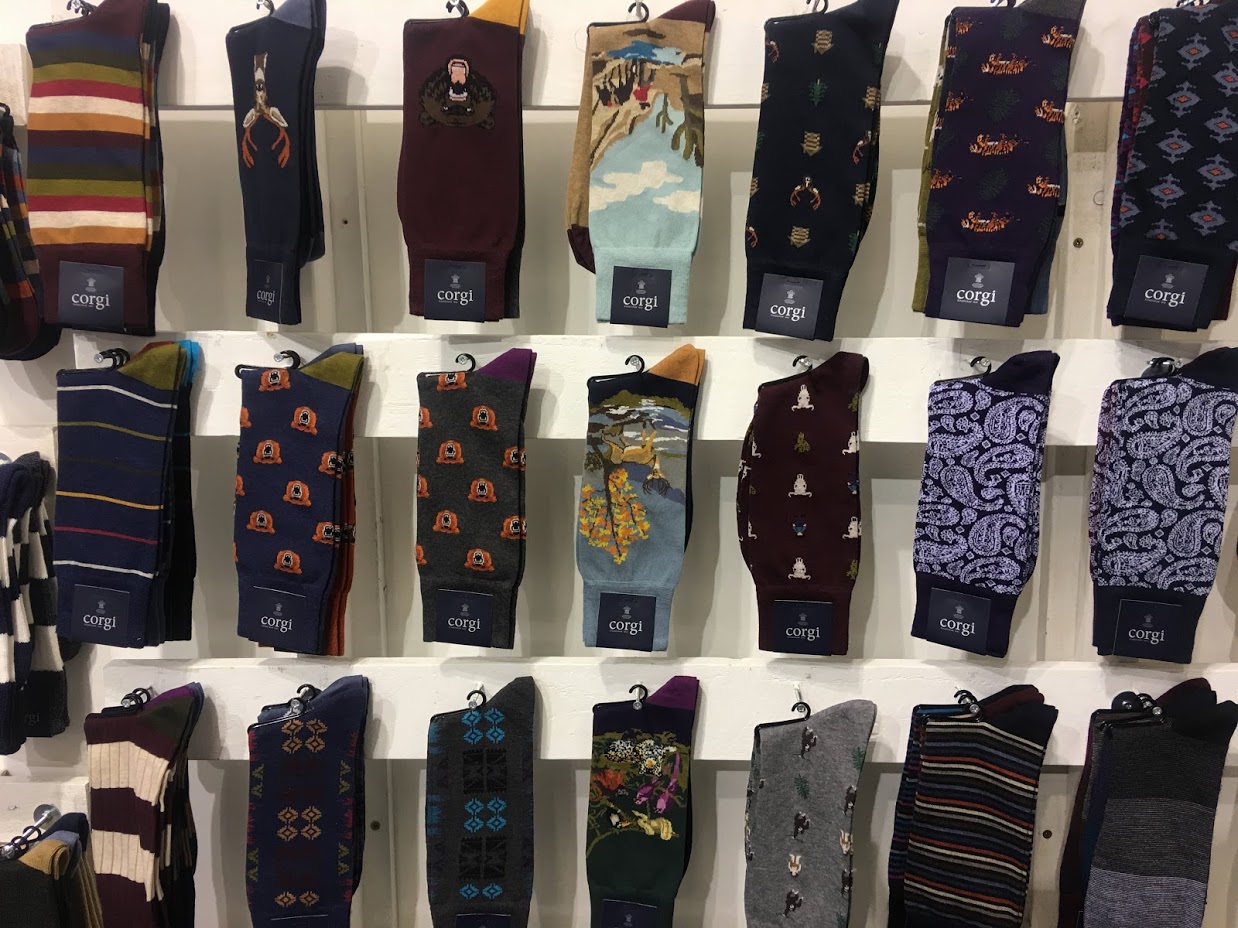 Accessories knitted in a variety of fibres were larger and more flamboyant than ever, long scarves, enormous shawls and standout pieces, both woven and knitted, with jacquards and large-scale art themes. The many sock manufactures present showed highly patterned and wittily coloured designs, ranging from cartoon themes to more sophisticated underplayed images. Corgi Hosiery, socks made in Wales in luxury fibre produce bespoke lines for big names as well as their own upmarket brand, where ribbed hats, scarves in underplayed colours like grey and lemon have been added. Knitted hats perfectly matched sweaters at Falke for an arresting display.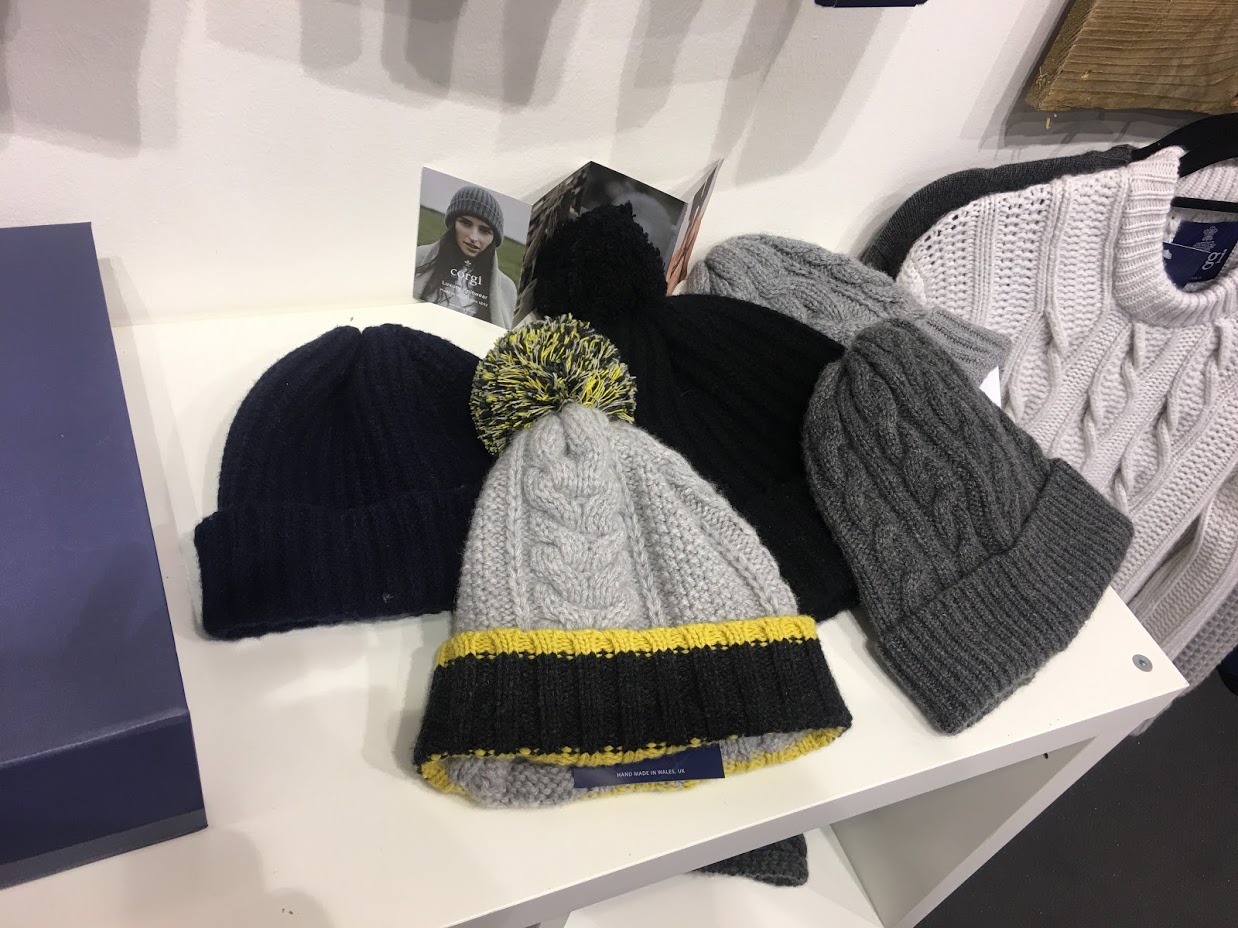 Every menswear item one could imagine could be found at Pitti Uomo in knitted form; jersey trousers, loosely-knitted tweed sports jackets, waistcoats, underlayers and accessories, as designers played about with different fabrics, colours and patterns to achieve a bespoke look.