Charlotte Cameron reports from Florence
At the end January, we travelled to Florence, Italy for the 82nd edition of Pitti Filati, the highly-anticipated knitting yarn event, where designers, buyers and press from over 50 countries descend upon the Fortezza da Basso to see the latest yarn collections from spinners around the world, as well as to explore the latest trends and innovations for the next season, in this case Spring/Summer 2019.
Whilst the majority of new yarn developments launch during the Autumn/Winter showcase in June, there were certainly new developments inspiring and exciting buyers and designers during this edition.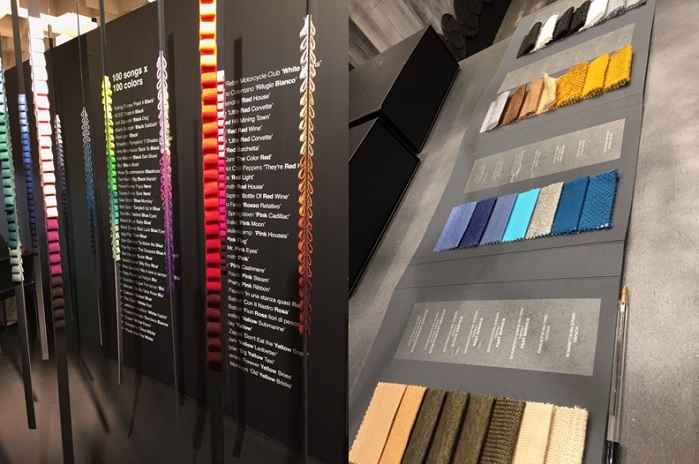 Fine woollen mill Lanecardate, expand from an already sizeable stock-service colour range of 75, to 100 colours in their superfine wool Canberra, offering 5 new exclusive colours for the Spring/Summer 19. Innovative natural fibres from CTF, including a fresh take on the returning popularity of chenille, with Cerulino, a compact linen cotton blend chenille-like yarn in beautiful mottled shades (the vibrant orange citrine is particularly beautiful) as well as a new bi-colour offering in their delave linen range. Printed linen and cotton chainette and mid-gauge yarns at Pecci and Filitaly offer raw yet playful element to their Spring Summer collections, where both mills also showed fine yet lofty luxurious textures in yak and alpaca blends with cotton and linen. At Cariaggi, luxurious summer-season yarn Dublino, a fine linen, cashmere and silk blend, returns to the collection whilst introducing a fine softly spun knitted cashmere and silk boucle, Brisk. Cariaggi acknowledge the raw beauty of hemp with their newest yarn, Field, blending it with cashmere and silk to create a highly luxurious hemp yarn.
Yarn: Sustainability and the New Luxury
Environmental, ethical and sustainability issues remain firmly in the spotlight, with many exhibiting mills showcasing their efforts to address these in their production.
Having joined the Better Cotton Initiative (BCI) Sesia showed a beautiful new colour range for SS19 in their Giza cotton qualities, featuring fresh pastel shades, where over 500 solid and 150 melange colours are available on a stock service. Certified organic cotton and linen fibres were made readily available with a good range of stock-ready sampling colours, and lower minimum orders for non-stock colours.
Filmar continue to be at the forefront of truly sustainable cotton production. For Spring/Summer 19, they showcased Madison, a fine blend of Giza 45 cotton and manually-combed cashmere in a palette of blues and naturals, certified by the Global Organic Textile Standard (GOTS). Their flagship organic Egyptian cotton yarn Nilo remains in a varied colour range, which is fully stock-service. If the long-fibred Nilo wasn't soft enough already, this season Filmar introduce Nilo Chic an ultra soft version of its predecessor, whilst Filmar's eco-friendly hand-picked mercerized cotton range Filscozia launches in 14 new colours for Spring/Summer 19. Zero, Filmar's non-pill cotton returns in 44 solid colours, along with 24 new melange colours, all full stock-service.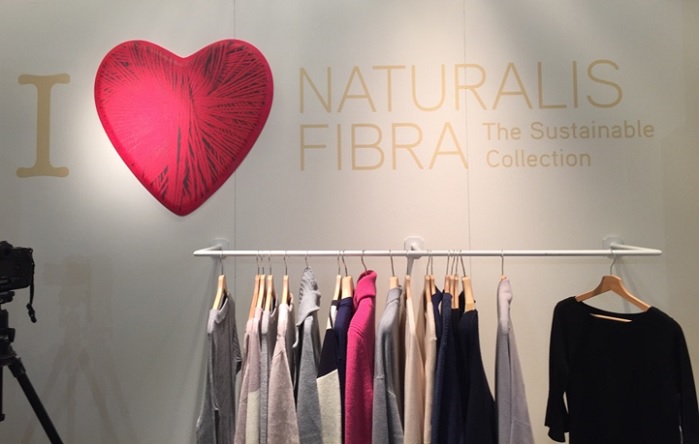 Botto Guiseppe's Naturalis Fibre range expands from its certified non-mulsed Slowool, a luxurious 130s superfine wool awarded silver status certification from Cradle to Cradle. Ecoflax, is a certified organic linen and Slowsilk, a pesticide-free farmed silk. As always, Botto Guiseppe's colour range is extensive, with a vast and beautiful range of colours suited to the Spring/Summer.
RAW Trend
The mood for this Spring/Summer 2019 is RAW, which explores the cause-and-effects of a time of media and technology intensity and overexposure. The Spazio Ricera, Pitti Filati's creative hub, presented this mood across 6 themes, Raw Attitude, Raw Summer, Raw Shelter, Raw Data, Raw Masculine and Raw Feminine.
Raw Attitude strips back excess and refine, expressing raw and instinctive communication through themes inspired by Art Brut. Raw linen, hemp and cotton in tonal and multicolour twists is knitted in uneven brushstroke stripes and patches and uncomplicated stitches in mid gauges. Primary paint colours form the palette complimented with natural chalky tones.
In Raw Summer, we are moved away from the bright, promising mood of what we expect from the season. Our boredom of the expected, and desire for the new, is expressed through cloud bursts and rain storms in the summer, a new tropic. Hazy, undulating layers of crepe knits are streaked with fine, wavering stripes in sunset orange and sea foam green. Play between dry heat and cold rain emerges in a contrast of dry crepe yarns and wet shine fibres.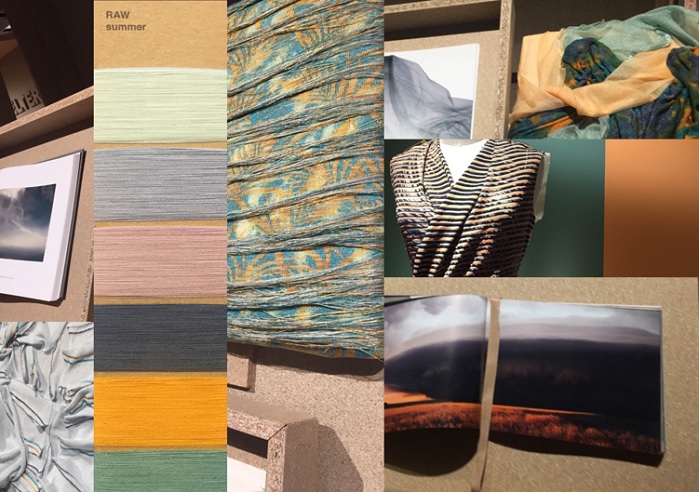 Human, primitive needs are explored in Raw Shelter. Earthly colours of chalky clays, rich soil, natural washed out blues and vegetable green and orange tones. Whilst raw plant fibres feature, synthetics are used to create dense, compact fabrics that can be moulded around the body, whilst fibres with metal elements create fine fabrics with natural crease. Engineered linear stitches imitate primitive mark-making and construction.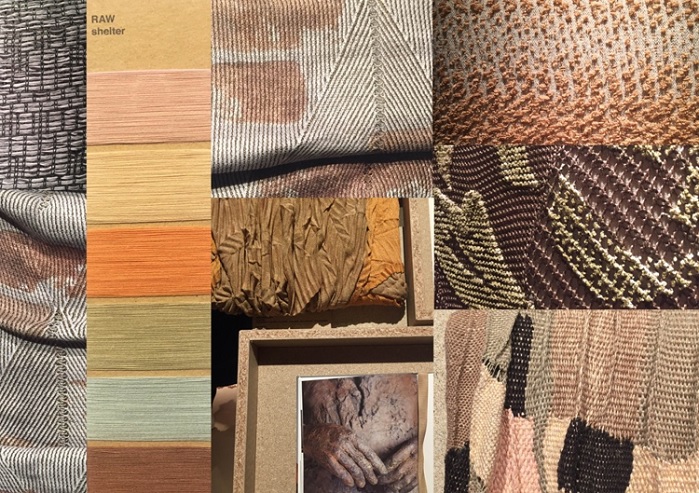 Raw Data evolves from the intensely complex online and technological environments in which we find ourselves. We are pulled away to simpler technologies. The result is a theme of simplified translation, realised in an almost vintage-inspired range of graph and pixel-based patterns. The concept of bringing back human elements of data processing, is highlighted by the use of natural fibres. Whilst the palette consists of primary and secondary solid colour, it rejects notions of fluorescent and highly-technical colour shades, instead opting for an almost over-exposed range of blues, reds, greens, pinks and yellows with a grounding void of black.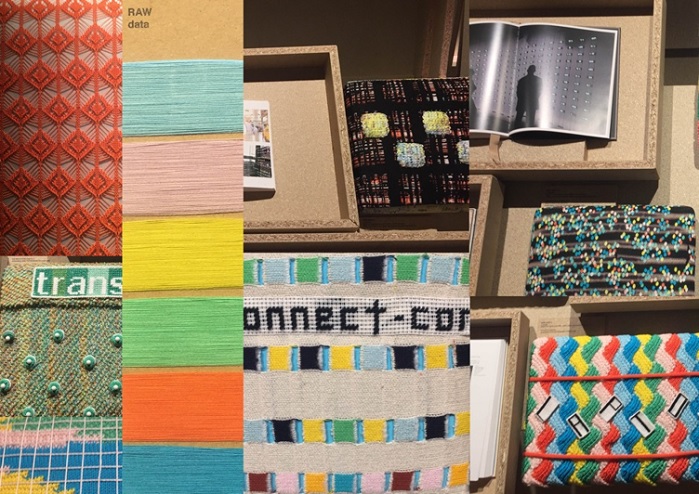 Raw Masculine explores the search for a new masculinity. One that is quietly confident, well-balanced and self-assured. He has moral strength and elegance. His strength of mind and body is raw, not veneered or promoted. Rough charcoal and oil painting inspires a tough yet tactile knit. Essence is portrayed through fine woollen layers, whilst utilitarian knits form in geometric and linear stitch work. Solar-warm colours of red, orange and yellow soften the carbon greys while faded canvas green grounds the palette.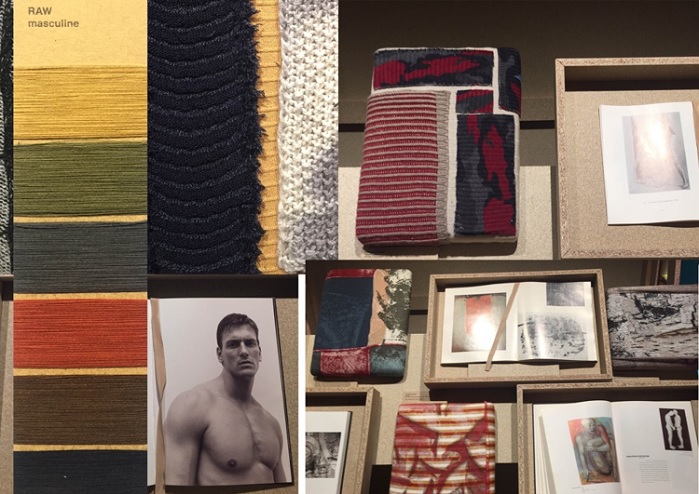 A visual protest of feminine freedom underpins the theme of Raw Feminine. The wild and natural woman is presented in curving and frilled stitches. The anatomy is printed, stitches and manipulated on the fine silk, crepe and shine synthetic knits in shapeless silhouettes. Ordinarily unpleasing colour contrasts of pinks and reds are countered by pure and sensitive white and nude tones. Intimate pieces are not hidden yet expressed openly.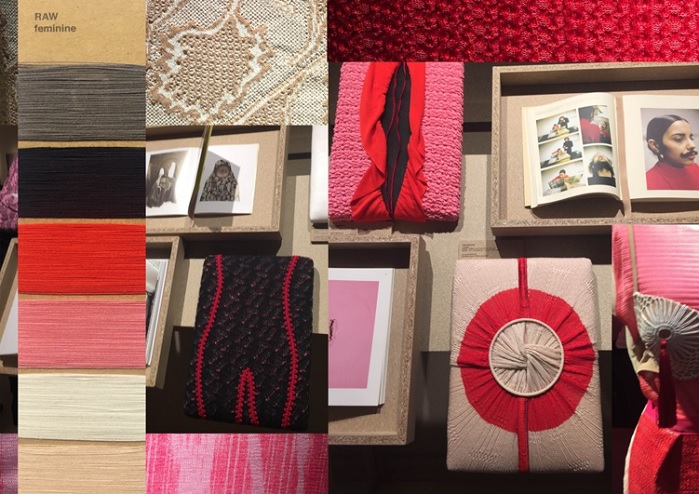 RAW explores a new humanity, emerging from the over-processed, the over-complicated and the over-precision. The emergence of a new freedom, expression and interaction.
Knit – Craft, Raw, Vintage Crepe and Compact Texture
Across the stands, yarns were showcased in craft weave-like stitches, vintage cables, frills and bobbles in modern crepe yarns, compacted and irregular textures and raw pleats. At Lineapiu, cobweb, unfinished calico-coloured frills sat alongside heavy tapestry-style stitches in a hazy citrus green, whilst primary-coloured weave-like fabrics in naïve scale were realised in heavier gauges.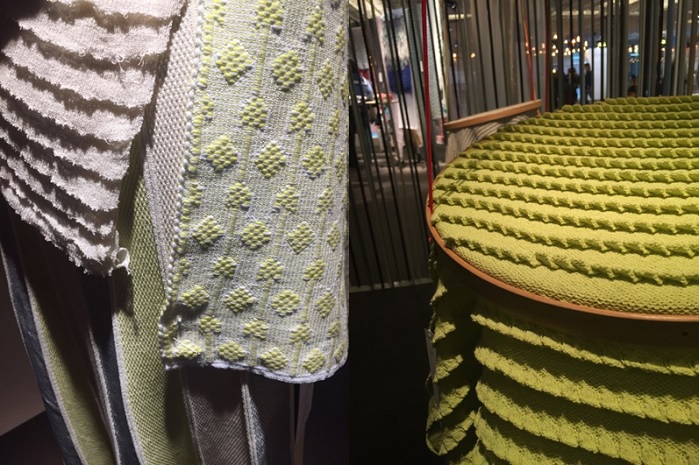 At E.Miroglio, their modern viscose yarns were showcased in a simple vintage femininity. Viscose crepe and tightly-spun chenille-like yarns were knitted up in compact vintage cables and bobbles, whilst superfine viscose and filaments were shown ultra-lightweight blouse silhouettes.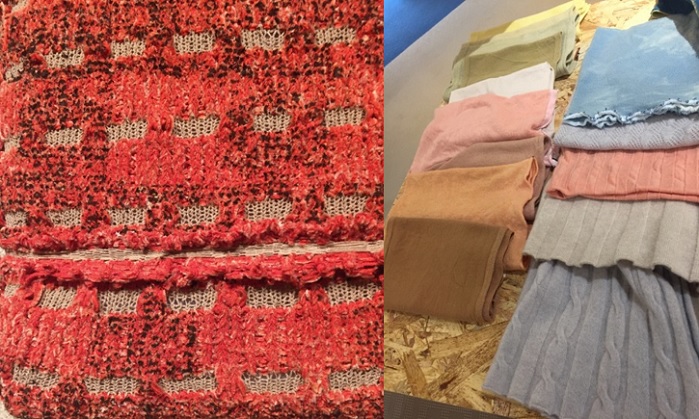 Pitti Filati 82 was underpinned by a strong sense of acceptance, and drive to innovate sustainability throughout the knitting yarn industry on a wider scale. From raw material traceability, through environment, human and animal-friendly production, as well as innovations in non-polluting dying and spinning methods designed to produce longevity. The Spring/Summer 2019 yarn collections and trend resources give promise to expressive textures, playful and comforting colour palettes and uncomplicated applications for the season ahead.