Born out of a collaboration between Studio Eva X Carola, Pauline van Dongen and Santoni Innovation Center, the Radius travel backpack blends tactile knit structures with an ingenious construction that provides utilitarian qualities. Designed for the nomadic lifestyle, Radius fits all essentials for a weekend trip. The round volume and soft contours of the backpack appear to merge with undulating landscapes, while the graphic patterns made up of dots and ridged lines echoes the geometric appearance of urban architecture.
The concept for this design stems from the exchange between Pauline van Dongen, a Dutch fashion designer specialised in wearable technology, and Studio Eva x Carola, which is at the forefront of innovation in performance textiles, apparel and footwear.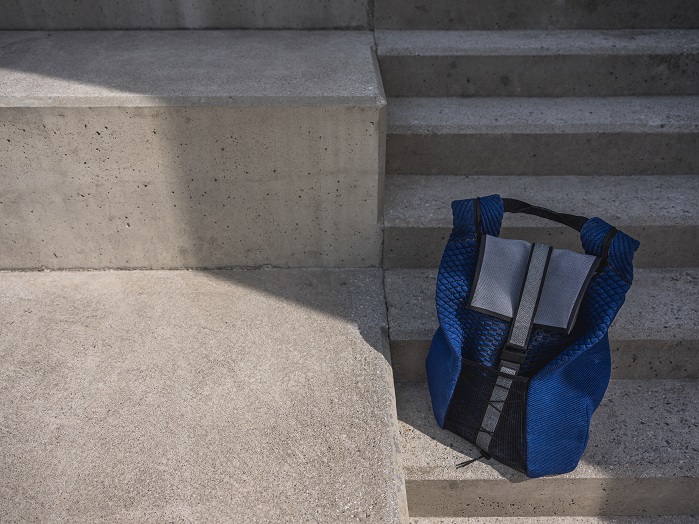 Both designers share an interest in researching materials and are fascinated by the endless possibilities in seamless and circular knitting. Material properties guide their design process in rethinking construction and engineering to open new aesthetic and functional dimensions. At Santoni's research and development Lab in Shanghai, their explorations led to the creation of a bold design that embodies an All-In-One approach, whereby something is produced entirely out of one piece, directly on the machine. A data driven design where the technology is paramount in generating a 3D product by tailoring yarn and machine settings on a stitch by stitch level.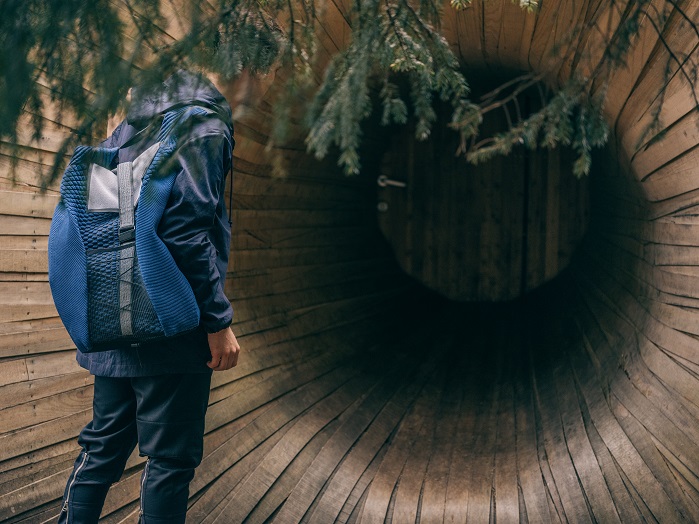 Santoni (Shanghai) is a circular knitting machinery company specialising in seamless, large diameter and socks knitting machinery. Radius is constructed out of a single continuous knitted piece and tailored to explorers on a short escape. Specialty yarns, such as expansion yarns are mixed with high shrinking effects. This creates a variety of densities and give an additional structure and form to the engineered patterns. By utilising the double jersey machine, the material smoothly combines single layer fabric with double layer fabric. The 3D structures in the double layer material help to reinforce and give extra padding the backside and shoulder straps, thus providing necessary comfort.
The strap that runs across the front of the backpack has a very different appearance. From afar, it appears to blend with the knit of the top lid. But a closer look reveals how light breaks on a beaded surface. "This magical material holds secret powers: each bead is a tiny spherical solar cell that is woven into the fabric, creating a unique energy harvesting textile. The strap opens with a magnetic closure, giving access to a pocket hidden in the top lid to access the charging cable connected to the solar strap," according to the designers at Studio Eva x Carola.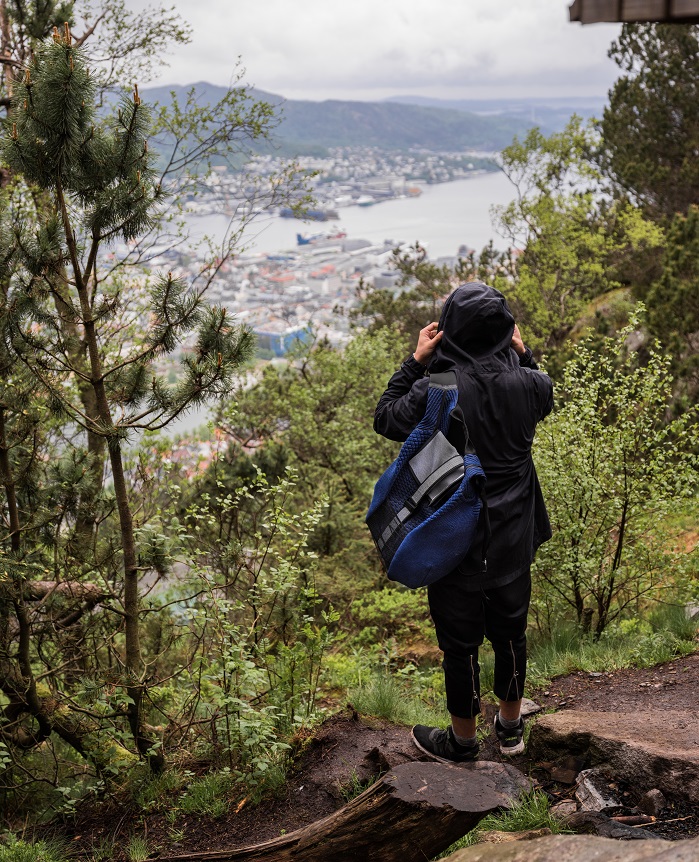 "We travelled to Norway to take the Radius backpack on a hike through the magnificent nature that surrounds the city of Bergen. There we plunged into an environment that had served as inspiration for the design; one that mixes both raw and serene qualities. Resembling the blue colour of distant mountains and deep waters, this backpack invites you to get lost."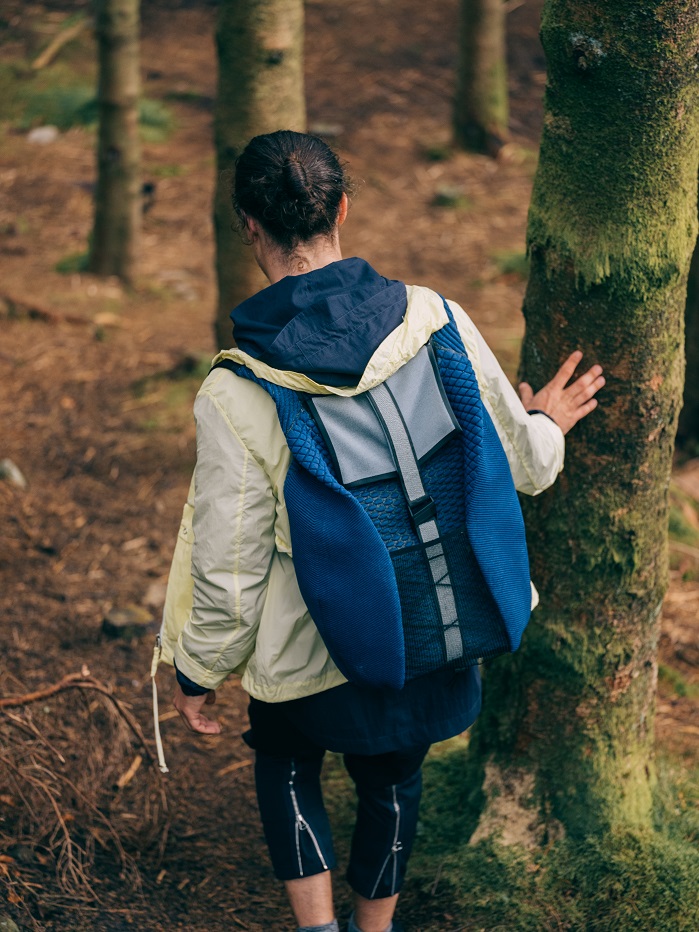 Studio Eva x Carola researches and develops creative and functional concepts and future textiles, specialising in seamless and circular knit techniques. It also explores alternative fabric production methods bringing a new dimension to activewear.
Article republished with the kind permission of Studio Eva X Carola
Credits
Photography by Ola Krondahl
This project has been developed with the kind support of the Creative Industries Fund NL. A special thanks to the Knarvik Church.
Radius will be exhibited at the KEYHOUSE at Munich Fabric Start, from 30 January – 1 February.
Contact
Studio Eva X Carola
E-mail:  [email protected]
Phone Eva: +86 186 1144 5379 (Shanghai time zone)
Phone Carola: +44 7809 447557 (London time zone)