The Shima Seiki 55th Anniversary Celebration, a fabulous Japanese celebration of six decades of innovation, was held at the Wakayama Big Whale indoor arena on the 16 and 17 November 2017, in the company's hometown of Wakayama City, in Japan's Kansai region, on Honshu island's Kii Peninsula.
The leading Japanese machine manufacturer, which is currently experiencing unprecedented demand for its advanced machinery and design systems, graciously hosted over 1500 guests from around the world (740 people on 16 November and 780 on the 17 November) to celebrate its 55 years in business.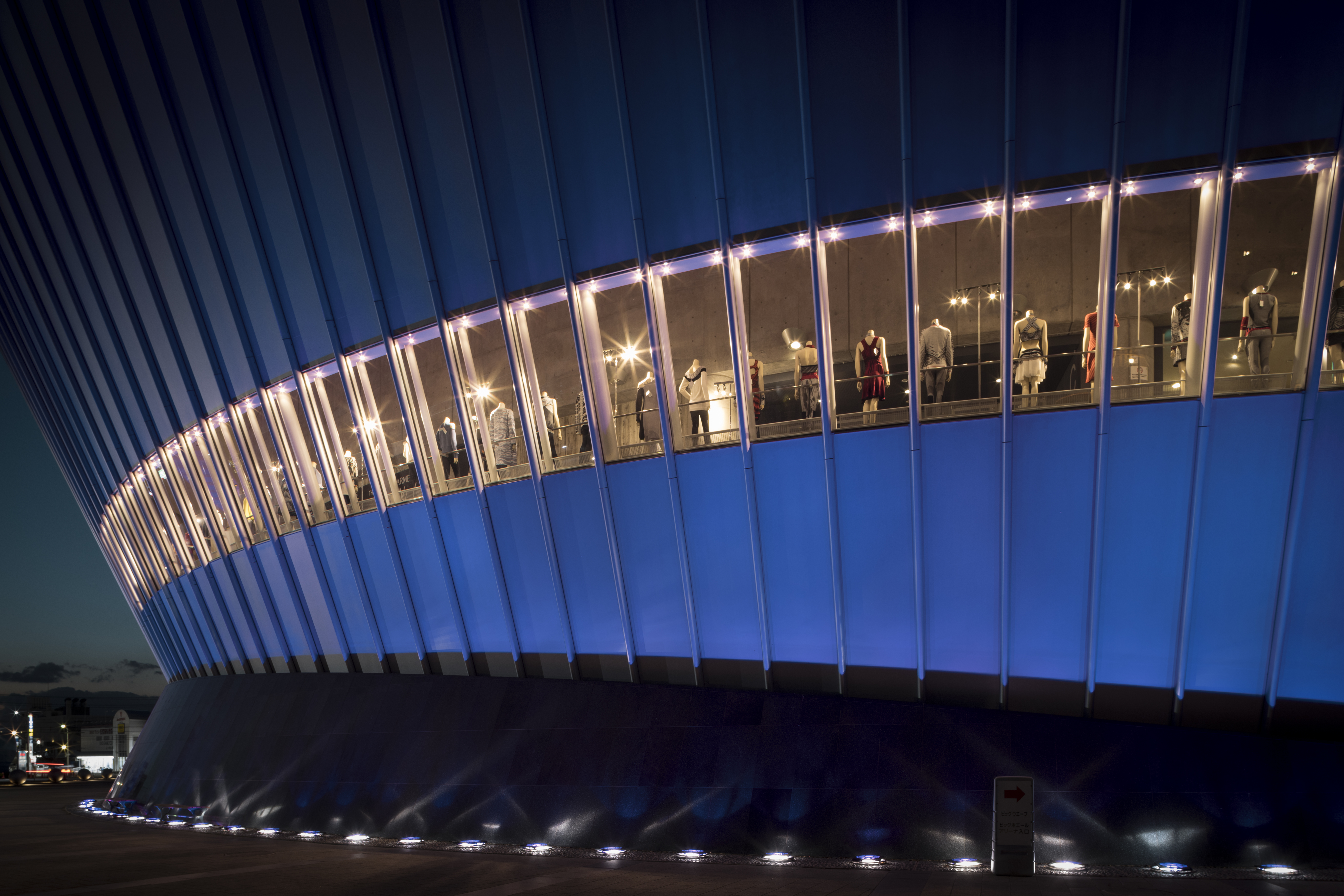 World firsts
The company was founded by current Chairman, Dr Masahiro Shima, when he invented the world's first seamless glove knitting machine at a time when all clothing was made using traditional and labour intensive cut and sew methods. Shima went on to find global success with its glove knitting and flat knitting machines in the 1980s, and by the 1990s was a recognised world leader in in its field. In 1995, the company launched its revolutionary labour saving WHOLEGARMENT knitting machines, which allowed sweaters to be knitted in one piece on the knitting machine without the need for cutting or seaming afterwards – another world first.
International gathering
At the main event, guests attended an extensive knit sample and machine exhibition followed by a spectacular fashion show and dinner party at the Big Whale, where 35% of visitors came from Japan itself with the remaining 65% coming from all corners of the globe, including China and Hong Kong, Korea and other parts of Asia, India, Bangladesh and elsewhere in South Asia, Italy, UK, Spain and Portugal, Eastern Europe, Turkey, Africa, USA and South America.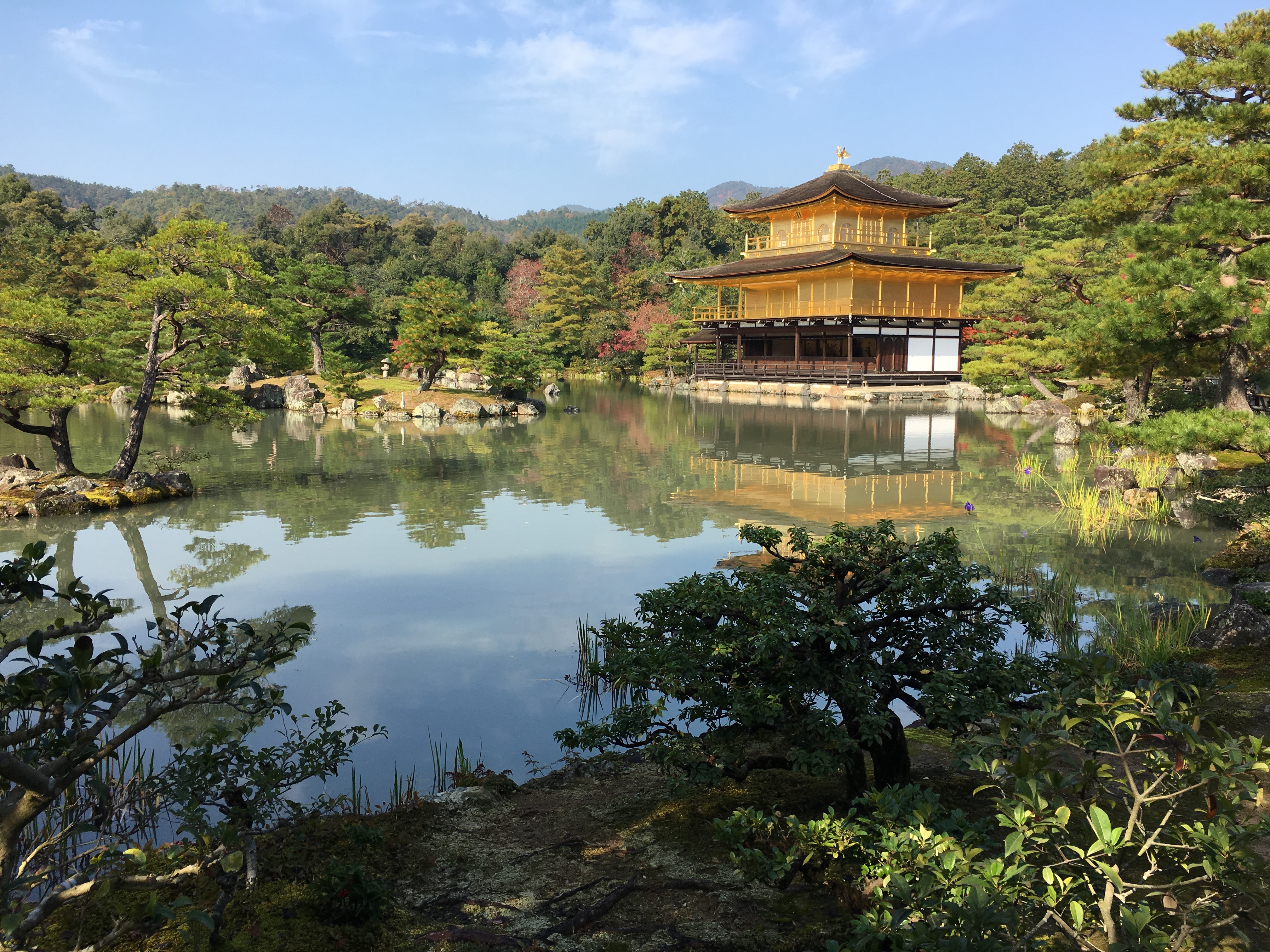 As well as attending the festivities at the Wakayama Big Whale over two days, many guests were treated to guided tours of Kyoto, Japan's old Imperial capital, Osaka, Tokyo and other locations and visited Shima 's headquarters and manufacturing facilities in Wakayama, were they were personally greeted by company president Mr Mitsuhiro Shima and Chairman Dr Masahiro Shima.
Shima is currently producing around 70 machines per day with approximately 1400 staff, an unparalleled position in the company's history. Such strong demand is now driving the company to invest more and more in the automation of its production processes, and this was very evident during a tour of the factory.
Machine Zone
A visit to Shima Seiki means that there is always something new to see from a technology point of view, and this visit was no exception. In the Machine Zone on the ground floor of the arena, Shima showcased no fewer than 8 of its latest technology flat knitting machines, a prototype glove knitting machine, its innovative SDS-ONE APEX3 design systems, an advanced 3D body scanner and a compact version of its inkjet printing machine, along with a wide range of knitted garments and other items.
Flagship MACH2XS WHOLEGARMENT machines
Introduced at ITMA Milan in 2015 on the 20th Anniversary of WHOLEGARMENT, MACH2XS is now Shima Seiki's flagship machine, and its most technically advanced computerized flat knitting machine to date. Three MACH2XS machines were shown at the Big Whale exhibition – a MACH2XS123 in gauge 8L, a MACH2XS123 in gauge 15L and a MACH2XS123 in gauge 15S, knitting a range of medium and ultra-fine gauge WHOLEGARMENTS.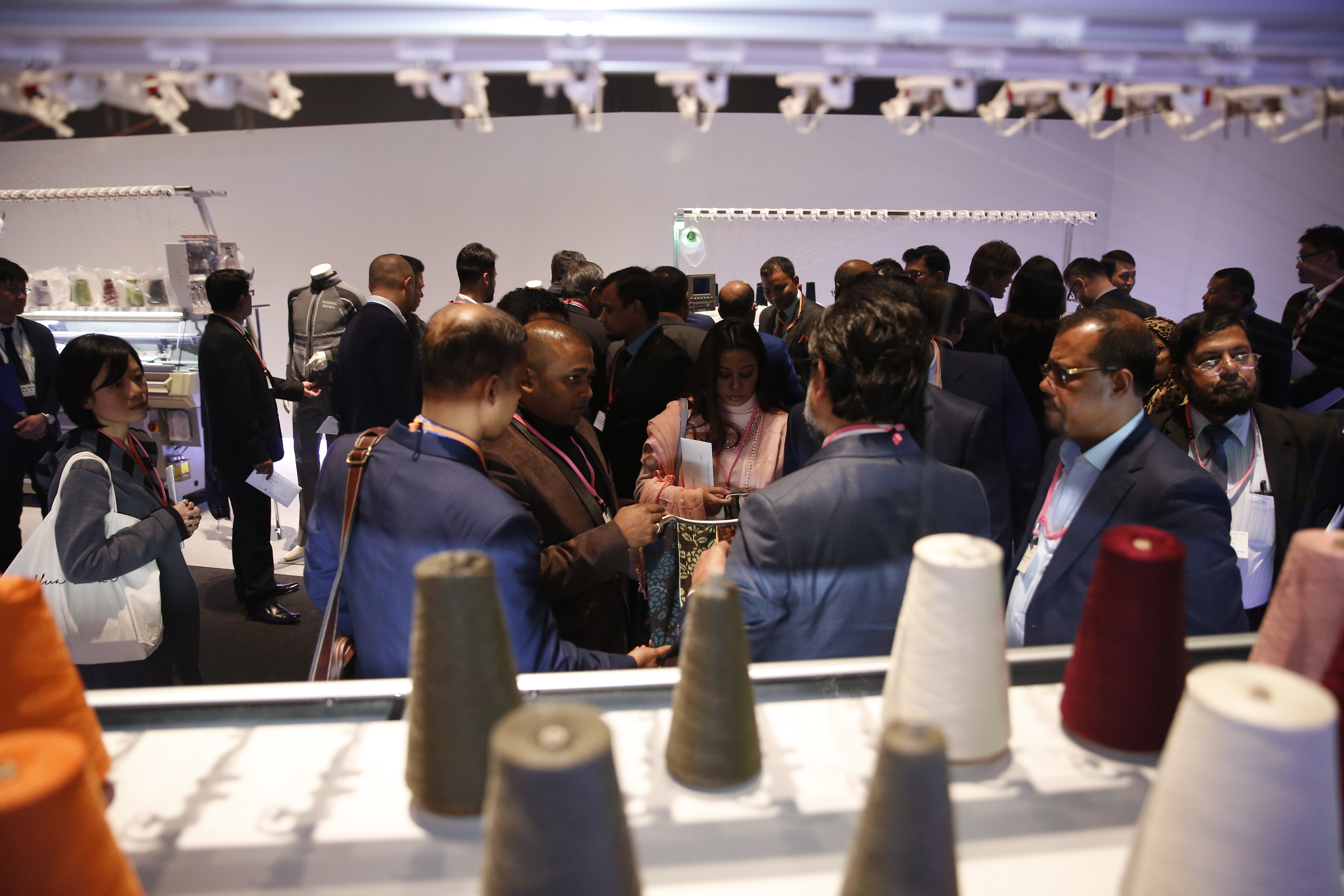 SlideNeedles on 4 needle beds as well as i-DSCS+DTC digital stitch control are continued from the MACH2X series, permitting high-quality knitting of sophisticated WHOLEGARMENT knitwear in all needles. MACH2XS adds to that capability Shima's patented spring-type moveable sinker system for even greater range of patterning and knitting of dimensional structures.
For the 55th Anniversary celebration, MACH2XS evolved even further with a dual comb used for fabric takedown being shown on one machine. A conventional takedown comb is used for taking down the body while a split comb is used for taking down sleeve fabric, allowing independent takedown of different portions of the garment. This eliminates the need for knit waste that was previously required for knitting short sleeves to make up for the length difference between body and sleeves.
One of the MACH2XS machines exhibited at ITMA Milan had featured a prototype version of the dual comb, but a small triangular piece of waste knit fabric was still required for knitting short sleeves. The latest dual comb option on show in Wakayama now means zero waste is achievable.
SWG Mini range extended
Three SWG Mini machines were exhibited at Wakayama celebration – an SWG061N2 in 15 gauge, an SWG 091N2 in 18 gauge and a brand new SWG091N2 in 5 gauge, the new coarse gauge option in the range.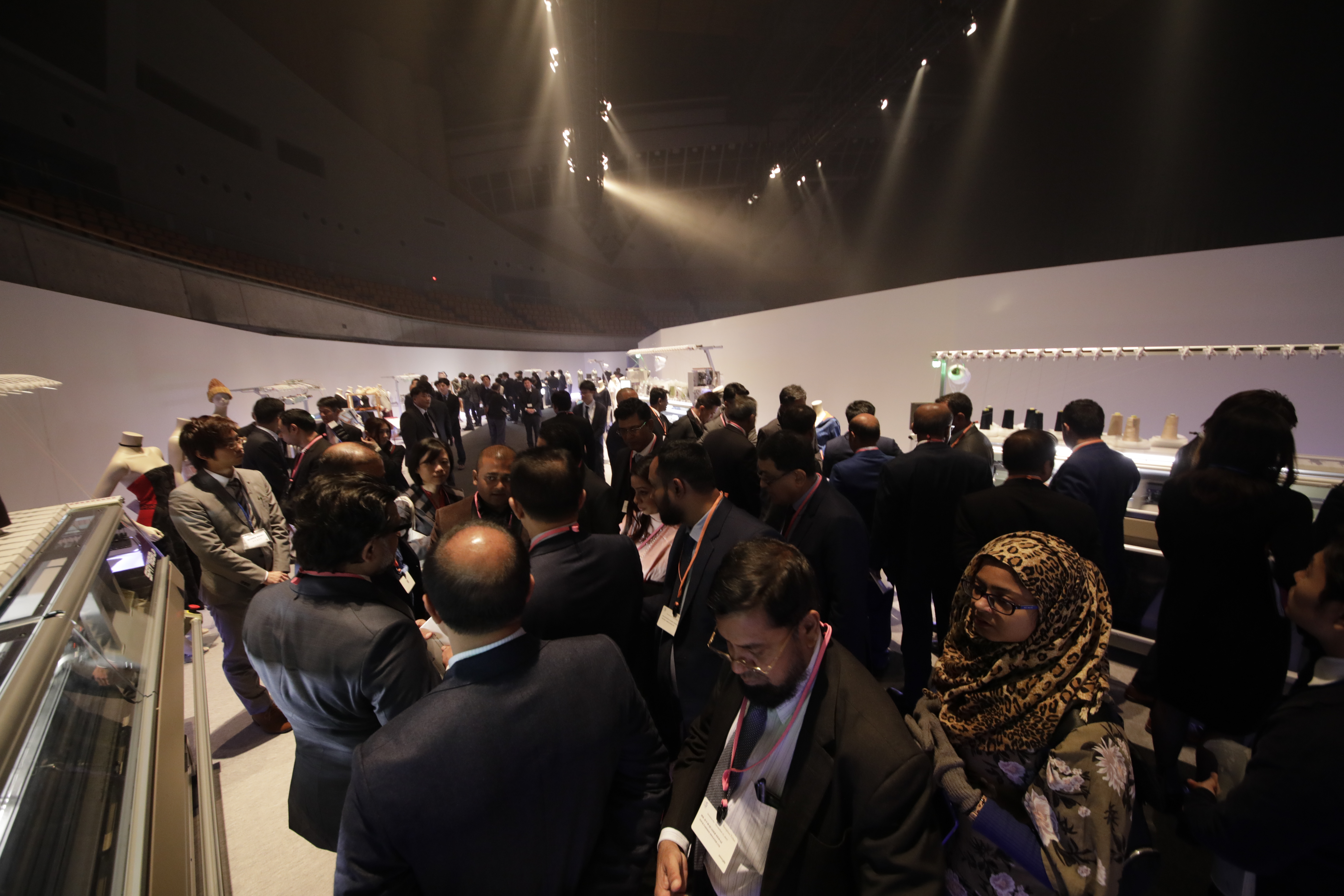 Affectionately referred to as SWG-Mini, Shima Seiki's compact SWG-N2 line of WHOLEGARMENT machines allows producers to enter the WHOLEGARMENT market with minimal investment. The SWG-Mini line-up now includes 4 different knitting widths for a whole range of specialized applications and depending on the model, they are capable of high-quality knitting of WHOLEGARMENT gloves, socks, five-toe socks, leg warmers, scarves, mufflers, hats, neckties and other accessory items, as well as smaller garments such as kids wear and ladies' legwear and tank tops.
New options for knit-weave fabrics
Shaped knitting was represented by two machines with inlay capability for producing knit-weave hybrid fabrics at the show. The first, an SVR123SP-SV in 14 gauge, featured a loop presser bed mounted above the rear needle bed. It also featured the new i-Plating option that allows inverse-plating capability within the same course and for individual needles (see – Shima Seiki releases new i-Plating option for details of i-plating).
With even further capability for producing inlay fabrics, an SRY183LP-SC 16 gauge machine on show featured two loop presser beds mounted above both front and rear needle beds. Garment-size knitting width (72-inch / 180cm) allows the SRY to produce fabrics for long dresses by knitting sideways on with unlimited hem length using short row knitting. Intarsia patterns can be produced without the inefficiencies normally associated with it.
World's finest glove knitting machine
In glove knitting machines Shima has gone back to where it all started for the company in 1962 with another world first. The world's first glove knitting machine featuring 21 gauge needles mounted in 21 gauge needle pitch, capable of knitting true 21G fabrics was shown in prototype format. New features such as a removable needle selection drum and belt-drive, allow size changes without exchanging needle selection drums. Efficiency and productivity have improved, while maintenance has become easier.
3D Scanning Device for bespoke knits
Visitors were also given a demonstration of Shima's now fully developed 3D Scanning Device, which features LED strobe lights that allow super-fast body scanning (approximately 1 second). Over 7 million points of data are then transferred to the Shima SDS-ONE APEX3 design system for processing and, ultimately, knit programming of custom-fit knitwear. The system can also be used to produce other knitted items such as bespoke graduated compression medical devices for treating diseases like lymphedema and healing venous ulcers.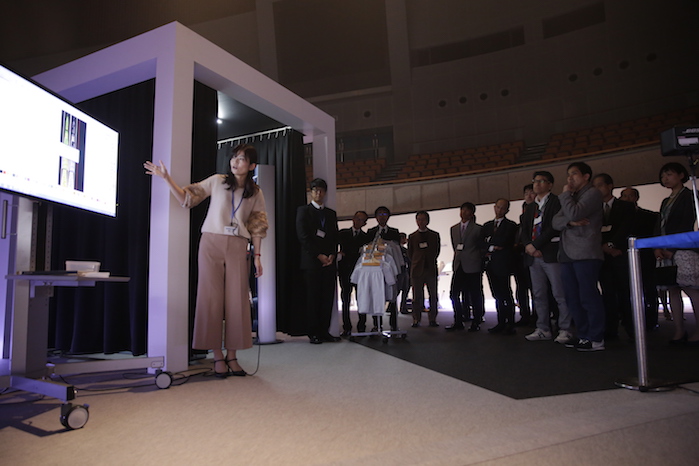 Compact inkjet printer
On the garment/fabric printing side Shima showcased an SIP-160F3S digital ink jet printer, the compact model in the SIP-160F3 line-up. Now with capability to print with reactive dyes, acid dyes and pigment inks, including white colour, the SIP is capable of printing on a very wide range of fabrics and garments.
Shima Seiki is your Sustainable Soulution!
The Sustainability Area showed the current problems facing the textiles industry in terms of working conditions, environmental concerns and economics, with a video presentation explaining these concerns and Shima Seiki's solutions to the problems being presented to visitors.
According to Shima, an estimated 152 million children or 10% of the global population of children are engaged in child labour, 73 million of whom are in forced labour to meet tight deadlines or unanticipated orders.
On the environment side, the company points out that the apparel industry accounts for 10% of global carbon emissions, making it the second most polluting industry in the world with 15.1 million tons of apparel industry waste going to landfill – one million tons of which are knitted garments.
On the economic side, Shima highlights long lead times of 14-18 months which lead to loss of value through poor forecasting, excessive and unnecessary sampling leading to excessive waste and over production leading to discounting for disposal of inventory, as the main issues.
The presentation compared traditional sampling and manufacturing with Shima's virtual sampling via its SDS-ONE APEX3 and WHOLEGARMENT manufacturing processes, citing the following social, environmental and economic advantages for its solutions:
Decrease in the number of labour-intensive processes, while decreasing overtime and overcrowding at factories
Reduction in carbon footprint, raw material consumed and textile waste with the APEX3 and WHOLEGARMENT technologies
With the APEX3 and the WHOLEGARMENT knitting machines, garments can be produced in real-time, reducing the overall timeline
Minimisation of overproduction and excess inventory
The presentation closes with the new Shima Seiki sustainability mantra – Shima Seiki is your Sustainable Soulution!
Future Zone
In the Future Zone, 3D Virtual Models created on Shima's SDS-ONE APEX3 were combined with the latest VR (virtual reality) technology in order to present a virtual showroom. Four rooms were available for experiencing the virtual showroom using VR goggles. The experience was amazing and virtual sample details were remarkable, although the experience was initially a little disorienting.
Various devices, including smart phones, tablets and PCs were available for experiencing Shima's new app-based virtual showroom which can be found at VR-knit.com. Shima envisioned that the Future Zone would be an inspiration to customers who are interested in new methods of utilizing 3D virtual sampling technology on its SDS-ONE APEX3 design systems.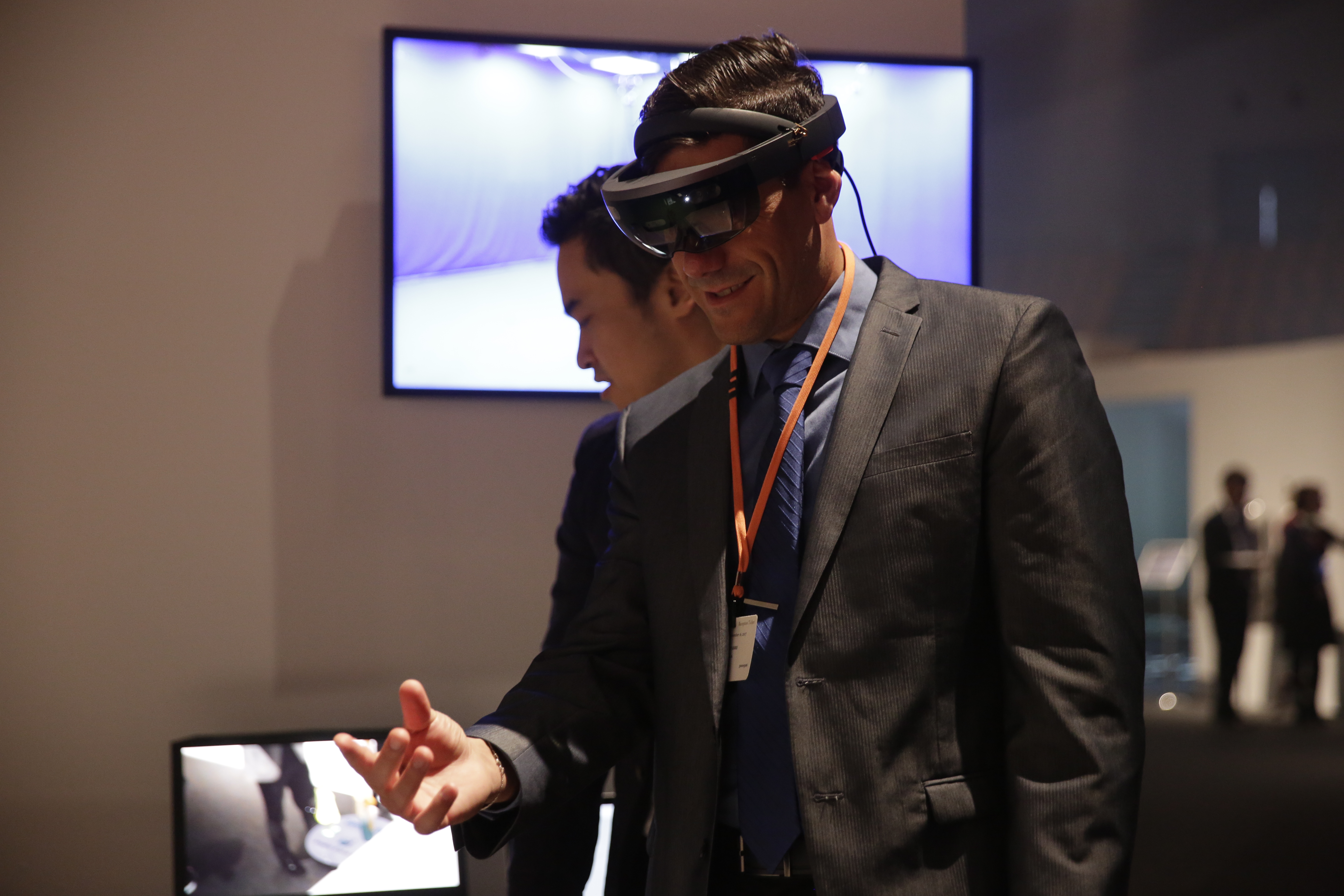 A Demonstration Zone, which consisted of 3 large demo rooms, each seating 30 persons, was also available for full scheduled professional demonstrations of the full capabilities of SDS-ONE APEX 3.
Industrial Renaissance
A Big Panel was displayed along the wall across from the Demo Rooms, which summarised all aspects of Shima Seiki's Total Fashion System in its latest form, showing the synergistic relationship that is possible between planning, production and sales stages, culminating in production that Shima says is smart, speedy and sustainable – Shima Seiki's Industrial Renaissance. Demonstrations for staf, the company's web based design service and Shima KnitPLM, its product lifetime management solution, were adjacent to the panel.

Click image to view the Big Panel in full resolution
A large Timeline was also displayed along the final wall leading to the exit, which reviewed Shima Seiki's history through patents and other technological achievements in knitting machines, design systems, printing machines and CAD/CAM systems.
Helping to save the polar bears
Toward the exit of the Exhibit Hall there was a photo opportunity area for taking photos with Dr Shima (Chairman) and Mr Shima (President). On display were realistic life-sized imitation polar bears and the message here was that sustainable production can help to reduce greenhouse gasses that are affecting the polar bear's habitat and endangering its species.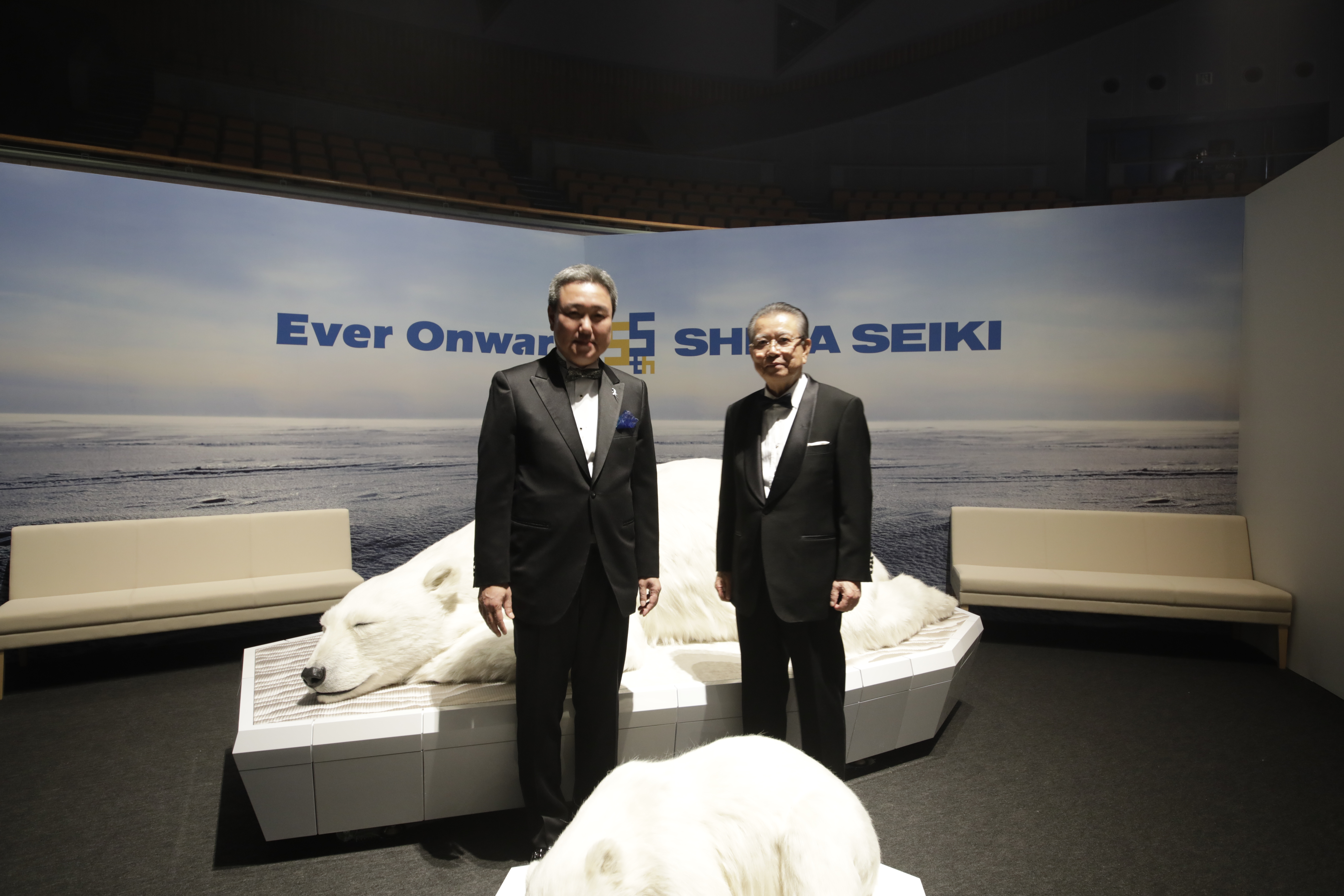 Knit Sample Display
Visitors were then led to the 2nd floor of Big Whale, where the entire corridor encircling the venue was dedicated to the display of knit samples.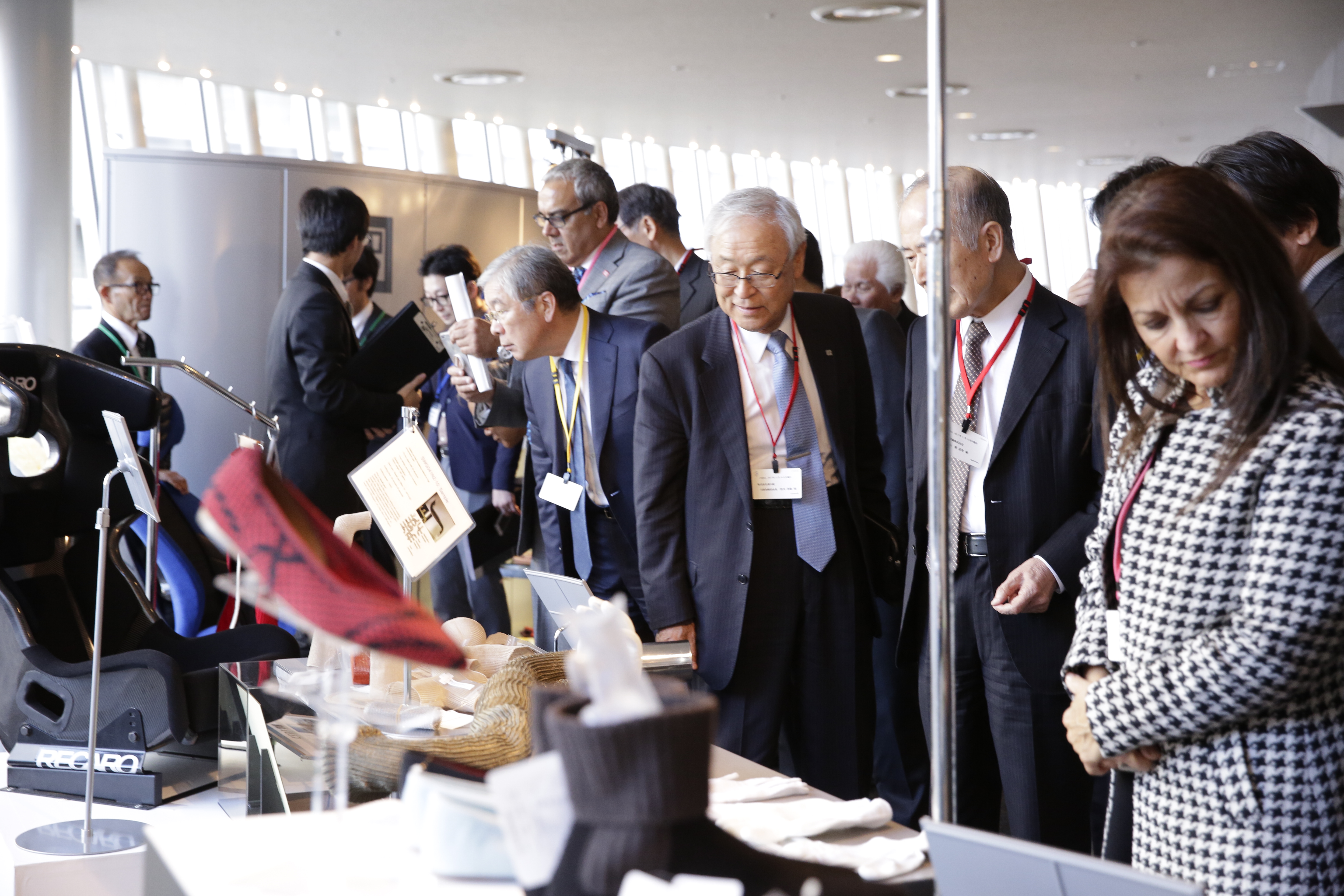 Approximately 500 knitted items were displayed on 300 mannequins, including those by Japanese domestic brands and overseas brands, student works from schools in several countries, and Shima originals from its Total Design Center, which is responsible for developing the company's huge and ever expanding library of knitted samples. The display was split into themes and created a great deal of interest with visitors.
Fashion Show
For the first time, Shima then held a very special fashion show that combined real models and animated versions of 3D models created on its own SDS ONE APEX3 Design Systems. A total of 66 different looks were shown by 29 models – 44 of the looks were real and 20 were virtual. Themes were Denim, Sports, Design Matters, Infusion and Dress.
Watch the full Shima Seiki 55th Anniversary Fashion Show
The fashion show was hosted by Masters of Ceremony Rinko Nakagawa, a Japanese TV personality and actor Gota Watabe. Guests were welcomed to the 55th anniversary celebration by new President Mr Mitsuhiro Shima and his father Dr Masahiro Shima, who founded the company in 1962.
Guests also took part in a lavish feast with Japanese and international cuisine and were entertained with both traditional and modern Japanese song and dance and even a spectacular 'tuna preparation' performance, where tuna fish were prepared on stage for Japanese sashimi.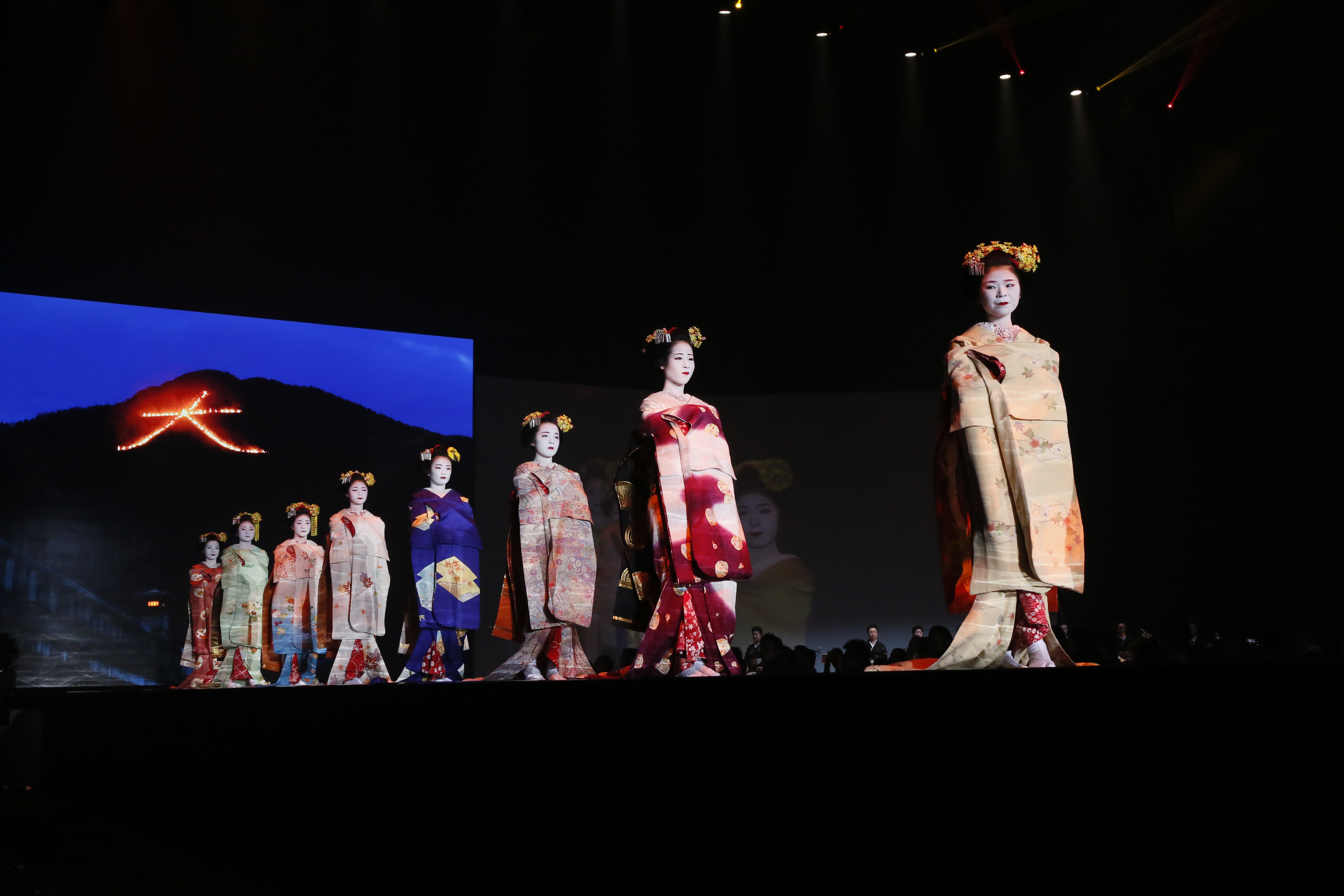 Exemplary hosts
Shima Seiki and its staff have always been great hosts, but its anniversary events are really something special. The visitor experience is first class and the hard work and commitment that goes into these events should be commended by all.
Shima has achieved much in its relatively short history and it would be great to gaze into a crystal ball to see what the next six decades hold – the Shima Seiki 55th Anniversary Celebration did however provide us with just a hint of what is in store in the coming years.