Design
Knitwear design excellence shines at Texprint 2013
Texprint's annual search for the best graduate textile design talent puts five new knitwear designers in the spotlight as creatives to watch. Their work can be seen in the Texprint area of Indigo, part of Première Vision Pluriel, Paris from 17-19 September.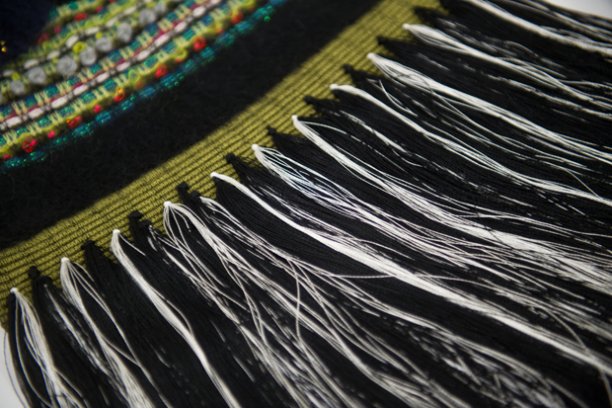 11th July 2013
Knitting Industry
| London
Babette Radcyffe-Thomas reports
Texprint's annual search for the best graduate textile design talent puts five new knitwear designers in the spotlight as creatives to watch. Their work can be seen in the Texprint area of Indigo, part of Première Vision Pluriel, Paris from 17-19 September.
Danni Fairchild
Danni Fairchild's colourful collection was inspired by the fanfare of the circus, arcade games and circus memorabilia. Drawing on her long-term hobby of collecting vintage photos, the womenswear pieces use stripes, fringing and intricate netting details.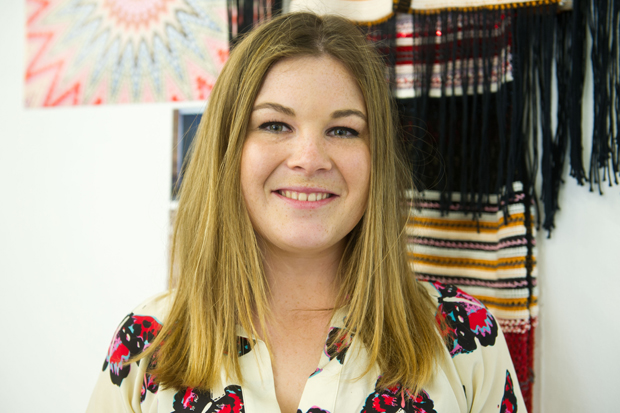 Danni's use of wax-coated yarns is inspired by the colours and structures of circus tents, while the alternating colours of helter-skelter rides inspired her choice of butchers' twine. The designs are extremely soft and lightweight. Heat press printing lets Danni apply larger PVC matte and metallic details onto the knits which she creates using domestic machines, attaching different materials such as lace hole netting and e-wrap patterned knits onto base knits.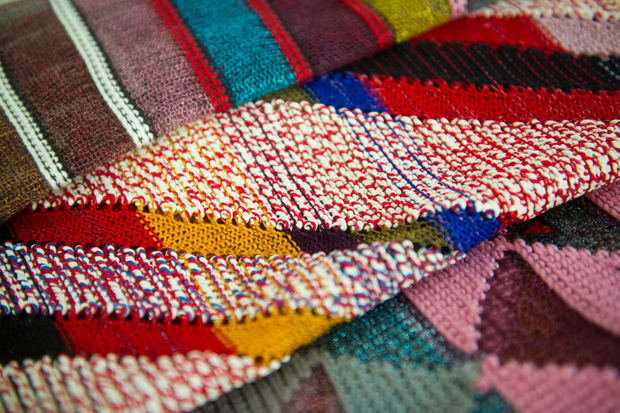 Recently she has been using Photoshop to explore the combination of knits and prints: by creating kaleidoscope prints based on her knitwear that are printed onto linens and cottons intended for a spring summer collection. The theatrical element of her designs lends to the idea of expanding into costume design and if the method of attaching yarns became less complex it could be applied to mass market designs.
Having interned at leading trend forecaster for fashion and design WGSN, Danni is interested in returning to trend forecasting now she has graduated from Central St Martins College of Art & Design. Danni has been shortlisted for the Colour and Pattern Texprint Awards. [email protected]
Amy Bant
RCA graduate Amy Bant creates intricate knitwear pieces drawing on her frequent use of natural elements, giving them a New Romantic twist. Amy creates countless monochromatic drawings and 'characters' to which she then adds colour and texture. Then she looks to make a connection with knitwear through structure, colour and yarns.
Recreating the textures of her sketches through her choice of yarns, Amy frequently uses mohair, viscose, embellishment and fringing. She brushes and presses the mohair to create an interesting 3D texture, while different yarn textures are created by using the Dubied, domestic and Shima machines, hand-knitting, hand-embroidery and cross stitch.
The New Romantic inspiration is evident in her use of feathers, Swarovski crystals and monochromatic colour ranges. She describes her work as "suggestions of garments that are open to interpretation" which she sees translating into high end fashion due to the intricacies of the production process. The end product is fluid, in the sense that the knit technique and stitch determines the final shape. After Texprint Amy would like to work on fabric development for a fashion company. [email protected]
Luise Martin
While studying textile design specialising in knit at the Royal College of Art, Luise Martin turned to the quirky Wes Anderson 2012 release Moonrise Kingdom for her final collection inspiration. The film centres on a young boy scout's adventures, and Luise draws on a wide range of elements from the film such as tents, the environment and scouts' uniforms as well as her own nostalgic memories of her childhood spent as a girls' scout.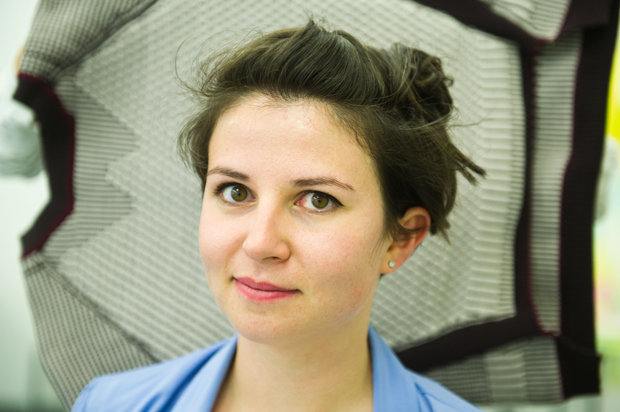 Luise experiments with paper origami and quilted structures, before creating design details such as collars with triangular lines and subtle structures and tents' panels carried through into panels on the backs of jumpers. Luise uses thick yarns and pleats to achieve 3D knitwear, and by using Dubied machines she experiments with various gauges to create her designs.
The base yarn throughout the collection is a viscose and polyester mix inlaid with a cotton yarn. The designs have a sportswear feel and other pieces in the collection include bomber jackets with white-on-white subtle textural effects, using cotton on the outside and Lycra on the inside to create a 3D effect.
A key colour that runs throughout the collection is burgundy and the accompanying colour schemes were chosen from the movie stills' colour schemes including khaki, grey and yellow. She loves knitting because "you start from a thread and arrive directly at a garment, there is no intermediary". She hopes to stay in London as a freelancer but she is also interested in applying her designs to menswear. [email protected]
Katy Birchall
Katy Birchall studied in Dundee at Duncan of Jordanstone College of Art and Design. She likes to work with colour, patterns and the entire research process including creating extremely tactile sketchbooks. Taking inspiration from 1920s to 1960s, Katy looked at various elements from household appliances to vintage photography.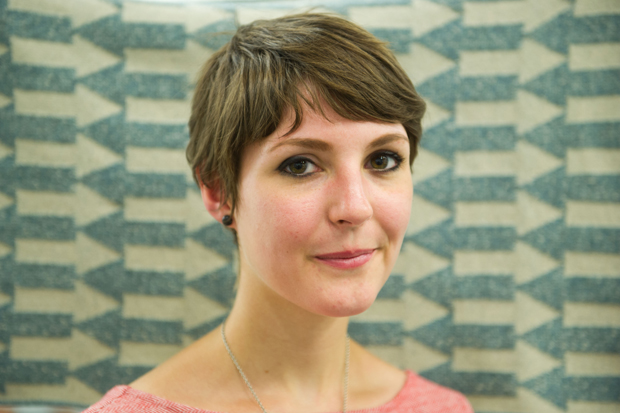 Katy analyses the images' colours, compositions and lines which she then translates into knit designs. Katy felt inspired to update a classic item and so her final collection is a series of matching knitted twin sets that are cute, fitted and surprisingly lightweight. Her designs are simple, and she uses Dubied machines to create her designs.
Choosing to work with 100% merino wool due its beautiful quality, colour ranges, soft and luxurious feel, Katy sourced yarn from Todd & Duncan. The necklines of the twin sets are constructed separately in a circle and then attached to the jumper by hand. Her collection was accompanied by several lamb's wool panels that were made with domestic machines, before printing onto them, exploring the combination of knit and print. [email protected]
Gillian Louise Murphy
Glasgow School of Art-trained Gillian Louise Murphy's knitwear collection pulls together different interests including 'slow fashion', colour and exploration of yarns. Her research exploring the impact of fast fashion on the concept of good design and the price that customers' are willing to pay, led her to create a range of high-quality investment pieces that promote the ideals of what she terms slow fashion which underline the collection.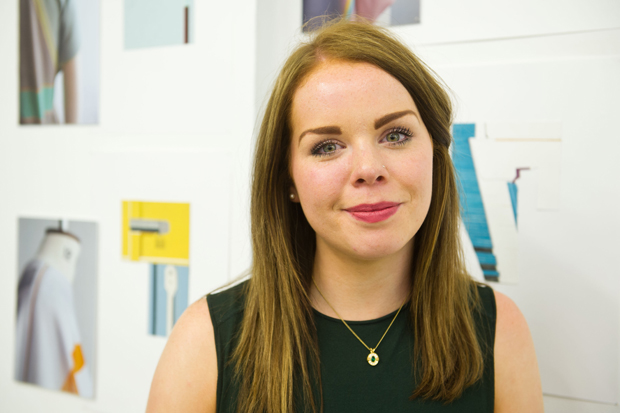 There is a unisex aspect to the garments which she has designed to be shared and passed on. A trip to Brighton was the initial inspiration for the colour ranges and a mathematical process of colour analysis of segments of images became a very personal and unique way of researching for her.
Gillian knitted the colour ranges on a machine before highlighting and reducing specific colours and finally forcing unlikely colour matches. Collaged drawings focusing on lines with cut out details were replicated and Gillian used needle manipulation techniques to mimic these cut outs.
Gillian also explored different weights of yarns including merino wool, which she plated with viscose and rayon and small portion of silk and cotton. She chose merino due to its sustainability and also its lightness, luxuriousness, wearability, the wide range of colours available and the flattering drape it gives the garments. She uses a 12-gauge machine to create her designs, which she manipulates, cuts and attaches to another piece of knit by using double ended sandwich trims. The resulting designs use strong colour proportions, are lightweight and wearable, while the trims create interesting seam details with a flexibility of placement. [email protected]
Texprint
Texprint is a not-for-profit organisation dedicated to nurturing the best British-trained graduates in textile design. Each year it selects and mentors 24 new designers, guiding them into creative careers in fashion and interiors through the sponsorship of leading names in the industry such as Marks & Spencer, Pantone and The Woolmark Company.
The Texprint programme – which is funded by industry and charitable institutions – has helped close to 1,000 new designers launch their careers in over 40 years since its launch. Texprint's alumni have gone on to establish their own brands, such as fashion designer Alice Temperley and scarf designer Emma J Shipley; set up design studios such as Kirsty McDougall of Dashing Tweeds and knitwear designer Sophie Steller; or have joined the creative departments of international design houses and major retailers, including Givenchy, Tom Ford, Habitat and Marks & Spencer.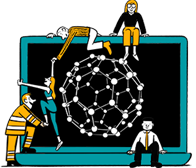 Business intelligence for the fibre, textiles and apparel industries: technologies, innovations, markets, investments, trade policy, sourcing, strategy...
Find out more