Opinion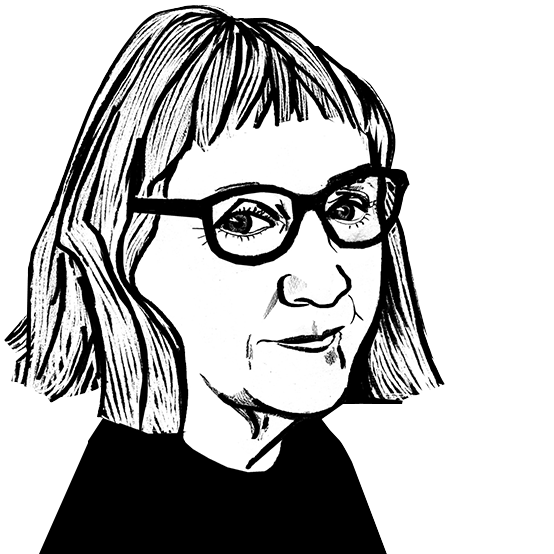 Première Vision leads for 2020/21
Janet Prescott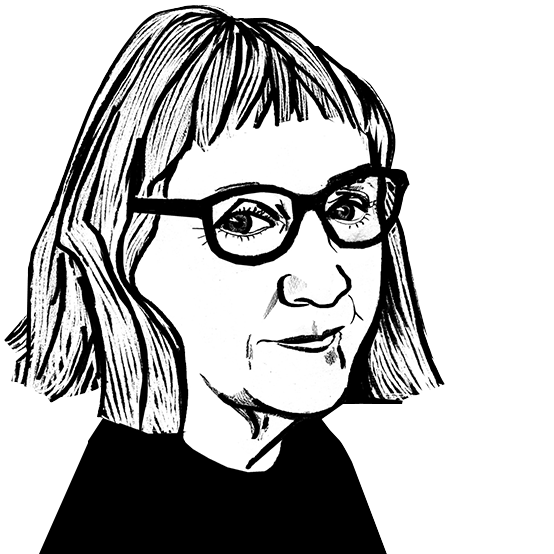 Trends at Première Vision covered a wider scope than usual.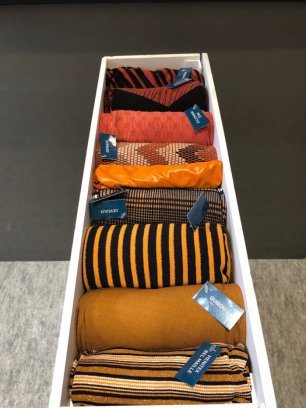 3rd October 2019
Janet Prescott
| Paris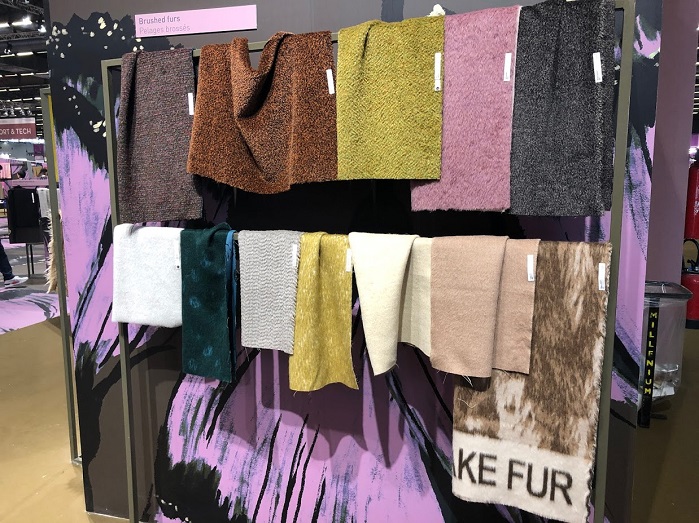 Purple appearing in fake fur fabrics. © Janet Prescott
Trends at Première Vision covered a wider scope than usual, the presentation of colours and shapes joined by discussion of rapid developments in production and ideas, which swirl around the concepts of sustainability.
Sustainability is almost a given, with most exhibitors having a declared commitment. It reaches across all fabric types and levels of production as a unifying force at a quality level of the market. There is a greater consensus arriving on the meaning, and certification of various elements.
Colours and dyeing
Colour pairings were interesting; darks with pale shades of lemon, green and warmer russets and purples for autumn. Geometric designs, stripes and checks were important features for the new season and disrupted florals appeared in the prints and jacquards.
Gone were the botanically correct drawings, in came fantasy versions of flora and petal colours. Dark urban tones for performance outerwear were punctuated by bright beads of colour in active sportswear. Natural palettes gave rise to a wide variety of very close shades of green, from pale to dark; sky blues and whites, lilac and grey, contrasted with very bright pinks, oranges and berry colours and many shades of autumnal brown.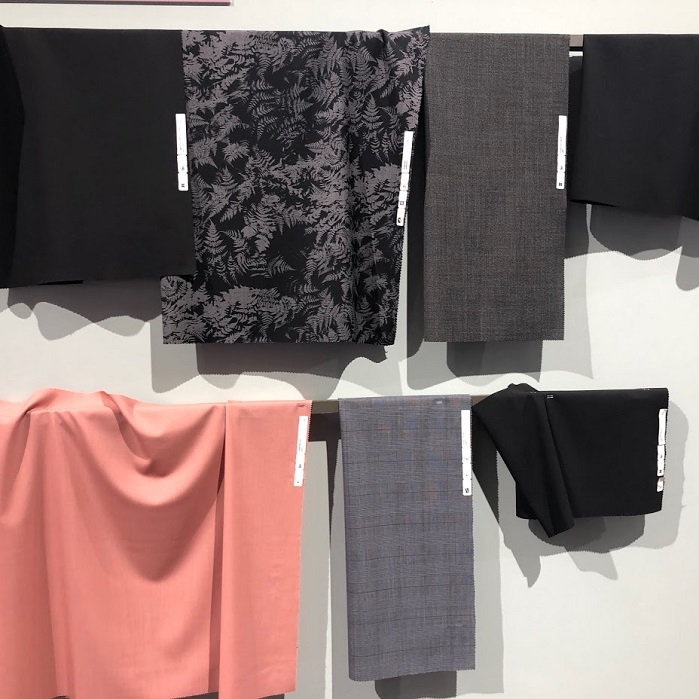 Pattern and colour made a lively ambience. © Janet Prescott
Eco responsible practices are increasing as natural dye companies convert waste back into natural elements of hydrogen, oxygen and carbon to achieve a circular process. A wider range of natural colour-fast dyes is now developing for more general use, though natural dyes still form a small but influential part of the whole. Tintex used Colourau Natural Dyes created by a Portuguese consortium, showing GOTS certified organic cotton in bright electric colours.
Prints and patterns of the season
Pattern and colour made a lively ambience. Impressionistic prints were blurred, with watery effects and marble colours curling on the surface, contributing to a more decorative trend. Multi-coloured throws blended both fibres and colours with knops and expanded bouclés High volume puffy yarns made light fabrics but warm enough for winter.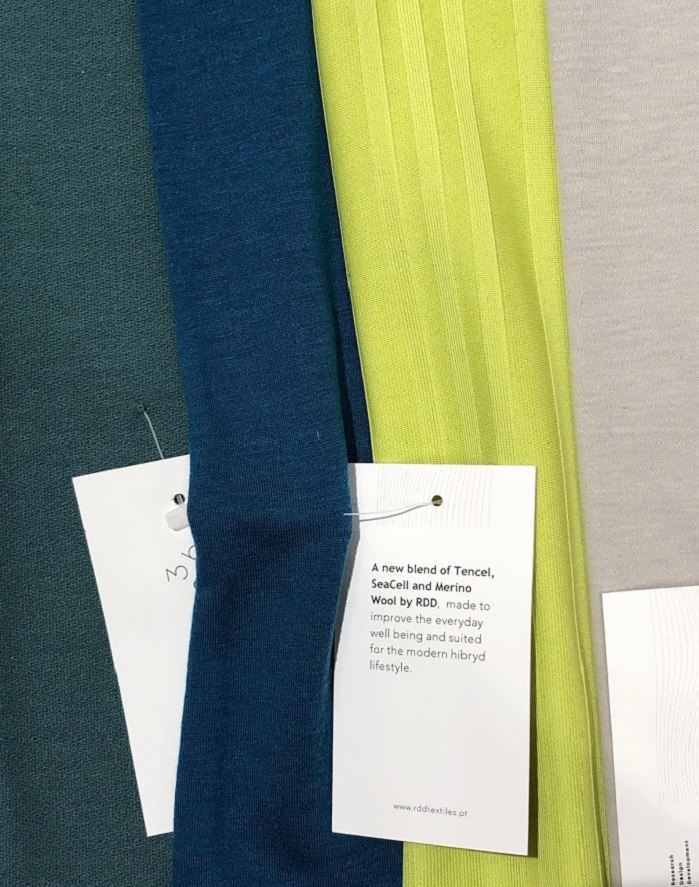 Special techno blends by RDD. © Janet Prescott
Jacquard designs took flowers and jungle looks in imaginary exotic shapes and colour combinations. Sequins and metalloplastic yarns break up florals and tweedy surfaces in winter jersey. Deep colours, stripes and checks dominated the knit fabric groupings From Portugal and the French Federation Maille Lingerie, Balneaire. Here techno features designed for the needs of a large number of companies in several areas were brought together, like lingerie, beachwear, activewear and beachwear, destined for chains, independents, retailers and mass market clients.
Special effects
Knitted fabrics with stitch interest gave 3D effects, in raschel constructions knoppy yarns and geometric patterns. Flowers, mainly imaginary blooms in a tropical trope, graced Boho or mixed up patchwork looks
Blends of wool, silk, and polyamide gave designs a slight sparkle, seen at many of the French knitters for winter.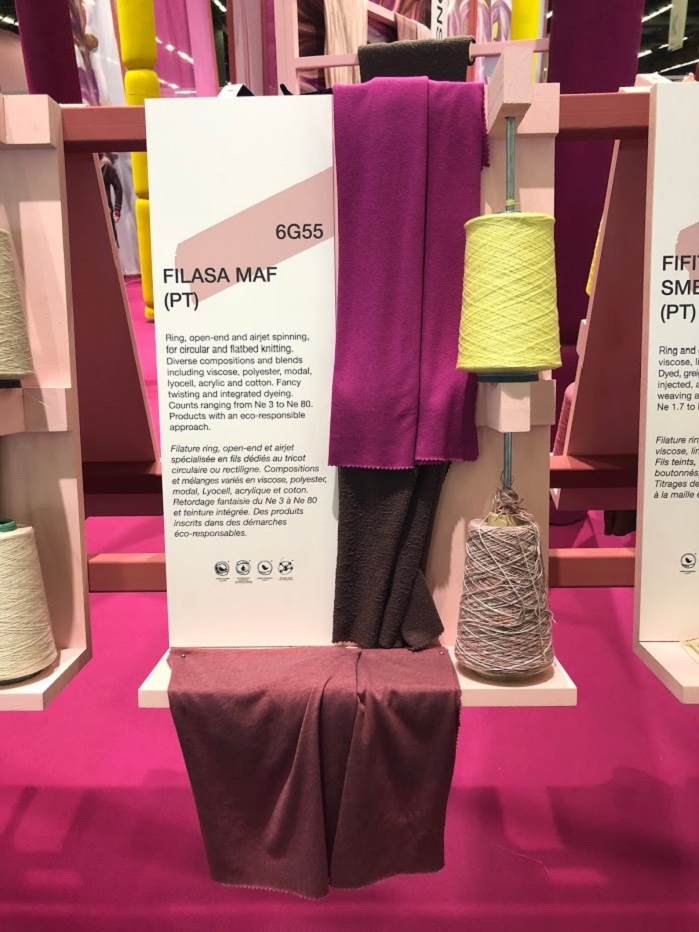 The colour purple appears. © Janet Prescott
Knitted linen is recognised as supremely sustainable, alone or blended with wool, silk, or viscose for winter: Zero irrigation, zero GMO, Zero waste. Linen Lab showing the fibre's versatility in the comprehensive library with knitted linen fabrics contrasting in handle from rustic, to soft and draping for example when blended with Tencel.
Knitted outerwear
Knit fabrics have become very important for designer menswear collections as seen at Pitti Uomo with thick wool and wool blends developed for overcoatings and jacketings without lining. Hyper-realism was created at Eurojersey with 3D photographic digital precision printing on Sensitive Fabric, giving an excellent impression of weave on knitted flat fabrics, displayed in a printed herringbone design trench coat. Sensitive Fabrics are machine washable and quick drying, aimed at urban living and travel, with a fashionable edge, verified by a pair of patterned leggings from Burberry on the stand.
Outerwear includes knitted fleeces and fluffy fabrics. © Janet Prescott
Outerwear for extreme sports includes knitted fleeces and fluffy fabrics for gilets, the outer layer paired with a mid-layer developed specifically with an inner layer at Drirelease Loft, illustrating permanent wicking. Bodymapping for extreme sportswear is predicted to affect fashion, virtual seamless designing with individual areas of breathability and compression; while Shepherd, the Chinese Merino specialists are developing VR sizing and designing along the same lines.
Smart Innovation
The Smart Materials section showed a wealth of innovations. Stretch fibre has posed problems for recycling and disposal in the past. Roica EF stretch fibre, Asahi Kasei, GRS (Global Recycled Standard) is 58 per cent pre consumer recycled content while Roica V550 breaks down without releasing harmful substances in a gamut of Cradle to Cradle products at Tintex
Tencel's Refibra technology hits the button with discussion of second or even multiple lives - a concept discussed during a PV event with a panel of experts, on Upcyling as the Future of Fashion. Lenzing gave a press briefing on the importance t of Blockchain Technology for ultimate traceability along the supply line, the phrase of the moment.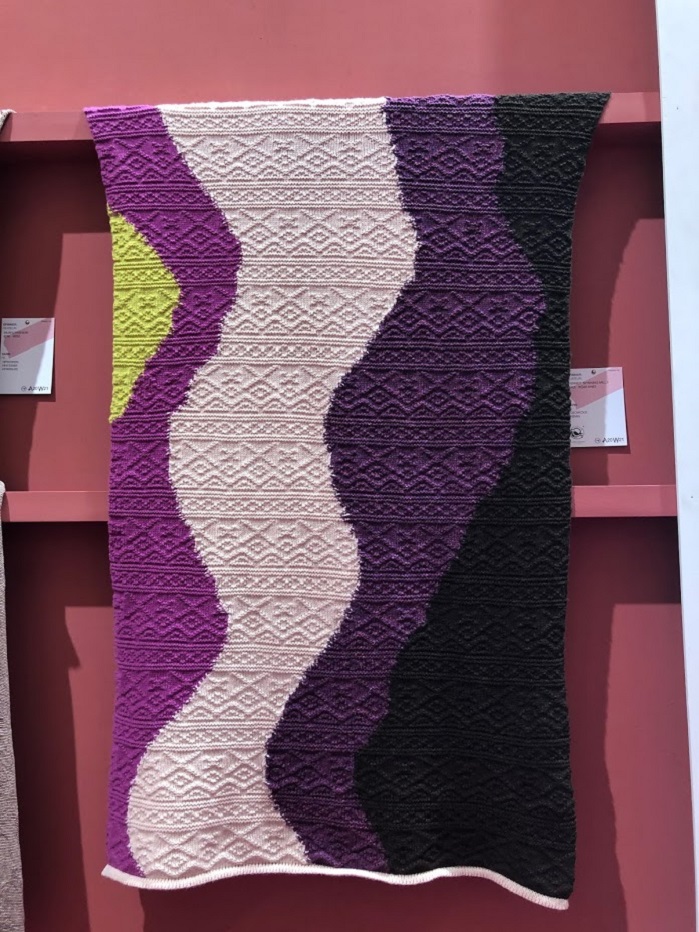 Trad stitches and intricate construction. © Janet Prescott
From fine Merino to organic cotton, smart synthetics and techno blend fabrics are layered for different stages of exertion, carefully calibrated scientifically, and many will be used for advanced urban cyclists and commuters.
PV showed that athleisure designs use the most advanced fabrics and techniques, relying on stretch, bonding and natural elements, as fashion goes for high value performance added to sustainability, reliability and provenance.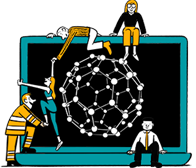 Business intelligence for the fibre, textiles and apparel industries: technologies, innovations, markets, investments, trade policy, sourcing, strategy...
Find out more