As if current economic challenges weren't enough to cast a pall over last weekend's Interfilière and Mode City shows for the intimate apparel and swimwear trades, the November-like Parisian weather did its best to dampen spirits. But Interfilière's mills and suppliers did much more than "keep calm and carry on." They continue to invest and innovate at an extraordinary rate; with an emphasis on upgrading their fabrics with new fibres and technologies.
The Eurovet organization reported an attendance of 11,431 visitors for Interfilière, down 3% from 2011. Although exhibitors felt that traffic could be better, most were notably pleased with the quality of meetings. "It is not as busy as last time," confirmed Martin Hermann of Willy Hermann Superfine, "but the quality of the visitors is excellent. Our customers are coming, and it is all about the relationships."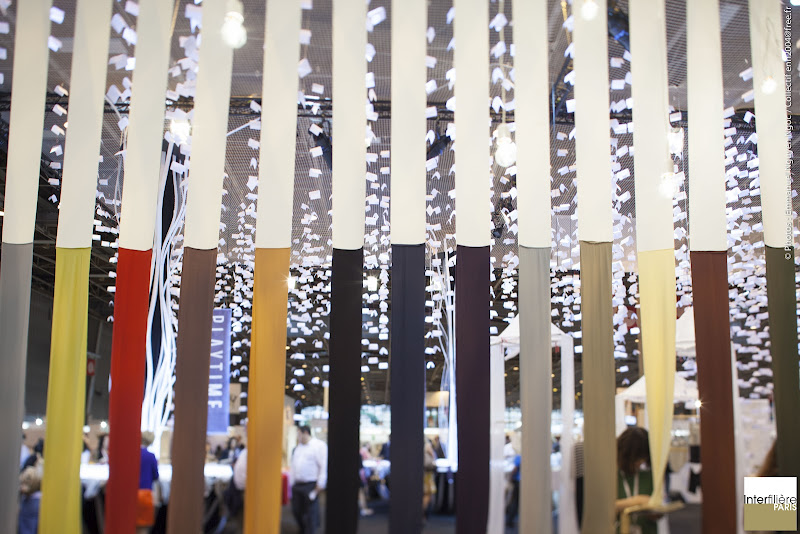 With "The New Beauty" as its theme, the trend forum included an enhanced range of colours, from new blacks and rich darks to fluorescent brights and truer whites, which should reproduce beautifully in fabrics using the new dyeable elastanes: LYCRA with W Technology, and Hyosung's creora dyeable. Both are said to reduce grin-through and deliver outstanding dyeability and colour fastness in blends with nylon
Cosmetic Textiles
There is growing interest in the concept of cosmetic textiles as another aspect of "The New Beauty." Containing beneficial substances intended to be released on the skin, cosmetic textiles are predicted to represent a market of €500 million next year (according to Textiles Intelligence), growing from a mere €120 million in 2007. A symposium sponsored by Interfilière and La Federation de la Maille et de la Lingerie explained the pros and cons of the various processes, test methods and legal issues involved in developing and marketing these products.
While substances such as aloe vera, vitamin E, caffeine, retinol, and various plant oils can be microencapsulated and applied as a finish, Nurel's novorel® technology incorporates the microcapsules into the polymer of their nylon yarn. In the realm of spun cellulosics, Lenzing's TENCEL C contains Chitosan, said to moisturize and renew the skin.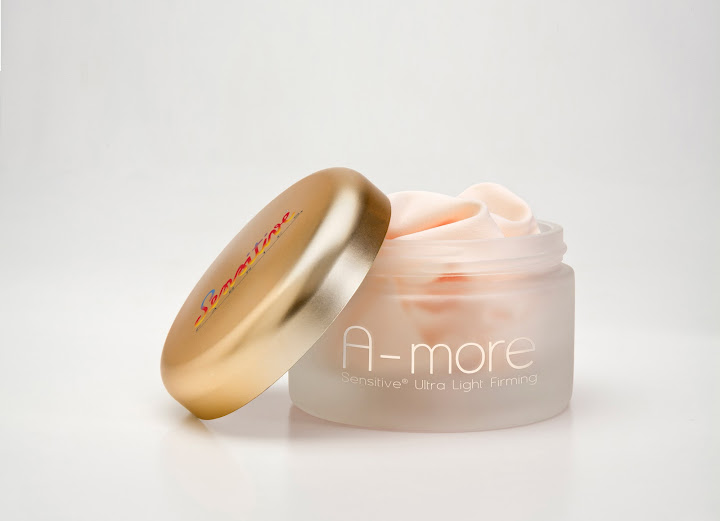 Several knitters are enjoying success with cosmetic textiles, such as Dogi, Willy Hermann Superfine, Liebaert and Elastic Fabrics Europe. New introductions at the fair included Eurojersey's Sensitive A-more, said to firm the skin; a shapewear fabric containing spa minerals from Penn Textile Solutions, and a slimming fabric from Brugnoli.
Thermo-regulation and odour management are also desirable performance attributes. A new nylon 6.6 fibre called Emana, developed by Rhodia, integrates bioactive mineral crystals within the polymer. The fibres reflect the far infrared rays emitted by the body back into the skin, reportedly helping to regulate the body's temperature, reduce the accumulation of lactic acid, and improve skin tone. Sofileta, Piave Maitex, SITIP and Brugnoli are using Emana.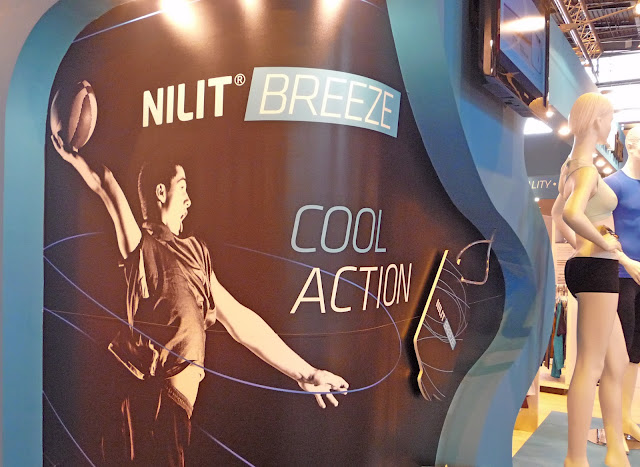 At NILIT Fibers, INNERGY nylon also uses a naturally occurring mineral additive to reflect far infrared rays, while new NILIT BREEZE promises to lower body temperature through a combination of a flat cross section structure, a unique polymer with inorganic micron particles, and a special texturizing process.
Managing one's own micro-climate naturally is the goal of Bebe Cotton's reversible, year-round fabrics incorporating unique pairings of fibres such as Cupro, viscose, polyacrylic, or cotton. A new, 100% organic cotton velour replaces the typical synthetic back yarn with a tightly knit cotton structure, and is GOTS-certified. The company has expanded its range of low-temperature eco-dyes to 60 colours, and has built a dye house exclusively for their eco and natural dye processes.
New ideas in odour management are replacing the use of nano silver particles with more natural options, such as Agion's LAVA technology at SITIP, and HydroFresh silver salts at Piave Maitex. Eurojersey's Sensitive Fabrics Bodyware combines odour management with thermal regulation, using textile treatments from HeiQ.
Glamorous and exquisite
At the heart of the fair are its glamorous and exquisite fabrics for lingerie and shapewear. Liebaert celebrated its 125th anniversary with a number of new developments: a 50 gauge, ultra-sheer and shimmering Nanostitch satin; and a 60 gauge, 95 gsm matte weft knit using a hosiery-denier yarn. There are jacquards with the look of embroidery; surface effects featuring soft Lurex or shiny dimensional yarns, and a host of precise pigment prints and finely-detailed digital designs.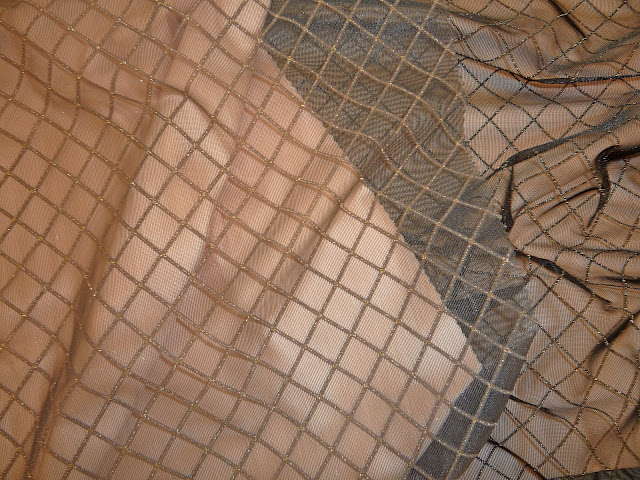 Shapewear
At Penn Textile Solutions, patented Dreamshape Curves tricot is knit on exclusive machinery, engineered with curved zones of higher modulus to deliver shaping for legs, tummy, etc. Light weight Satin Stretch fabric is semi-transparent, with a soft touch, offered in matte or semi-dull versions. Bi-stretch Power Lace is ideal for moulding and control garments; while Soft Spacer, a very fine, flat, bi-stretch product, can be free cut.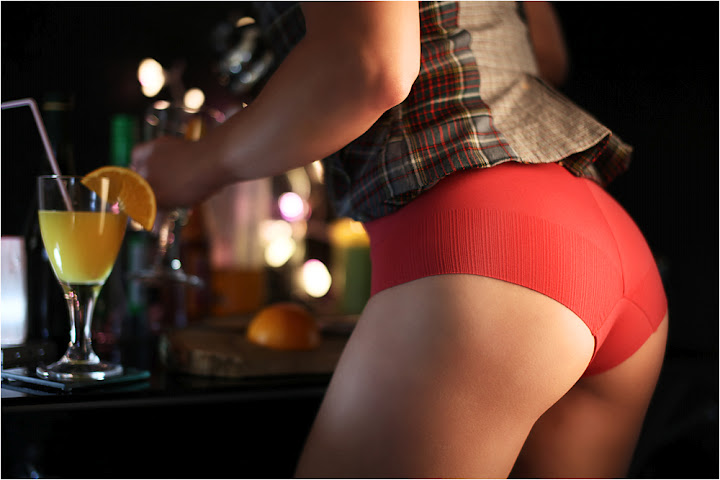 At Piave Maitex, shapewear fabrics such as Oversexy lace or jacquard bands, microfibre Peau d'Ange, and delicate Darling Tonight transparencies feature fresh, delicate patterns. New proposals include Diamond, an iridescent doubleknit; and Wonderland, a range of jacquard plaids which can be overdyed.
Duplex is the new umbrella for Dogi International's double-faced and spacer fabrics; while some incorporate cotton inside for comfort, others feature glamorous jacquard patterns. Dogi's range runs the gamut from classic "couture leisure" stripes and dramatic colour and black lace effects to super-light Sari crêpes with a papery touch.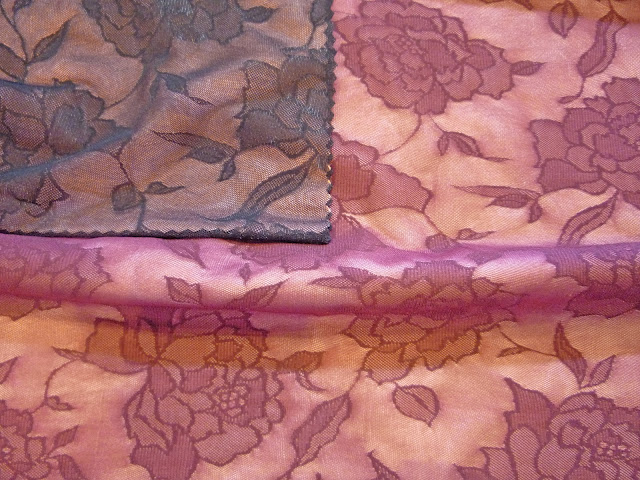 Focusing on loungewear and men's underwear, weft knitter Helmut + Diller's developments included a group of mélange nylon jacquards and stripes; lacy viscose/nylon jacquards, and a cool, comfy jersey of cotton and Coolmax. The company is also developing new fabrics in fine-count MicroModal and linen yarns. A host of skin-loving natural fibre and cellulosic fabrics, from ultra-fine jerseys (using Lenzing's MicroModal AIR fibre at 0.8 dtex) to terries and velours for loungewear and après sun featured at mills such as Bel Maille, Eusebio and Cat'Land.
Swimwear trends
Swimwear trends this season include bling, sparkle and metallics; lace and openwork raschels; and a host of patterns for mixing and engineering via digital printing. In the Beach Forum, California print designer Diana Garreau christened the over-ornate look "Versace Goes to the Jungle;" she reported that white-on-white laser-cut patterns and abstract ikats were also strong.
Swimwear fabrics are highly refined, shaping and supporting the body while allowing applied decoration to make a strong statement. At SITIP, a range of high-performance attributes has been added to the company's warp and weft knits. The entire swimwear line has been upgraded with creora highclo, and the company stocks 20 to 25 colours on each of its main items.
Celebrating its 50th anniversary, Carvico's legendary colour ranges are coordinated by American designer Rebecca Moses. Along with sister company Jersey Lomellina, the company's Life Cycle Control program is using Econyl, a hollow-fibre, recycled nylon yarn from Aquafil. The Econyl knits are said to provide lightness with opacity, breathability, and UV protection. Jersey Lomellina also offers an 80 gauge, 95 gsm weft knit called Hariel, with an extremely smooth and homogenous surface; and a glowing, iridescent fabric called Luce, ideal for dancing and gymnastics as well as for trendy beachwear.
With swimwear business reported to be strong, suppliers are going all-out to invigorate and upgrade their offerings. Invista's recent consumer insights confirmed that fit continues to be the key component in fashion swimwear. A new series of tests demonstrated that the company's Xtra Life LYCRA resists breakdown from the effects of chlorine, sunscreen, heat, and perspiration five times longer than competitive chlorine-resistant elastanes. Invista's new "Unstoppable" campaign will take this message to the consumer via a simplified hang-tag, and a POS video that will also be accessible on YouTube, in order to educate consumers and increase brand loyalty for swimwear using Xtra Life LYCRA.