Flat Knitting
Digitalisation and sustainability in Stoll flat knitting
Stoll joined the Karl Mayer Group in 2020 extending the group's portfolio, and during this webinar, some of its visions for a sustainable future were shared.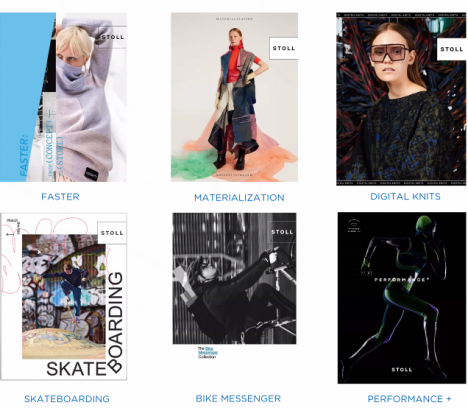 20th April 2021
Knitting Industry
| Online
Beth Ranson reports
On the 22nd of March, Fashion Council Germany presented a webinar led by Stoll, in which Stoll explored possibilities for sustainable practices in the area of flat knitting and explained some of their technology.
With agents in more than 80 countries worldwide and sales of over 100,000 knitting machines, Stoll has issued over 100 patents for their innovations. During the webinar some of their ideas for a sustainable future in flat knitting were shared.
Trends
For the fashion and textile industry, Stoll provides an interface between fashion markets and technology by presenting trend collections each year. They showcase market trends whilst providing opportunity for Stoll to set trends too, utilising their own software and knit knowledge. These innovation orientated collections are presented at ITMA, Pitti Filati and SPINEXPO. Recent collections have focussed on themes such as materiality and removal of commercial waste.
Unlike many trend collections, Stoll is able to present aesthetically exciting fabrics which also solve problems through knitting innovations too. These collections act as inspiration for brands to aspire to.
ADF Technology
Stoll machines can produce Stoll-ikat plating techniques by changing the colour or yarn within one knitted row. This ancient technique is being re-invented by Stoll as a knit technique. Stoll-ikat plating produces less crisp effects resulting in abstracted, painterly patterns – so often challenging to achieve in knitted fabrics. Inverse plating produces very exact artworks.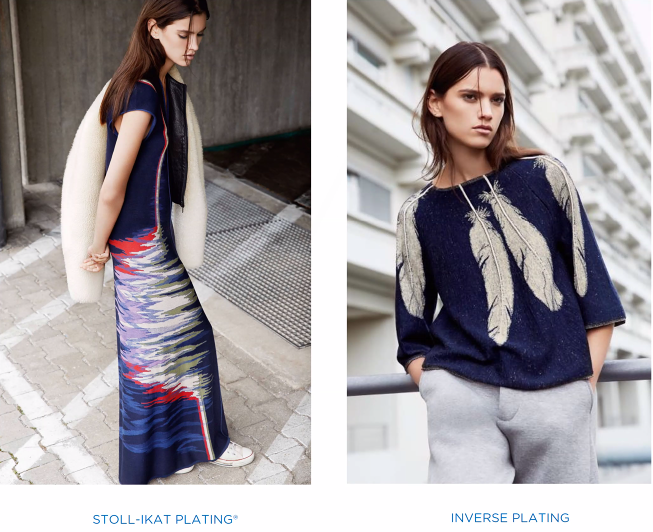 Selective plating can also be explored, allowing the programmer to select specific areas for plating, achieving variations across fabrics. This is an area within which compression wear can be developed, as different levels of compression can be achieved by engineering specific placements of plating and trialling different elasticated yarns. In this way, Stoll is able to create products which span many industries, not just fashion.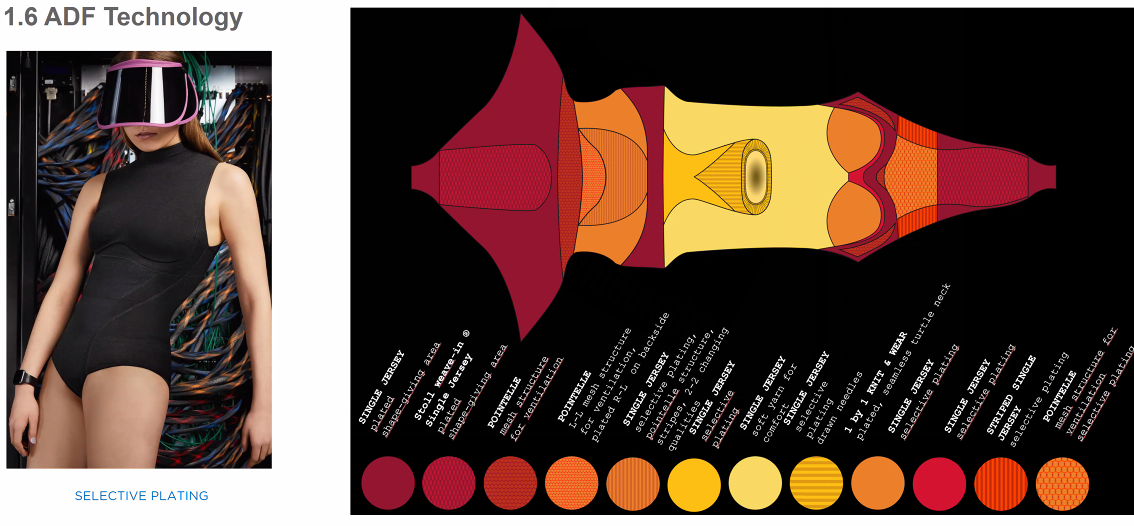 Stoll Weave-In
Stoll's Weave-in technology does just that – it allows the inlay of yarns during the knitting processes. Aesthetically, this can create exciting surface textures and patterns, however additional structural implications are also seen in the reduction of stretch. This technique produces stiffer, more compact textiles which can behave more as bonded or woven textiles rather than knit. This extends the versatility of knitted fabrics even further. Stoll Weave-in technology can be used in various ways. Double weave-in, Outer Weave-in and Net Weave-in are variations of Stoll Weave-in technology achieved through different stitch combinations.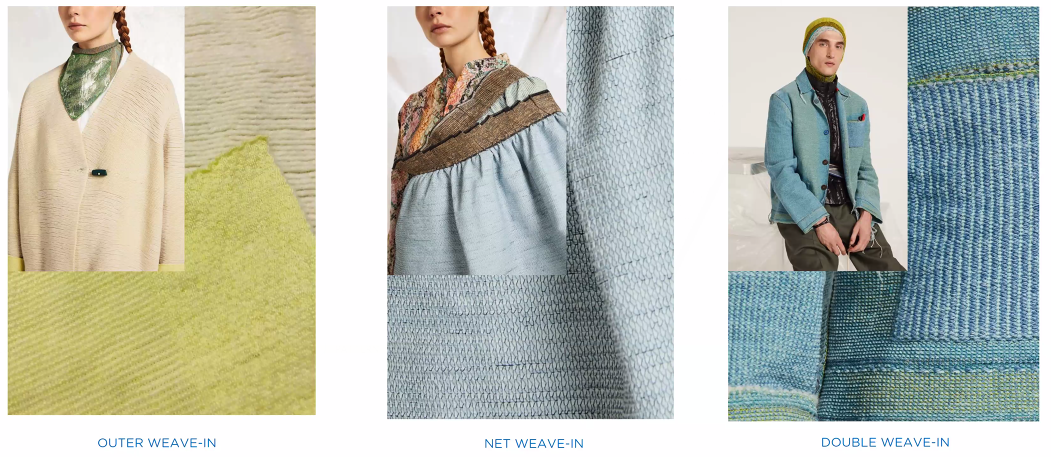 Stoll's Double Weave-in also explores more compact fabrics, with one, two or more yarns knitted within one row which facilitates the creation of much stiffer, harder wearing fabrics, similar to denim. The ability to create hard wearing knitted fabrics could aid garment longevity in the wearer phase of the garment life cycle.
Outer Weave-in is a technique which only inlays yarn on the outer face of the fabric, which is a brilliant solution for those yarns which may be aesthetically pleasing, but not so friendly so the skin. Itchy or prickly yarns can be celebrated on the face of the fabric, without impacted wearer comfort.
Additionally, Stoll's Net Weave-in technology creates fabrics that hardly look knitted at all, resembling warp knitting more closely than weft. This technique creates a net like structure from a thin yarn, and a thick yarn is inlayed in between the layers.
Stoll-artwork
With the Stoll-artwork extension for Adobe Photoshop for knit designers, technical communication between designers and programmers can be improved. This software also improves time efficiency, allowing for accurate knit designs and patterns to be created and then translated directly to machines to fabricate. With tools for colour reduction, stitch distortion, technical checks for plating and jacquard methods and pattern importation capabilities, this extension provides many solutions as a platform for designer innovation. Pattern piece shapes can be imported so that scale, placement and colour combinations can be explored before confirming artworks. Files can then be exported for Stoll M1plus. This can reduce programming times thus reducing product development times and prototype waste.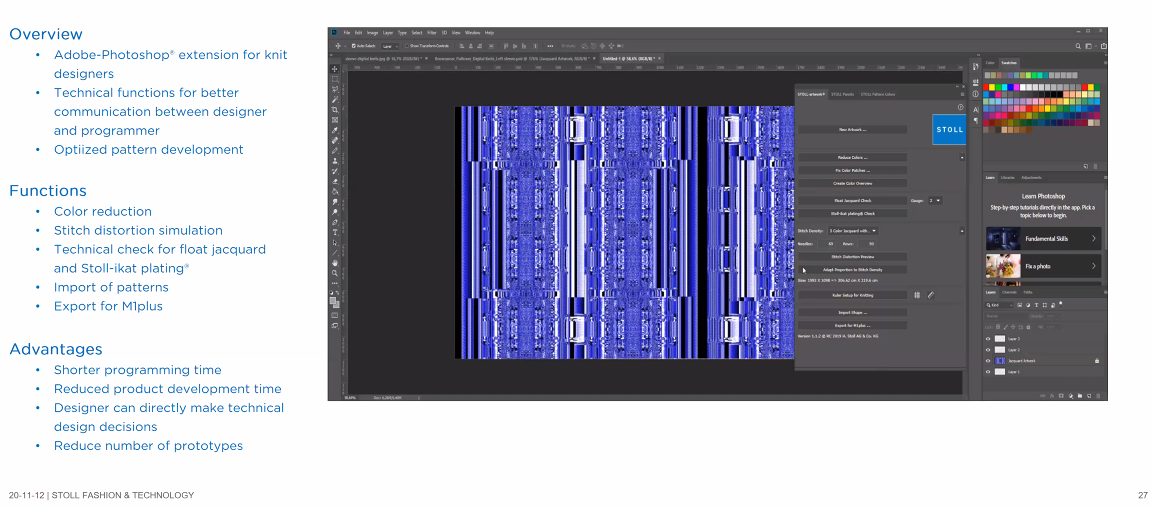 As well as developing their digital innovations and support for their machines, Stoll is also actively looking into better methods of dyeing yarns, constructing garments with less waste and influencing the whole supply chain.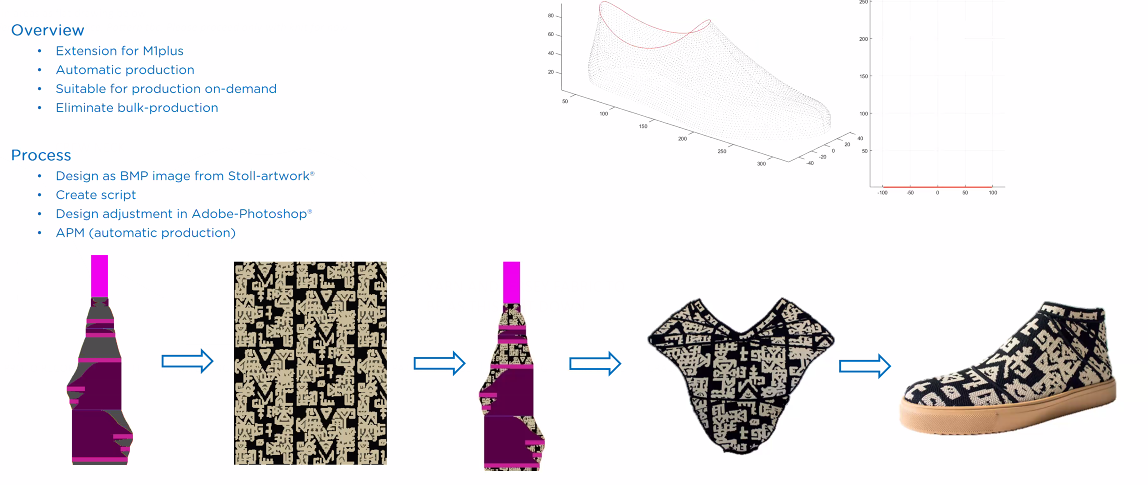 With such a strong platform, Stoll is perfectly placed to guide the knitting industry through what simply must be a transformative time for production and manufacturing. With a wholistic yet adaptive approach, their impact as industry leaders could be transformational.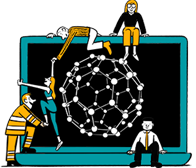 Business intelligence for the fibre, textiles and apparel industries: technologies, innovations, markets, investments, trade policy, sourcing, strategy...
Find out more