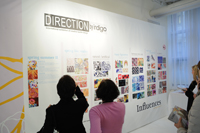 By request of exhibitors and attendees, Direction by Indigo returned to the New York design scene on April 13 & 14, 2010 with its first mid-season April edition featuring exclusive, leading international studios, cutting-edge fashion forecasters and related services.
Over the two days, visits of qualified industry professionals and decision makers reached more than 1300. Attendees at the Altman Building shopped for fresh ideas from brand new Summer and Early Fall 2011 collections. The SURFACE Seminar Series at Direction by Indigo presented 15 trend forecasts to inspire and empower buyers for the Summer and Fall 2011 seasons.
Exhibitors reported strong sales and were pleased to meet high calibre customers despite original fears that budgets might be closed. "Attendance was great, customers were very keen to buy and everyone liked the vibe of the new venue," confirmed Paul Harding, The Colorfield.
"The April show brought new contacts from major brands", noted Steve Greenberg, Pointcarre USA. According to Amy Voloshin at Printfresh, "This this was our strongest April show to date! Direction by Indigo provides a focused event for our clients, grouping the best studios together in one beautiful location." Selective studios and top-notch buyers were the best-of-the-best and the perfect mix for new budgets, confirming that business is back, organisers said.
Organisers say that the first signs of a recovery were revealed at the January 2010 event where Direction by Indigo and Premiere Vision Preview New York joined together under one roof for the only one-stop shop in New York gathering the fashion and design community. Nadia Reisfeld of NR Designs said, "Customers came in droves and bought!" The joint event, which is said to be unprecedented in the US market showcasing fabrics, trims, textile designs and forecasts, will convene each January in the Altman Building and Metropolitan Pavilion.
Exhibitors and visitors are said to be delighted with the comfortable, conveniently located high-class space on 18th Street. Next up at Metropolitan Pavilion is Premiere Vision Preview NY on July 14 & 15, 2010 and Direction by Indigo on August 3 & 4, 2010 focusing on Fall/Winter 2011/12. Visitors to each event will experience full frontal fashion with everything they need including displays, videos, seminars and forecasts, keeping them ahead of the curve.
Direction by Indigo is part of the Indigo Brand and Premiere Vision events worldwide.
This article is also appears in...