10th October 2018, Maastricht
Discussing smart industry and sustainability
This week, the conference part of the 34th IAF World Fashion Convention is taking place at the Crowne Plaza Hotel in Maastricht. On the first day, IAF President Han Bekke officially opened this international gathering.
After having welcomed a wide variety of international attendees from more than 20 countries, he addressed all delegates about the challenges the apparel industry faces today. Bekke approached the subject from a positive angle, telling the audience that the industry is one of the largest employers on this planet. It provides a basic need and with a growing global population the industry is assured of expanding markets. This is clearly reflected in the choice of the theme of this Convention, Building a Smart Future for Fashion.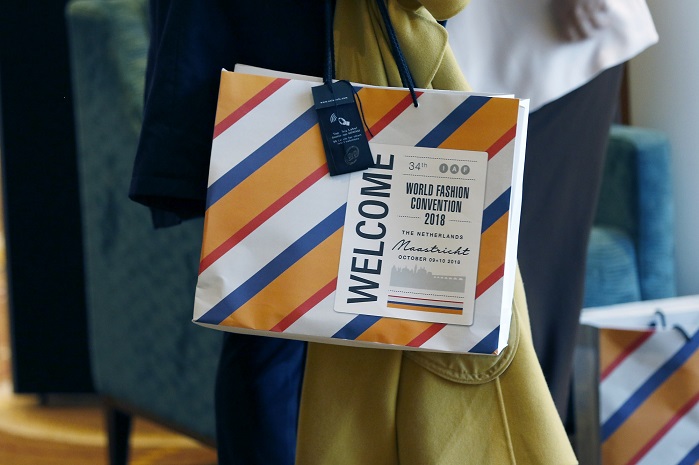 The whole programme of the Convention has been constructed to show what smart means and how it can positively transform the apparel industry. "If we manage to create a more efficient, less polluting, more valuable industry, these improvements not only create more revenue, they really improve the lives of tens of millions of people," he said.
During the convention, many examples of smart collaborations or smart plans have been presented. Sustainability is clearly part of that. "We have chosen not to have separate sessions about sustainability this year," said Bekke. "We believe that it should be treated less like a separate topic and more as an integral part of creating a smarter industry. In this respect the image of our industry is not positive. Unfortunately, we are often seen as the most polluting industry after oil and gas. But let us at the same time not ignore that there are many companies who work on a fully responsible way and many good initiatives are taken worldwide."
"International coordination is in my view absolutely needed. IAF, as the only worldwide industry federation with memberships in more than 60 countries, is a perfect platform for this coordination. I therefore invite associations, institutes, initiatives and companies to join forces to really get progress in the field of sustainability."
This article is also appears in...