28th February 2012, Philadelphia
Drexels $1m Shima Seiki smart textiles laboratory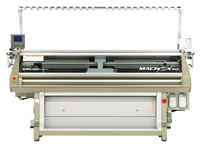 For the past three years, Assistant Professor and Fashion Design Program Director Genevieve Dion of Drexel University's Antoinette Westphal College of Media Arts & Design has focused her research on identifying production methods that advance the field of wearable technology.
Following the signing of a groundbreaking, $1 million agreement with Shima Seiki USA, Dion will now have the state-of-the-art laboratory to conduct research for the development of new smart textiles and wearable technologies, and to explore new methods of production that will ultimately impact a number of market sectors.
"The Shima Seiki Haute Technology Laboratory positions Drexel to become a national and global leader in the new and innovative field of smart textiles," said Dion.
"It is rich in possibilities for improving and enriching lives around the world."
Smart garments or wearable technology is clothing made of fabric embedded with technology which has the potential to give written and spoken messages or monitor and communicate physiological parameters such as breathing and vital signs. Embedded technology such as flexible circuitry, flexible antennas and adequate power source are key components to the reliable and successful operation of wearable technology.
Multidisciplinary research initiative
The Shima Seiki Haute Technology Laboratory is a multidisciplinary research initiative established by Dion and professors from Drexel's College of Engineering, The iSchool at Drexel, College of Medicine, College Nursing and Health Professions and the School of Biomedical Engineering, Science and Health Systems.
According to Drexel, the establishment of the Shima Seiki Haute Technology Laboratory represents a growing partnership between Drexel University and Shima Seiki which it says has donated 16 SDS-ONE APEX3 workstations, three state-of-the-art knitting machines and R&D support. Drexel says the total aggregate value of the donation exceeds $1 million.
The workstations accurately simulate fabric construction and provide researchers and designers the opportunity to create and simulate garment prototypes, import CAD specifications of their final products, and produce made-to-measure or mass-produced pieces on Shima Seiki knitting machines.
Shima Seiki's R&D support includes help and advice on knit programming, and access to the knit libraries at Shima Seiki USA in New York and New Jersey.
As founding director, Dion will direct lab research, while promoting a collaborative and creative research environment. The Shima Seiki Haute Technology Laboratory will enrich the research portfolio in the Westphal College of Media Arts & Design and in all participating colleges and schools.
This article is also appears in...