28th August 2019, Barcelona
Comez showcases latest innovations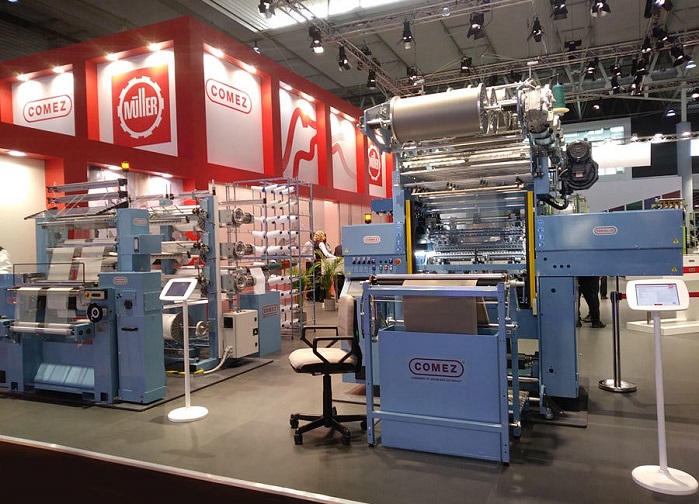 Comez crochet warp knitting machines.© Comez
At ITMA 2019, which took place in Barcelona in June this year, Italian textile machinery manufacturer Comez showed its innovative 800 ACO/EL, a crochet knitting machine with electronically controlled yarn tension and stitch density regulation. The Jacob Mueller owned company also showed the DNB/EL-32-12B, an electronically controlled warp knitting machine with double needle bed for the production of technical and apparel textiles.
800 ACO/EL
The Comez 800 ACO/EL crochet machine with compound needles, recommend for the production of elastic and rigid fabrics and tapes, is said to be ideal for products with lock-stitch structure especially in technical fields. The machine offers a wide range of product options and applications such as medical and orthopaedic textiles (body belts, gauzes and bandages), Astrakhan with close loop, home cleaning products, furnishing ribbons and tapes and sportswear ribbons.
According to Comez, the compound needle makes the machine highly versatile as it allows the processing in the warp, of both classic synthetic yarns (polyester, polyamide, polypropylene) and also natural fibre yarns such as cotton and wool, as well as special fibres like aramid and fibreglass.
It is equipped with 8 weft bars controlled by chain links, composed of links presenting an involute profile, allowing weft movements of up to 30 mm and allowing high operating speeds and low noise emission levels. As an alternative, two bars can be driven by the weft device for weft movements of up to 50 mm.
The electronic operating system gives the choice of different stitch density values on one single product as well as different values for weft feeding. The yarn tensioning and the stitch density are defined by the company's exclusive COMEZ DRAW 3 or SYSTEM.WIN PC textile software. Data is transferred from a PC to the controller of the machine by means of a USB key.
"Finally, the 800 ACO/EL can be defined as an hybrid control machine which merges the economic advantages of a mechanical structure to the wide possibilities of product personalisation given by the electronic component," Comez says.
DNB/EL-32-12B
The Comez DNB3/EL-32-12B electronic warp knitting machine with double needle bar is the latest evolution of Comez' electronically controlled warp knitting machine with double needle bar. The machine is said to offer many benefits to users, such as a higher efficiency, reduced working width allowing fast article changeovers for small and long runs and a compact design with fully integrated devices including the beam support.
The DNB/EL-32-12B suitable for the production of many different items such as nettings, geo textiles and industrial fabrics, and medical textiles such as nettings, bandages, dressings and disposable pants. It is also suitable for producing 3D shoe uppers and apparel textiles.
The machine is now available with 12 electronically controlled guide bars to facilitate the development of advanced technical fabrics. "It is also applicable now a long shift electronic device that allows one or two bars to place a weft yarn with a maximum displacement of 560 mm. This feature makes more reinforced fabrics and allows to create technical textiles with continuous weft insertion likes conductive yarns," Comez explains.
"Any type of yarn can be processed according to the machine gauge: natural fibre yarns such as wool and cotton; synthetic yarns; special yarns such as aramid, glass fibre yarns, metallic yarns; high tenacity PP and PES yarns, monofilament yarns, etc."
"The COMEZ DNB/EL-32-12B is equipped with the DATA CONTROL CONTROLLER, governing the latest generation of actuators providing excellent dynamic performance and high positioning precision."
This article is also appears in...