29th August 2017, Singapore
DyStar marks 2016 sustainable achievements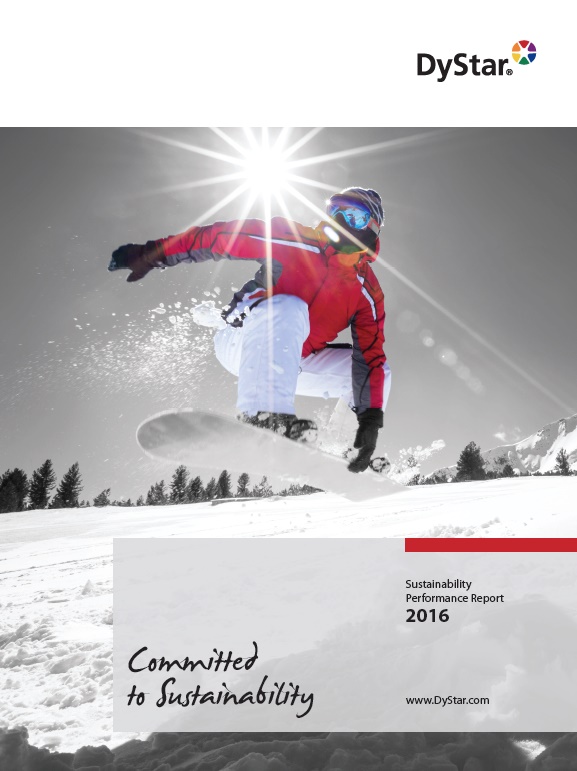 The DyStar Group, a leading dyestuff and chemical manufacturer and solution provider, has released its seventh 2016 Sustainability Performance Report.
DyStar's 2016 report is the first of the company's reports to map the 17 United Nations Sustainable Development Goals (UN SDGs) against the four commitments that continue to define the company's sustainability framework: Creating Responsible Products and Solutions; Conserving Planetary Resources; Caring for People; and Communicating with Stakeholders.
Company's product portfolio
Last year saw the successful acquisition of Emerald Performance Materials LLC, a leading American manufacturer and marketer of specialty chemicals, thus paving the way for DyStar's long-awaited entry into the food and beverage industry.
"The company's product portfolio is broader than ever but its newer product ranges come with the added advantage of being, on average, less resource-intensive to manufacture," the company reports. "This and other factors, including active efforts to improve operational efficiency across existing production sites, have helped the company surpass four of its six 2020 targets, which seek to reduce resource consumption intensities and corresponding waste outputs by 20% of 2011 levels."
Advancing green chemistry
On its traditional turf, the textiles and apparel sector, high hopes have been set for the new team of chemists tasked with advancing green chemistry approaches for the industry. When completed, the new Global Innovation Center in Nanjing, China, will host state-of-the-art laboratories dedicated to process technology development and research on next-generation alternatives.
On the services front, DyStar's online tool eliot is gaining popularity among customers, brands and retailers for the reliability of its modules. Conceived more than a year ago, eliot aims to empower users with the information they need to make responsible choices in product selection and process optimisation.
Focus on cooperation
Highlighting DyStar's increasing focus on cooperation with external stakeholders, the 2016 report features an in-depth interview with Lewis Perkins, President of the Cradle to Cradle Products Innovation Institute, and Annie Gullingsrud, the Director of the Textiles and Apparel Sector.
In their Q&A, they address fundamental questions on how the industry can become more circular and offer fascinating insight into opportunities to reduce impact through product design "from the chemistry up".
"The latest report is DyStar's most candid yet and examines the challenges that its teams tackle each day as the company strives to achieve a new balance between being a responsible supplier and a profitable business in these changing times," says the company. "Striking a notably more humble tone, the 2016 report transparently addresses past errors and touches on recent efforts to correct internal weaknesses, including the instatement of new safeguards aimed at strengthening due diligence, protecting and empowering whistleblowers, and closing procedural gaps."
This article is also appears in...