5th December 2017, New Delhi
Garment Technology Expo to be bigger next year
Showcasing ways to improve productivity, save costs, enhance quality and cut down turnaround time, the 26th edition of Garment Technology Expo (GTE) 2018 will take place from 19-22 January at NSIC Exhibition Complex, New Delhi.
This edition promises to be bigger and grander compared to the previous events with an array of fresh offerings, organisers report. One of the key highlights is an enhanced area, close to 70,000 square metres, hosting more than 350 exhibitors.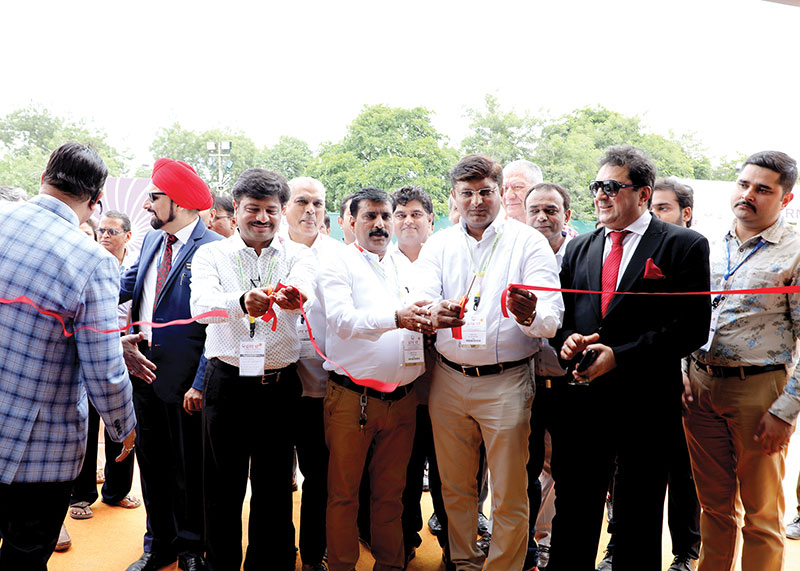 The trade expo is expected to attract more than 21,000 visitors during the four-days show. This is Indian subcontinent's largest show for apparel technology, with unparalleled representation from all sector segments, representing over 800 companies and brands from over 20 countries.
Exhibiting segments
The exhibition is known for showcasing latest machines and processes. Nearly 85% participants in the initial editions of GTE continue to be steadfast. New innovations, product launches, product upgrades, live demonstrations, new materials, and more are the cornerstone of each successive show.
Companies from every sphere of textiles and garmenting industries will be a part of this show. Key categories on display are: sewing machines, dyes & chemicals, home furnishing machines, embroidery machines, equipment & supplies, laundry equipment, spares & attachments, digital textile printing, accessories & trims, spreading & cutting fancy yarns/fabrics, quilting/packaging, IT-enabled services, leather garment making machines, software solutions, finishing & testing, fusing/dying equipment, etc.
Wide range of visitors
At the exhibition, one would find companies and brands from the wide spectrum of the textiles sector. These include garment exporters, domestic manufacturers, ordinance factories, home furnishing manufacturers, job workers, traders and suppliers institutional and government bodies, merchandisers, textile designers fashion institutes, shop floor managers, retail chains etc. The organisers also expect a strong overseas visitor participation.
Successful track record of shows
The annual Garment Technology Expo is the flagship event of GTE New Delhi and is held in spring. The 2017 New Delhi edition attracted 350 participants, from over 800 companies and brands from 18 countries. The show was attended by over 21,700 trade visitors and covered all segments of the industry, from latest technology machines to machine spares and consumables, from infrastructure set-up to latest processes and systems, from raw materials to trimmings and embellishments.
Some show stealers at GTE 17 included printing machines that can successfully work with disperse, reactive and pigment; latest Mimaki & Roland DG printing machines; flat circular knitting machines; embroidery machines with laser cutting technology; automated sewing machines by Robotech; elastic sewing machine by Supreme, and more.
Leading participants on board
Most exhibitors were very happy with the response they got at GTE 17, according to organisers. makers were one of them. "We are one of the largest Chinese manufacturers of sewing machines and our experience has been excellent at this show. I have been told by our various agents that they have received serious inquiries from many buyers. We are fully satisfied with our participation at GTE 2017," commented Lucian, Regional Manager (South Asia), Jack Sewing Machine.
"There has been increase in visitor footfall and also increase in number of genuine and new buyers who visited our stall," said Kartik Kapoor, Project Manager, IIGM. Many leading exhibitors like Viraf Turel, EH Turel & Company and Manjeet Singh of Paramount Instruments appreciated the professional organisation of the show.
Among other regular leading players, GTE 2018 has new additions, who have confirmed their presence. These include Stalwart Engineering Co. (Smartex Laundry & Finishing Machines), Mobase Product (SWF Embroidery Machines), Starwhites (Laundry & Finishing Machines), Juki – India and Aalia Fashions(Fabrics).
This article is also appears in...