For the coming Autumn-Winter 2018-19 season, the Sensitive Fabrics by Eurojersey will present a versatile and adaptable fabrics' collection designed for a frenetically paced contemporary urban lifestyle at the Première Vision trade fair in September. The collection revolves around the concept of adapting to numerous different occasions – from a formal look for business wear to urban-chic or sophisticatedly feminine style for the more glamorous evenings out.
"Thanks to their versatility, Sensitive Fabrics combine prints and plains, neutrals and classical shades, warm nuances and soft brushstrokes of colour. The colour spectrum embraces wintry shades. A palette of greys and ultramarine is punctuated by hints of violet. A protagonist of the coming season, camouflage prints add a note of distinction. Coatings and metallic-effect foil prints team up with resin finishes and délavé pigments," the company explains. Digital 3D printing technology is used to interpret textural and embossed effects. Original reproductions such as leather and délavé effects are obtained by Technosolid printing.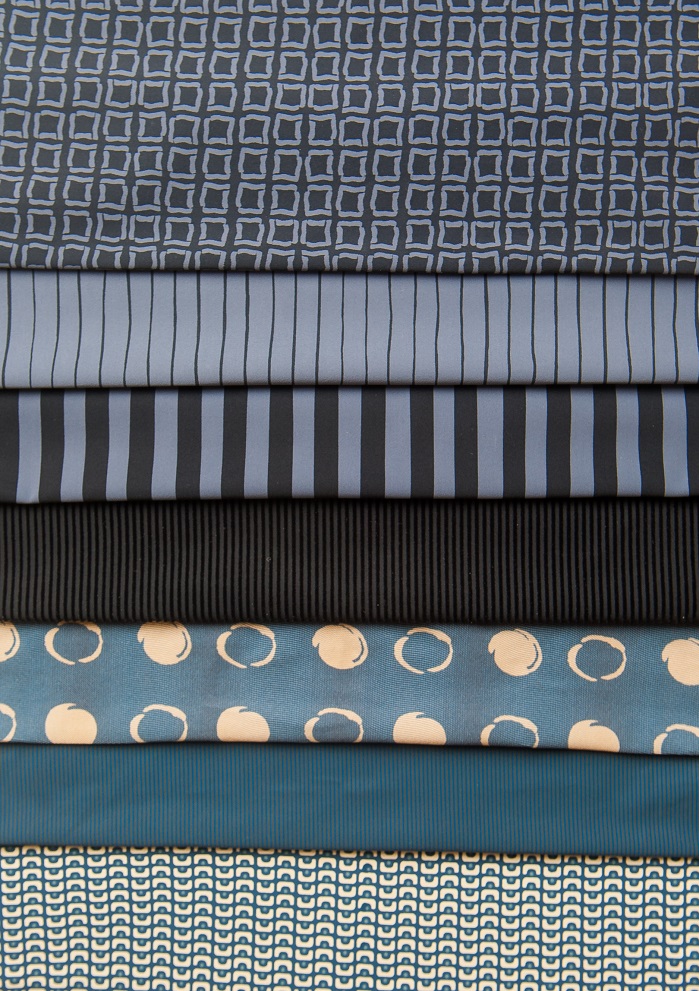 The trends for this coming season are about urban elegance contaminated by minimalism and oriental influences. "Clean-cut lines inspired by Japan and Korea contrast with metallic effects for an impacting style. Traditional, somewhat formal colours mingle with natural nuances while neutral tones come to life with sophisticated effects in the general chaos of prints. Images and intuitions are played out between increasingly advanced printing techniques, solid colours and new finishes," the company reports.
Formal
This collection represents classical and elegant mood. Quiet, formal prints on Sensitive Fabrics flirt with a timeless luxury to reproduce pinstripes, parallel stripes and variations on this theme, which are as fresh and contemporary as if hand-drawn. High definition yarn-dyed effects are combined with dynamic patterns in tones ranging from the coolest to the most neutral of greys.
Camouflage
The military outfit evolves to become a fashionable choice. Wild spirited camou, designed to pass unobserved, is printed on the ideal fabrics for those who have no intention of going unnoticed. Camou leather effect prints interpreted in an assertive style become the stand-out feature of a functional and practical mood. Intense shades such as olive green create gradient effects on Sensitive Fabrics in variegated nuances inspired by the colours of nature.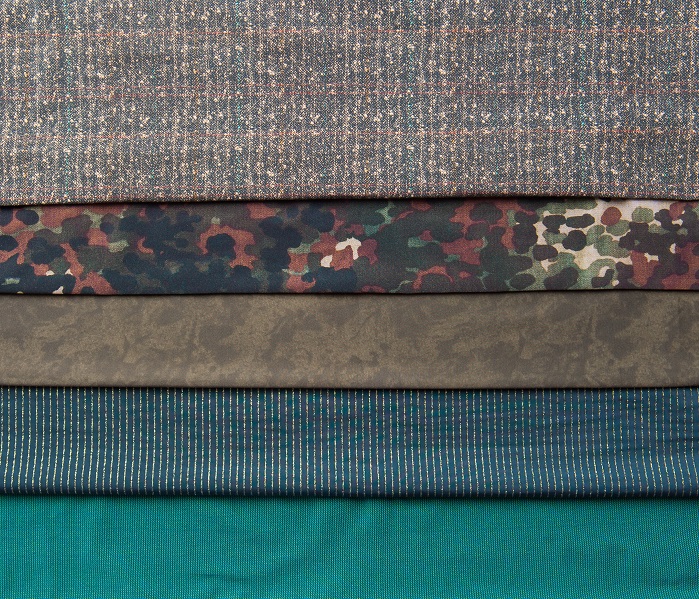 Refinement
A subtle and refined style of Japanese and Korean influence melds with an elegant and offbeat cosmopolitan lifestyle. Sleek, pared-down lines recall the meticulously precise prints of Japanese painter and engraver Hiroshige, alternating bands of colour with stripes painted in strokes of delicate shades printed on Sensitive Fabrics. A collection puts the accent on minimalism with its neutral tones pervaded by the warm intensity of shades such as cream and beige, without failing to deliver that distinctive trait of refinement and elegance.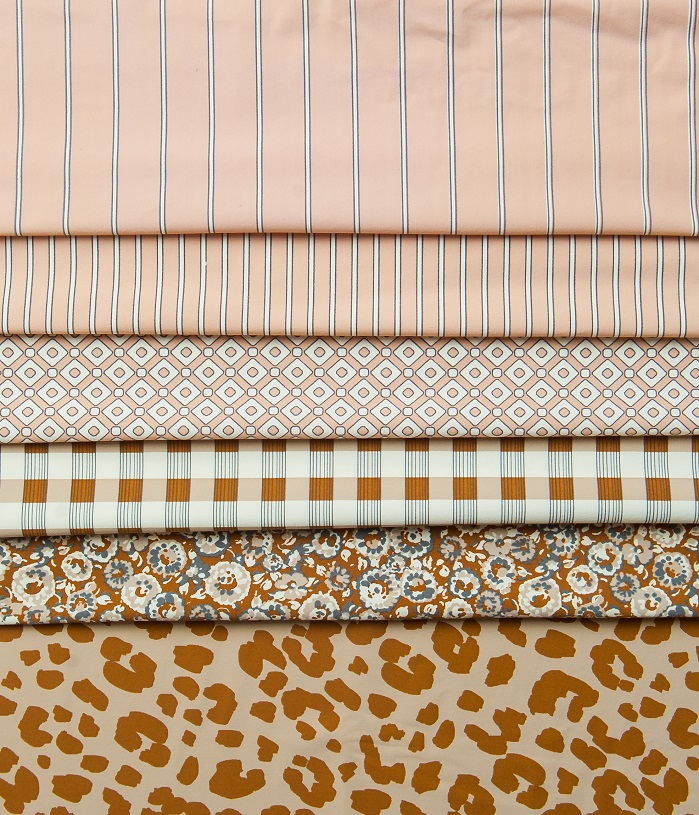 Chaos
The development of this mood unites various prints, in a celebration of chaos, guided by colour refinement and style. Ever new and variegated nuances are created, from fiery reds to more intense browns in a context that is never excessive or bewildering. The leather prints on Sensitive Fabrics, enabled by the Technosolid technique, create an effect of softness, giving each garment a high standard of finish and innovation. The elegance and distinction of 3D effects and textures are enhanced by the 3D printing technique, with a particular focus on Madras patterns, dogtooth and plaid effects.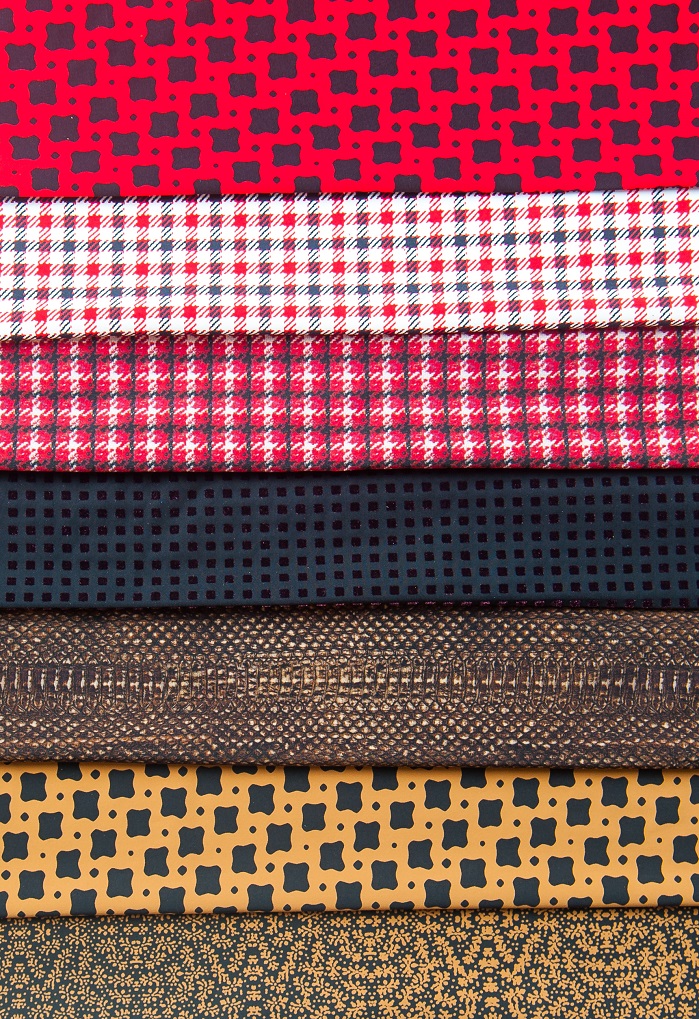 Cosmo
Unexplored and distant, this is a world that has never ceased to fascinate with its planets and luminous constellations. So, Sensitive Fabrics are enriched by coatings and foil prints with a metallic look to create luminous surfaces. Three-dimensional prints reproduce complex yet orderly cosmic effects. Circles, planets and hypnotic designs invite us to dream of outer space in shades of ultramarine and purplish nuances.
Uncharted Territory
The last theme represents a dynamic and modern mood of urban inspiration, for a lively, on-the-go lifestyle. Rich in thermoformed effects, this style presents the délavé pigments that are essential for stonewashed and stone-bleached fabrics, in order to obtain excellent bleached and garmentwashed effects. Resin coatings and canvas-look prints define Sensitive Fabrics ideal for casual and leisure wear. Colours and textures recalling the tarmac and scratched surfaces of metallic mesh are combined with finishes and prints that well lend themselves to outerwear outfits.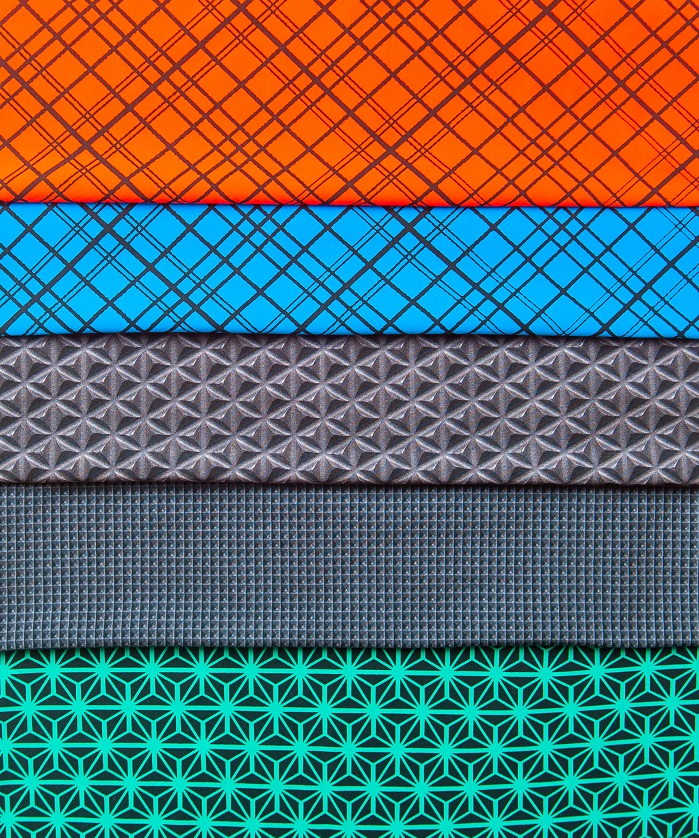 This article is also appears in...