The Sensitive Utilitarians is the new concept made by Eurojersey to give shape to its stand at the forthcoming edition of Première Vision, to be held in Paris from 19-21 September.
Structure and style have been defined according to a carefully designed scenery, pervaded by an urban atmosphere: the installation is a container, with colours and textures reproduced on the floor and the perimeter walls of the stand to evoke the energy emanating from asphalt paved roads and the scratched surfaces of metal fences.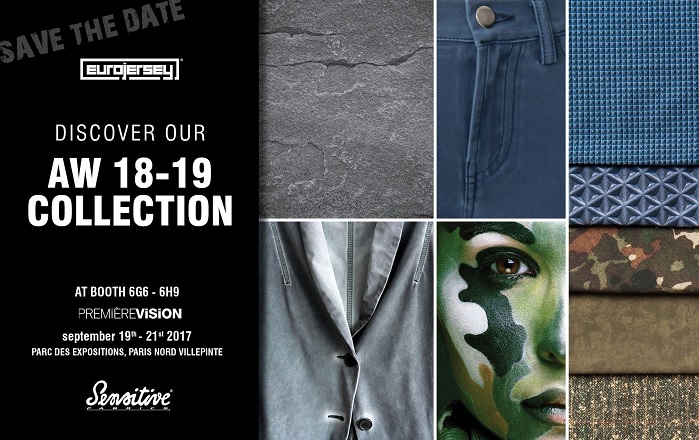 The Italian company, a quality leader with its Sensitive Fabrics, is present at this September edition with an exhibition space inspired by the notion of The Sensitive Utilitarians, which invites visitors to "step into the light of day, walk into the dark of night, visit the underground innards of a city that never stops". Hence the need for a contemporary wardrobe, with modern outfits and accessories perfectly in keeping with the many facets of "24wear" for day-to-day use.
Functional outfits
"Sensitive Fabrics give shape to functional outfits, characterized by a linear, essential style that reflects the spirit of a practical minimalism," the company reports. "Multi-layer garments use shades of grey, olive green and dark brown to transform military looks and work overalls into outfits featuring a cool, basic style. Trendsetting atmospheres are supported by the intensity of the 3D prints reproducing urban textures and getting across tangible sensations, prints that convey the feel of asphalted roads, the unbridled experiences of camouflage."
"Delavé pigments transform colours into the nuances a life rich in experiences. Metallic looking coatings and laminae are combined with fully visible thermowelded seams, for decorations which are as many sources of inexhaustible creativity."
Performance features
A collection brings together all the performance features of Sensitive Fabrics: easy to wash and wrinkle-free, these fabrics can accompany you throughout the day, in any activity, according to the manufacturer.
"They take shape as practical parkas, comfy trench coats, structured jackets that adapt to the movements of the body. Fully reversible outerwear outfits use the sophisticated reflective tapes technology to turn into "high-visibility safety" clothes in the urban surrounds."
This article is also appears in...