6th January 2010, Tirupur, Tamil Nadu
Dyers strike jeopardises Tirupur garment orders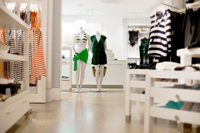 Manufacturers of knitted garments in India's 'knitwear city' Tirupur, fear that their orders from European and US retailers are in jeopardy as the region's dyers strike heads into its third week. Dyers are striking in protest at the government's insistence that they share the cost of effluent disposal.
The garment exporters are said to be worried about meeting delivery schedules after the indefinite strike spearheaded by the Dyers Association of Tirupur (DAT) entered its 11th day on Monday. Leading exporters say that if the strike continues it will harm the industry and the whole supply chain will come to a halt.
According to media reports the Tirupur knitwear industry is already incurring production losses of around Rs 30 crore per day due to the strike. Only a few of the city's larger knitted garment exporters have their own in house dyeing facilities which account for about 20% of total dyeing units in Tirupur, reports say.
January is a crucial month for the Tirupur knit goods cluster, which is famous for its cotton knitted garments and hosiery. Exporters normally start processing summer orders this month for the US and Europe. Exporters fear that delays in shipments could prompt buyers to move to Tirupur's competitors in other countries such as Bangladesh. Reaction from buyers is expected shortly as US and European retailers return to work after their winter holidays.
This article is also appears in...