3rd February 2012, Singapore
DyStar joins Sustainable Apparel Coalition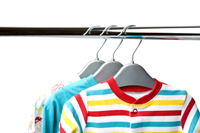 DyStar has announced it has joined the Sustainable Apparel Coalition (SAC), the collaborative venture established in 2011 by leading apparel retailers, suppliers and manufacturers with participation from academics and NGOs.
The main objective of the SAC is to develop an Apparel Index which takes a full life-cycle view of an apparel product and identifies all major social and environmental impacts along the production chain from cradle to grave.
Dyes and chemicals are a key area of interest for the SAC as not only do they add significant value to the apparel in terms of colour and performance but they can also have a major environmental impact at the wet processing stage of fabric production.
"DyStar is the leading global supplier of dyes and chemicals to the textile industry and not only has a long history of action to reduce the environmental impact of the supply chain but also recently issued its first corporate Sustainability Report prepared according to GRI principles," the company said in a statement this afternoon.
DyStar already works closely with many of the brand and retailer members of the SAC in creating seasonal colour palettes through its Color Solutions International business headquartered in Charlotte, NC and in ensuring compliance of its products with Restricted Substance List requirements through its econfidence program.
Signing the SAC Letter of Commitment, Harry Dobrowolski, President of the DyStar Group said:
"Our membership of the Sustainable Apparel Coalition signifies our commitment to working together with our partners in the industry to deliver systemic change in the way that textiles are manufactured globally."
DyStar is a founding member of ETAD, a System Partner of bluesign and a member of the Textile Exchange.
"Through its Sustainable Textile Service program for brands and retailers DyStar can help to improve communication on chemical requirements along the supply chain and to minimize the risk of costly product recalls due to chemical contamination. Through its global network of technical experts DyStar also assists in identifying ways of reducing the overall water and energy consumption of textile mill processing," the company said.
Jason Kibbey, newly appointed CEO of the SAC remarked: "We're thrilled to have DyStar join the Sustainable Apparel Coalition. We look forward to their participation in building and implementing the Coalition's sustainability index to measure and improve sustainability initiatives throughout the entire industry."
DyStar, with a heritage of over 100 years of both product and application innovation, was founded in 1995 as a coloration specialist for the textile industry. Since then, the company has transformed itself into a solution provider, offering customers a complete range of colorants, auxiliaries, as well as state of the art colour communication and textile testing.
The Sustainable Apparel Coalition was founded by a group of sustainability leaders from global apparel and footwear companies together with leading environmental and social organizations who recognize that addressing our industry's current social and environmental challenges are both a business imperative and an opportunity.
Through multi-stakeholder engagement, the Coalition seeks to lead the industry toward a shared vision of sustainability built upon a common approach for measuring and evaluating apparel and footwear product sustainability performance that will spotlight priorities for action and opportunities for technological innovation.
This article is also appears in...