9th March 2012, Singapore
DyStar launches Sustainable Textile Service Programs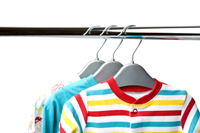 DyStar Textile Services (DTS), the service division of the DyStar Group, has introduced its Sustainable Textile Service Programs which aim to help brands, retailers and their Industry partners reduce the impact of their products and processes on the environment and optimize supply chain costs.
"Greenpeace raised global awareness of the environmental issues of the textile supply chain with its recent Dirty Laundry reports, and brands, retailers and their Industry partners are under significant pressure to clean-up the textile supply chain. In the call to action, brands, retailers and their supply chain partners are in the beginning stages of collaborating to create a sustainable textile supply chain that eliminates the toxic chemicals," DyStar said in a statement this morning.
"DyStar welcomes the initiatives with the introduction of its sustainable textile service programs which are specifically developed to help audit the supply chain and recommend sustainable solutions for improvement," the Singapore headquartered company said.
"The programs support and provide solutions to our customers' sustainability initiatives," said Dr. Ron Pedemonte, DTS global service manager.
Currently, DyStar offers four extensive development programs to brands, retailers and their Industry partners to improve sustainability in the supply chain:
Restricted Substance List (RSL) Development
Textile Mill Efficiency Improvement
Chemical Management Improvement
Environmental Improvement
The four new programs, built on the existing DyStar econfidence commitment and CSI's colour communication expertise, aim to provide the textile industry with the strongest foundation to rapidly build sustainable products and processes while improving costs and eliminating toxic chemicals from the supply chain.
DyStar, with a heritage of over 100 years of both product and application innovation, was founded in 1995 as a coloration specialist for the textile and leather industries. Since then, the company has transformed itself into a solution provider, offering customers a complete range of colorants, auxiliaries and services.
The DyStar Group has offices, competence centres, agencies and production plants in over 50 countries to ensure expertise is both global and local for brands and retailers, mills and dye-houses.
Its DyStar Textile Services (DTS) division offers state of the art colour communication through Color Solutions International (CSI), textile and ecology testing through Texanlab and ecology and environmental solutions and advice through its Ecology Solutions team.
This article is also appears in...