Education/​Training
Drexel opens new research centre for advanced fabrics
Attendees were shown around the manufacturing space, which features a main equipment room outfitted for flat and circular weft knitting, warp knitting, and more.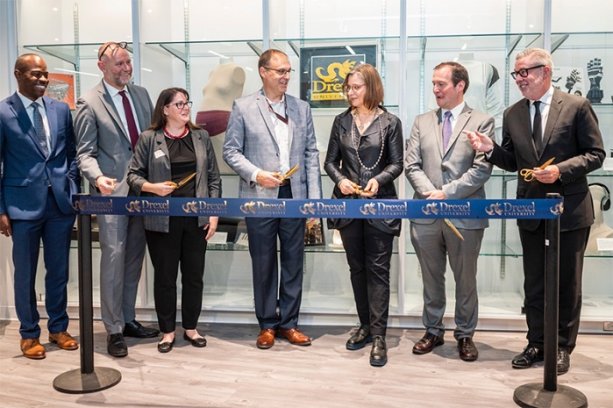 4th October 2019
Knitting Industry
| Philadelphia, PA
The official ribbon cutting kicks off the grand opening of the Pennsylvania Fabric Discovery Centre. © Drexel University/ Shira Yudkoff
Drexel University's newest epicentre of innovation and discovery has opened its doors. University administrators, trustees, faculty and friends of the Centre, as well as Philadelphia Mayor Jim Kenney, representatives from the administration of Pennsylvania Governor Tom Wolf and the Department of Defense's Office of Manufacturing and Industrial Base Policy attended the opening ceremony for the 10,000-square-foot, US$ 7 million R&D space.
The state-of-the-art centre is a joint endeavour funded by federal and state government organisations to support the creation and advanced manufacturing of innovative textile technology. "This is a place to engage, collaborate and lead innovation in the field of advanced manufacturing of functional fabrics," said President John Fry at the event.
Attendees were shown around the manufacturing portion of the space, which features a main equipment room outfitted for flat and circular weft knitting, warp knitting, weaving and yarn customisation. The centre also includes spaces for digital design and programming, systems integration and assembly, yarn and textile testing, finishing, dyeing and climate-controlled archival storage. The centre's new home was also designed as a mixed-use space that brings together laboratory and manufacturing facilities with office, training and technology exhibit space.
Smart fabric innovations
Staff and student workers from the centre were also on hand to demonstrate select uses of the technology, including two computer games and one musical keyboard controlled by gesture sensitive functional textile touchpads, all of which were created through student projects.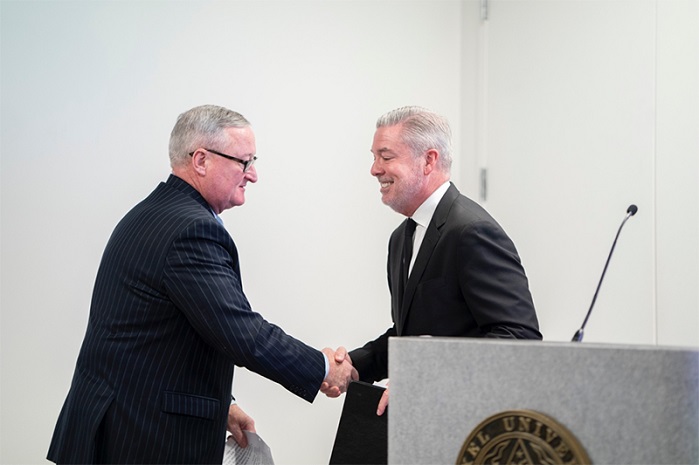 Mayor Jim Kenney shakes hands with President Fry as he is introduced for his speech. © Drexel University
Mayor Kenney said these and the many other uses for functional fabrics being explored at Drexel — from the smart fabric bellyband which monitors contractions and breathing in pregnant mothers to fabrics being developed to protect, monitor and communicate with soldiers and other emergency personnel — are amazing, and will help put Philadelphia back on the map as a leader in advanced textile manufacturing.
"It is fitting that this new centre is located in Schuylkill Yards, an area known for innovation, expanding upon Pennsylvania's already rich textile industry," said Mr Kenney. "Advanced textiles will change the way we create clothing, furniture and more, beyond the scope of what's already been done."
Expanded prototyping facility
The Centre for Functional Fabrics expansion includes the Pennsylvania Fabric Discovery Centre, which was created to support Drexel's role as the regional leader of Advanced Functional Fabrics of America's network of fabric discovery centres.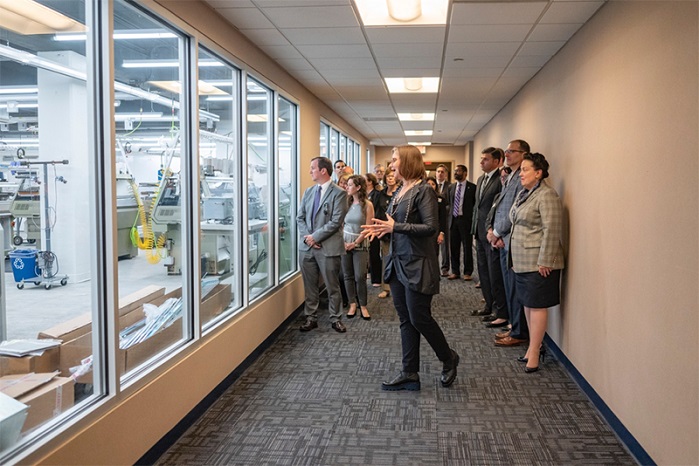 Director Geneviève Dion leads tour guests, as they view the manufacturing space for the first time before entering. © Drexel University
With the support of US$ 1.5 million from the Commonwealth of Pennsylvania, Drexel was able to expand its state-of-the-art prototyping facility, which now includes seven Shima Seiki flat weft-bed knitting machines, two circular weft-bed knitting machines, a Comez warp knitting machine, and more. The centre also has a number of advanced design and production capabilities, such as a 3D body scanner, an ultrasonic sewing machine, a seam sealer, textile testing machines and advanced sewing machines.
Promoting collaborative environment
Genevieve Dion, director of the Centre for Functional Fabrics and the PA Fabric Discovery Centre and professor of design in the Westphal College of Media Arts & Design, closed out the ceremony reminding attendees that the first knitting machine under her purview at Drexel was in a small closet where only two people could fit comfortably. "That was 10 years ago, so I really hope that you see the difference between then and now," she said, eliciting laughs from the audience.
Ms Dion founded the Shima Seiki Haute Tech Lab at the ExCITe Centre in 2012, pulling together a transdisciplinary team to bring in national funding for advanced functional fabrics research. She said it's very emotional for her to see where they are today. It's this type of transdisciplinary research and the collaborative environment found at Drexel, she added, which has helped, and will continue to help, push the centre and its initiatives forward.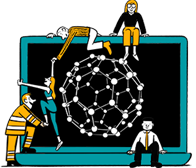 Business intelligence for the fibre, textiles and apparel industries: technologies, innovations, markets, investments, trade policy, sourcing, strategy...
Find out more