The famous Milanese designer Luca Boffi, in partnership with the brand of warp-knit Sensitive Fabrics by Eurojersey, presents a new project for furnishing, The Sensitive Design.
The project is led under the artistic direction of Luca Boffi and great international designers, such as Karim Rashid and Manuela Bucci of All Around Design network, founded by Boffi as a collector of real talent for designing and "dressing" everyday items in the most unique and special way.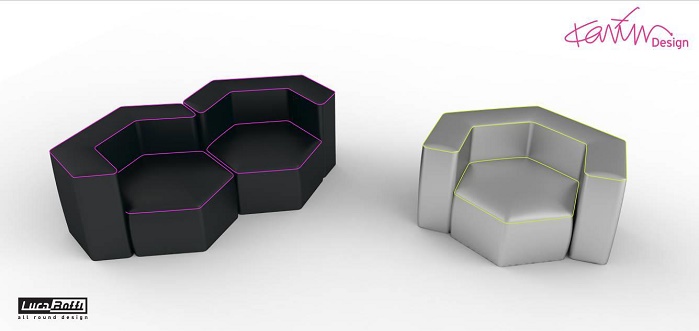 During the Milan Design Week, new HEK chairs by Karim Rashid and Demì seats by Manuela Bucci will be dressed with the new Sensitive Fabrics collection.
New seat featuring a hexagonal base
For The Sensitive Design project, Karim Rashid designed HEK, a new seat featuring a hexagonal base, which, like a mosaic piece, can be used in a variety of configurations, whether as an armchair or as a sofa.
Thanks to its shape, HEK can be replicated infinitely in the most diverse configurations. To cover it, Rashid has chosen solid colours by Sensitive Fabrics appreciating the compact design of the fabrics, their ultra-flat surface, their three-way elasticity resulting in superior colour yield and outstanding intensity and brilliance.
Thanks to the processing technology, such as piping, the revolutionary volumes of HEK are highlighted by trim in a contrasting colour for an up-to-the-minute visual effect.
Informal armchair
For The Sensitive Design fabric collection, Manuela Bucci presents Demì, an informal armchair/ottoman. Normally, an armchair has a rigid structure that supports a soft padded seat. Demì reverses the concept: a seat in rigid Plexiglas rests on a soft heart underneath. The impression you get is of slumping and swinging: hence its name Demì, which in French means half – half rigid and half soft.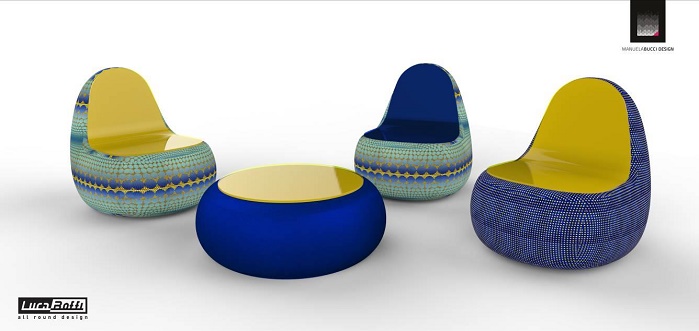 From the Sensitive Fabrics collection, the Italian designer picked a solid colour fabric for the seat and the new sport prints for the coming spring and summer season for the soft structure. One of these is Optical Degradé, featuring geometric micro motifs strategically positioned and nuanced to create fascinating optical illusions with 3D effects.
The roles can be reversed: printed fabric for the cushion, solid colours for the body. In this manner it is possible to offer more variants and the components can be mixed and rearranged in countless combinations.
Karim Rashid
Karim Rashid is one of the most prolific designers of his generation, having produced over 3000 designs and having received more than 300 awards.
Recipient of many recognitions, his design creations include luxury products for Christofle, Veuve Clicquot, and Alessi, democratic products for Luca Boffi, Umbra, Bobble, and 3M, furniture for Bonaldo and Vondom, luminaries for Artemide and Fabbian, high-tech products for Asus and Samsung, and more.
Karim's touch has now gone beyond the product to include interior design, for the Morimoto restaurant in Philadelphia; the Semiramis Hotel in Athens; the Nhow Hotel in Berlin; the university subway station in Naples; exhibition areas for DeutscheBank and Audi.
Manuela Bucci
After graduating in Industrial Design, Manuela Bucci began working as product designer for great architects: Cini Boeri, Aldo Cibic and Makio Hasuike.
In 2004 she left Makio Hasuike's design studio after a great experience in Product Design and User Interface Design for Ariston, and began her collaboration with the newly established product design department of famous Milan-based coach builder Zagato.
At the same time, she was working on telephony devices and consumer electronic projects for leading firms, such as Siemens and Telecom Italia. Then, she joined Indesit to supervise the internal design team responsible for the three company brands. At Zagato she met Luca Boffi with whom she is still collaborating as chief designer for his Home Collection.
This article is also appears in...