Industry Talk
Four Paws launches guidebook on mulesed wool
Global animal protection organisation has launched a guidebook to assist and encourage brands to move away from mulesed sheep wool.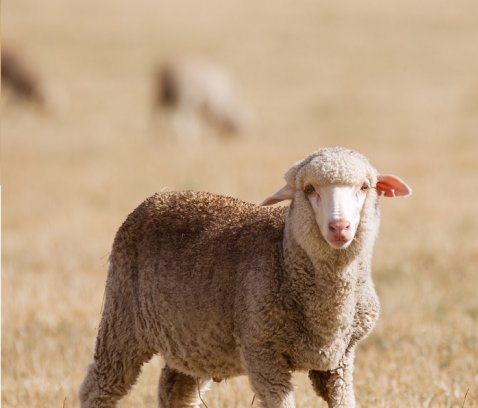 25th October 2019
Knitting Industry
| Glebe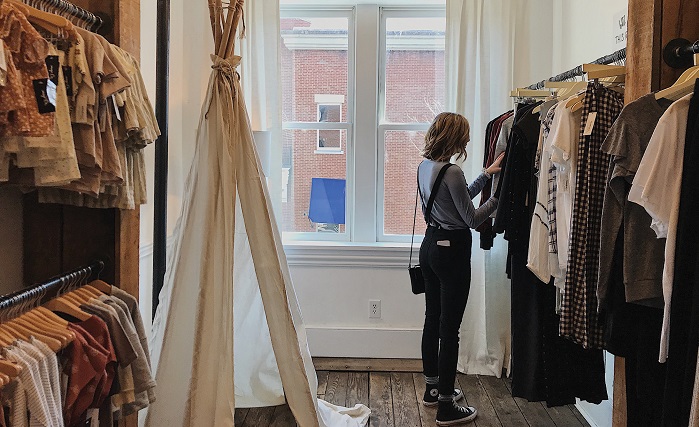 Consumers are becoming increasingly aware and concerned about the welfare of animals used by industry. © Unsplash
Global animal protection organisation Four Paws has launched a detailed guidebook to assist and encourage brands to move away from mulesed sheep wool at peak international fashion conference Textiles Exchange in Vancouver. The guidebook titled Transitioning away from mulesed sheep wool aims to assist brands in understanding how they can transition their wool supply chain away from mulesed wool and provides an overview of the available wool assurance initiatives.
Mulesing – a practice unique to Australia, is still widespread across the country which produces 75% of all the world's apparel wool. According to a recent You Gov opinion poll, almost 50% of Australians, who are aware of animal cruelty issues within fashion supply chains, are concerned about mulesing.
"If brands who sell wool are not actively excluding mulesed sheep wool, it's likely they are selling it. This brings serious risks to multiple areas of business," said Jessica Medcalf, Four Paws Australia's Head of Programmes.
Four Paws' guidebook
The guidebook includes case studies from Australian wool producers, who already supply non-mulesed wool, their reasoning behind such a decision, and provides insight into the lack of progress within the Australian wool industry. It features interviews with brand sustainability managers who have already made such commitments, including H&M, Kathmandu and Espirit.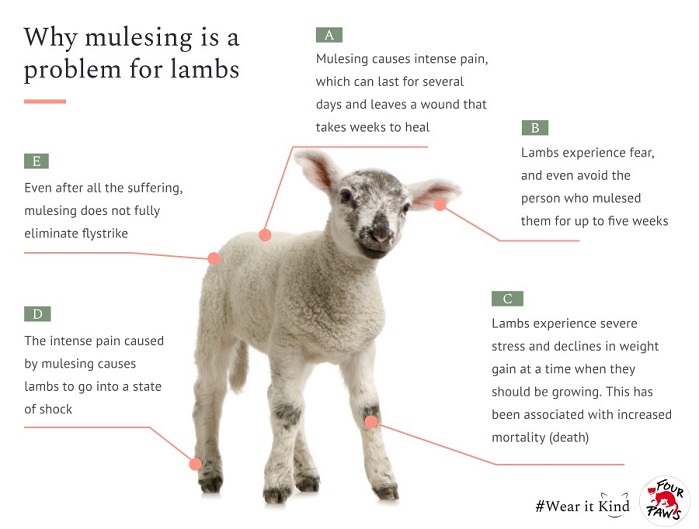 The impacts of mulesing are so intense that lambs can go into a state of shock, stand immobile and hunched following the procedure, leaving a wound that takes weeks to heal, and for some lambs the procedure can be fatal. © Four Paws
"Using mulesed wool is a key risk area for brands, and Four Paws' guidebook is a very useful tool to help brands start their journey towards more responsibly sourced wool," said Madelene Ericsson, Sustainability Business Expert, H&M Group. "By supporting an industry-wide transition to mulesed free wool, we can work together to end mulesing once and for all."
Given the global spotlight on this controversial issue, Four Paws International's Nina Jamal alongside Four Paws Australia's Jessica Medcalf presented the guidebook at the global Textiles Exchange conference in Vancouver to an audience representing some of the world's leading brands.
Transitioning away from mulesing
"In today's world, fashion is about the story of a product – and mulesing is not a story brands want to tell. It's no surprise that over 100 brands have already committed to transitioning away from mulesed sheep wool," said Ms Medcalf.
"It's clear from our conversations at Textiles Exchange that brands are very concerned about the impact of mulesed wool - not only from an animal welfare perspective, but for the reputation of their own brands and ultimately, risks to investor interest."
"What our extensive research has shown is that flystrike can be managed in pain-free ways, with alternatives to mulesing which provide a whole-body solution."
Alternatives to mulesing
While Australia may currently lack the leadership to drive an industry-wide ban on mulesing, the amount of mulesed-free wool being produced is slowly increasing. The most effective, ethical and sustainable way to help manage flystrike is to combine good management techniques with good genetics, the report suggests. Animal protection groups are calling on producers to raise naturally flystrike resistant sheep, animals who are wrinkle-free, smooth bodied or plain bodied, and ideally are bare breeched (lack wool around their anus).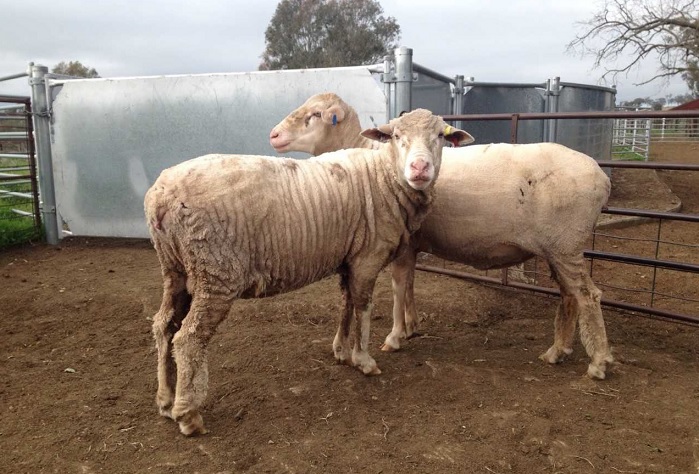 The image below was taken shortly after shearing and clearly depicts the wrinkly versus smooth sheep skin types. © Dr Jim Watts of SRS Merino
By implementing effective targeted breeding programmes, it is possible to transition a flock of wrinkled sheep to one with these characteristics in less than five years. The timeframe, however, is largely dependent on the type of sheep producers have to begin with, their capabilities, motivation, and their access to resources and support.
Some producers are reluctant to lose wrinkles; they fear a reduction in the weight and value of the fleece. This, however, is not necessarily the case. "Analysis of sires across Australia has shown there are individuals within a mob with low breech wrinkle (a flystrike resistance indicator) scores and higher than average fleece weights," said Department of Primary Industries and Regional Development, Government of Western Australia.
Progress
Mulesing, which was created almost 100 years ago, only protects the sheep's rear end, and yet, we can stop flystrike and mulesing in Australia by transitioning to using flystrike resistant sheep types, alongside improved management practices," said Ms Medcalf.
Around 3,000 Australian wool producers have already stopped mulesing, making up about 10% of the national output. While progress has been happening in response to consumer demands, what is needed now is an industry-wide push for change that is long overdue.
"Brands can catalyse this shift by laying down firm time-bound commitments to phase out mulesed wool," said Ms Medcalf. "With a growing supply of non-mulesed wool, and a number of robust assurance schemes available, there is no better time for brands to make the transition."
Four Paws is urging all brands using wool to download a copy of the guidebook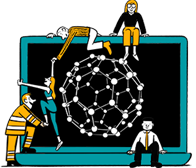 Business intelligence for the fibre, textiles and apparel industries: technologies, innovations, markets, investments, trade policy, sourcing, strategy...
Find out more