Educe Consulting, a software solutions provider, has completed a workflow automation project between three companies within the Goyal Knitfab group, an integrated warp knitted fabrics producer in India.
Management and paper work
Goyal Knitfab is one of the leading suppliers of specialty warp knits to the sportswear, intimate and industrial fabrics markets. Located in Surat, India, it is organised in three divisions – knitting plant, dyeing plant and a dyed fabric division.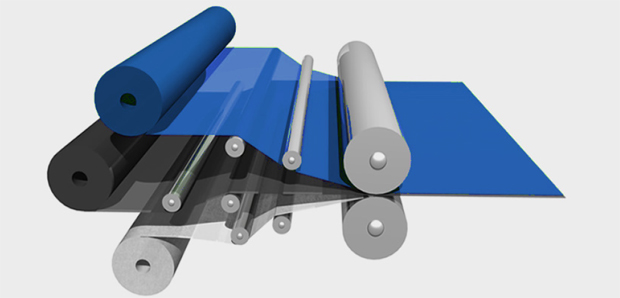 All the three divisions work as independent companies and profit centres, which is said to enable increased production efficiency, visibility of order management and production planning across the divisions.
However, according to the manufacturer, this also increases a lot of internal order management and paper work across divisions and therefore Goyal Knitfab was looking for a solution on its e10x-ERP platform to decrease this paper work.
Commenting on the Educe Consulting solution, the company said: "As soon as the greige delivery challan is made in its knitting division, a job work lot number is generated in its dyeing plant without any manual entry. Similarly as soon as the dyeing house delivers the dyed fabric, a receipt entry is created in knitting automatically."
Solution
Educe Consulting mapped every process in one division that required a reciprocal action in another division: PO to SO, delivery order to goods receipt note, delivery for subcontracting dyeing to receipt of fabrics.
Using its understanding of the textile process and workflow, an automatic voucher engine was designed as configurable. The e10x-ERP users can automate reciprocal actions in one company, triggered by actions in another.
Benefits
With a total implementation and training time of three days, the Goyal Knitfab team was delighted to see such a robust solution delivered within two weeks of a system study.
"It takes me less than five minutes to approve the automated inward of material which would otherwise take me one hour everyday," said Pravin Desai, Asst Manager, Warehouse, Goyal Knitfab (Dyeing Division).
The sales team at Goyal Knitfab is responsible for generating a sales order for a fabric and planning the production, and e10x-ERP is in charge of the rest of the activity. The Knitting division is instantly informed about the order automatically and makes sure no order misses its deadline.
For more details please contact [email protected]
This article is also appears in...