ITMA 2015, the leading international textile and garment machinery exhibition, has attracted over 1,300 applicants from 43 countries by the application deadline of 4 July. As a result, over 95% of the 200,000 square metres of space has been taken up.
CEMATEX, the European Committee of Textile Machinery Manufacturers, is delighted with the outcome. Charles Beauduin, President of CEMATEX, commented: "We are very encouraged by the strong space take-up over the last few weeks."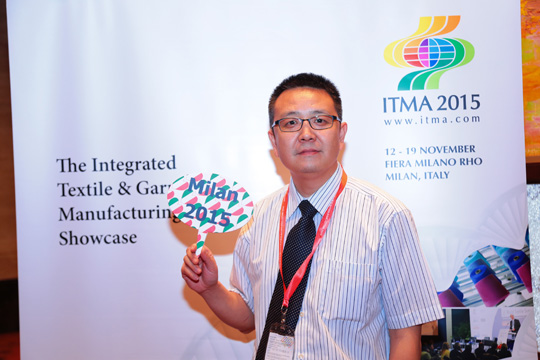 "The overwhelming response is testimony of ITMA as a relevant marketing and sourcing platform. It further reinforces the reputation of CEMATEX's global platform."
High interest
Interest in ITMA from CEMATEX countries is very high, with many companies planning to launch their latest technologies at the exhibition. Over 750 applications have been received to date from companies in CEMATEX countries, taking just over 70% of the space booked so far.
Several CEMATEX countries have increased the space booked for the 2015 show compared with the 2011 event, including Italy, Netherlands, France, Germany and Sweden.
The top five countries in terms of space booked are Italy, Germany, Turkey, Switzerland and India. The top five countries in terms of number of applicants are also Italy, Germany, India, China and Turkey.
Sectors
The top five sectors are finishing (24%), spinning (16%), weaving (14%), knitting (14%) and printing (10%). Commenting on the sectors, Eileen Ng, Executive Director of MP Expositions and Project Director of ITMA 2015, said: "The top five sectors have always been well represented at ITMA. Exhibitors sign up for large stands to showcase their machinery through live demonstrations. Visitors can look forward to learning about the latest technologies from these manufacturers."
"We are encouraged that the printing sector has more than doubled in space applications from the last ITMA show in 2011. The positive response affirms our decision to expand it into a dedicated chapter. As there have been rapid developments in the digital realm, manufacturers will be using ITMA 2015 to launch their innovative solutions."
Highlights
Emphasis has also been given to the nonwovens, fibre and yarn, as well as garment making chapters. Technical textile solutions which have formed an integral part of the offerings by technology providers at ITMA will be further highlighted with displays of new applications.
With more than 15 months to go before the exhibition opens in Milan, the organising team is confident that the ITMA 2015 exhibition will see more participation from the industry.
ITMA 2015 will feature a number of knowledge-sharing events. These include the World Textile Summit, nonwovens forum jointly organised by EDANA, Textile Colourant and Chemical Leaders Forum, and ITMA Sustainable Innovation Award programme.