Texprint unveiled the 24 textile design graduates who will benefit from its industry mentoring programme in 2016 at Chelsea College of Art last week.
Representing weaving, knitting, mixed media, and print, the designers now embark on their professional careers in an exciting and challenging environment, setting their sights on making their names in all aspects of the global textile industry. They have been selected from more than 200 applicants from 32 UK universities and colleges.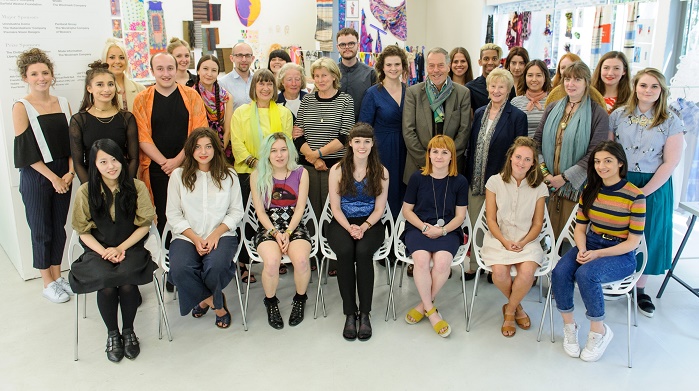 As part of the Texprint alumni 2016, the 24 will enjoy professional mentoring, as well as showcases in London, at Première Vision Paris in September and at Intextile in Shanghai in October. In addition, a number will gain work experience with Unindustria Como, the group of prestigious textile companies based in Italy during the summer.
Selected designers
The work presented was very strong, according to organisers and the jury. The Royal College of Art with five MA graduates selected; Central St Martins also has five BA graduates amongst this year's group; there are two MAs and one BA from Nottingham Trent and two BAs from Heriot Watt.
The other selected designers are BA graduates from Loughborough, Brighton, Buckinghamshire, UWE Bristol, Winchester, Chelsea, Bath Spa, Falmouth and Hereford. In addition to the British, the graduates come from Spain, Iceland, Singapore and USA - demonstrating the international reputation of UK's design courses.
Judging for the Texprint Awards
Deliberations for the Texprint awards take place in London and this year's judging panel was Andrew Croll, Nike Inc; Fiona Douglas, of BluebellGray; Couture Embroiderer, Nadia Albertini; and Pip Jenkins, John Smedley Design Director. The prestigious Texprint Awards will be announced at Première Vision Paris.
"It has been a pleasure to see so much beautiful and accomplished work. Just by being here, these graduates are already winners," commented Couture Embroiderer, Nadia Albertini.
Pip Jenkins, John Smedley Design Director was struck by the sophistication and maturity of the work on display. She said: "It is hard to believe that these people have just graduated. Everything is well edited and considered. From a knitwear perspective, I'm in awe of the other disciplines skills demonstrated at Texprint."
Inspiration and trends for 2016
Peter Ring-Lefevre leads the team of industry professionals who, over a period of three weeks of interviews, select the designers that will become the Texprint alumni for 2016. Commenting on trends seen in portfolios, Peter said: "This year inspiration came from architecture, mementos of the past, marine biology and natural forms, as well as patterns derived from various new CAD programmes. Architectural influences featured iconic contemporary buildings, as well as decaying structures inspiring textures and colour."
"We noticed that there is an increasing amount of purely data based design as opposed to hand-drawn inspiration, highlighting the diminishing number of traditional sketchbooks as a starting point in the design process. This digital media can create bold new lines and mark-markings, but needs a very skilled eye for it not to look too obvious. Hand drawing still brings out greater observation and results in greater originality."
"2016 saw the term genderful emerge to describe cross-looks for relaxed casual but smart sportswear. Meanwhile many of the designers cite "sustainability" as a desired production route from dyeing of cloth to finishing and sourcing of base fibres. Overall, the standard achieved by the UK's design courses is extremely impressive. It is always a challenge to select just 24 designers but the truly talented and original stand out," he concluded.
This article is also appears in...