30th October 2014, Sydney
The Woolmark Company releases its Wool Care Guide app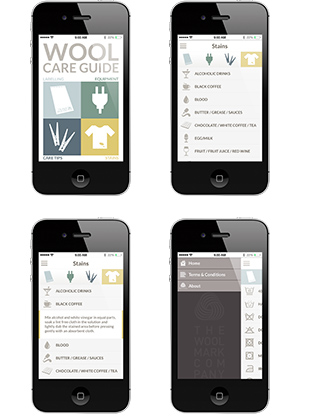 The Woolmark Company has announced its rollout of a Wool Care Guide app, placing information on apparel care at the users' fingertips.
Available for all Apple and android devices, the app is designed to easily explain to consumers what different logos found on the wool products mean and detail the steps to make caring for the wool apparel easy.
The app aims to help people wash, dry and iron the wool clothing at home with the confidence that Woolmark Apparel Care products are tested and approved for their performance in caring for wool.
Care labels
This will help users understand the care labels, such as whether the wool item is safe for machine wash or hand wash only. Using approved GINETEX care symbols, washing wool has never been easier, according to The Woolmark Company.
Equipment
The Woolmark Company tests and approves the wool cycles on washing machines, tumble driers and irons. Appliances with the Woolmark Apparel Care logo have been tested on their ability to wash wool effectively.
The same logo can be found on Woolmark-approved detergents, which are suitable for laundering your wool textiles.
Care Tips
Irrespective of the laundering method, it is recommended that wool garments are turned inside out prior to laundering.
This will prolong the as new surface appearance of the garment. Other tips such as how to avoid colour bleeding are also clearly outlined in the Wool Care Guide app.
Stain removal
The app also provides effective measures of stain removal for the treatment of everyday stains such as coffee, wine and grease. All safety precautions recommended by chemical suppliers should be followed.
Quality laundering technology
The Woolmark Apparel Care programme seeks to provide quality laundering technology to consumers to provide the very best care options for wool garments. It allows for the Woolmark Apparel Care symbol to be licensed for use on detergents, washing machines, tumble driers, irons, fabric softeners and bleaches for domestic use.
"The Wool Care Guide app is part of the Woolmark Apparel Care programme's overall strategy to provide consumers with educational and functional tools for laundering their wool apparel with ease," explained Rob Langtry, The Woolmark Company's Chief Strategy and Marketing officer.
"These initiatives address a misperception among some consumers that wool garments are more difficult to care for than garments made from other fibres, yet we address these misconceptions through global marketing, education and R&D, spreading the message that wool is easy to care for."
The Woolmark Company
The Woolmark brand is owned by Australian Wool Innovation (AWI), a not-for-profit company owned by more than 25,000 woolgrowers.
AWI's vision is to be a significant contributor to a stable and profitable wool industry providing the world with the best natural fibre.
The company mission is to enhance the profitability, international competitiveness and sustainability of the Australian wool industry, and increase demand and market access for Australian wool.
This article is also appears in...