7th June 2011, Mönchengladbach
Energy solutions are key for Monforts at ShanghaiTex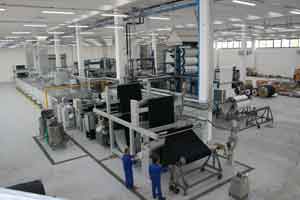 German finishing machinery builder Monforts says that with energy representing more than 60% of the total costs of a thermal system over a period of 10 years, it provides a constantly increasing expenditure. Consideration also has to be given to the cost factor for discharging the cleaned/recycled exhaust air into the atmosphere, Monforts says.
To meet these challenging issues, Monforts will be displaying its tried and tested solutions at ShanghaiTex, with a team of senior sales and application engineers offering advice on the energy saving techniques.
"With energy costs increasing month-on-month, Monforts offer continually updated economy calculations for payback periods of its equipment. Today, for example, the benefits of heat recovery, fitted as standard on most Montex stenters, becomes even more attractive with further reduced payback due to the continually rising fuel costs," says Monforts Klaus Heinrichs.
The latest Monforts heat exchanger is integrated into the roof construction of the stenter for no heat loss. Exhaust air heat is converted in the heat exchanger to heat the fresh combustion air. Heated fresh air enters at the inlets of the stenter via integrated fresh air ducts.
According to Monforts, up to 60% of the fresh air required by the stenter can be preheated in this way providing an energy saving of between 10% and 30% depending on the production process.
Energy Tower
A stand alone Energy Tower has been introduced for retrofitting to existing stenters or hotflues with restricted access above the units. Designed to be positioned alongside the stenter or hotflue it features five integrated heat recovery modules. Capitalising on the high temperature of the exhaust air, savings of up to 30% in energy costs can be achieved.
Additionally Monforts systems feature all electronic/electric support for the minimum use of energy, such as, for example, automatic heat energy shut off for when the machine is in idling mode.
Eco-applicator soft coating solution
The benefits of the new Eco-applicator will also be introduced at Shanghaitex. The new system is said to eliminate the need for a wet-on-wet padder ensuring significant energy savings and reduced quantities of softners.
Using trough and roller techniques, the Eco-applicator applies a liquid coating to a single side of the fabric, both sides, or applies a liquid to one side of the fabric and a different liquid to the other side.
The new process is available in a number of ranges suitable for felt finishes, coated materials and medical textiles. Finishing effects include, for example, water repellency, flame retardency and insect repellence.
New Sanforisor
A completely new redesigned compressive shrinkage sanforisor for both knitted (Toptex) and woven (Monfortex) fabrics offers increased residual shrinkage, higher production speeds, automatic grinding of the rubber blanket, reduced water consumption for cooling and substantial time savings for blanket changes.
This article is also appears in...