6th October 2014, Beaverton, OR
Engineered warp knit - an alternative to Nike Flyknit?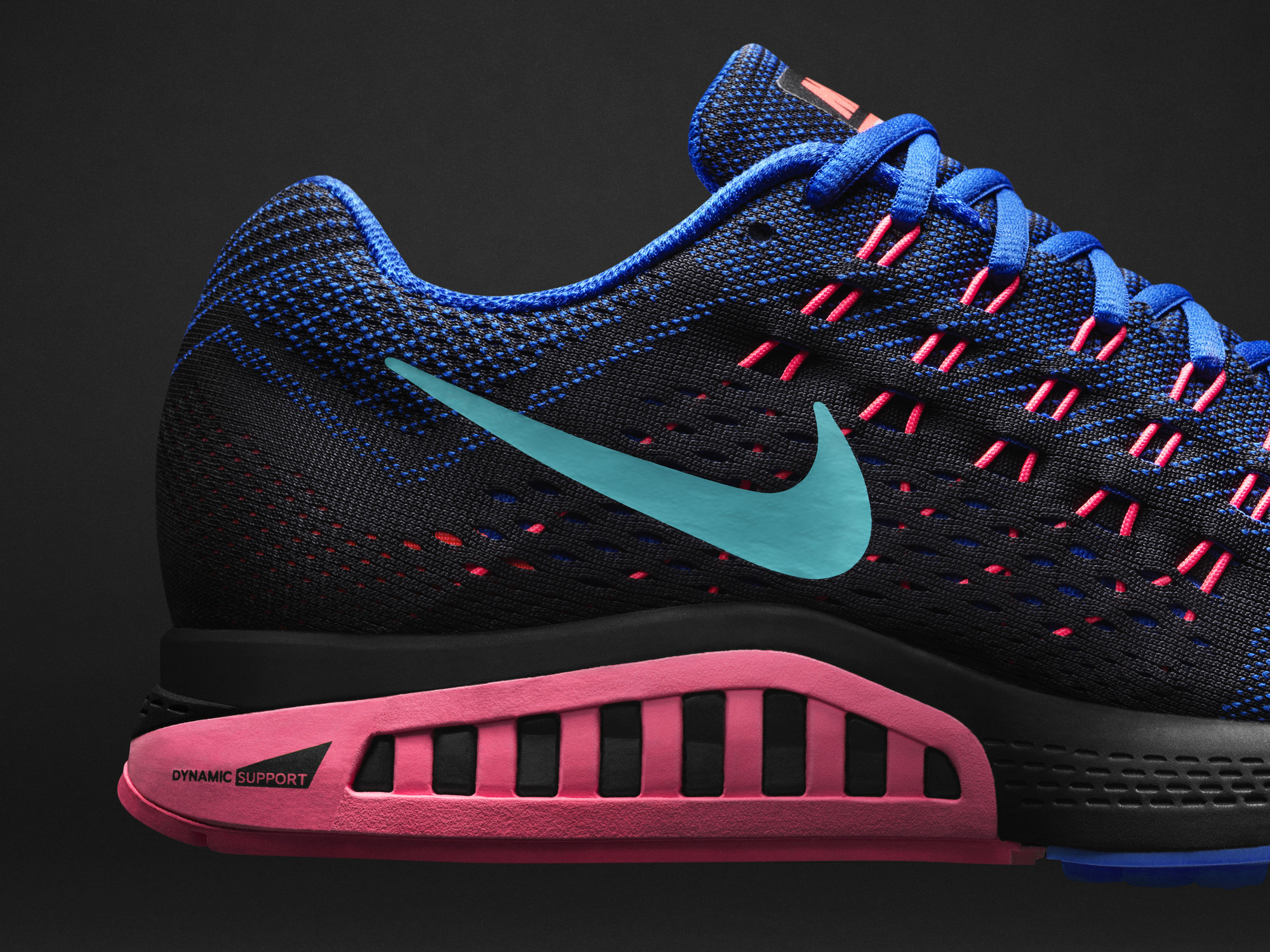 Nike has launched the 18th version of its workhorse Nike Air Zoom Structure distance running shoe that incorporates a new engineered warp knitted fabric, Nike Engineered Mesh, with inlaid Flywire in the upper for additional support. At first glance the shoe upper looks like another flat knitted Nike Flyknit upper, but it is actually produced on a double needlebar jacquard raschel machine.
With Nike's legendary Flyknit uppers produced on Stoll flat knitting machines the Flywire supports are laid-in to the fabric on the knitting machine during knitting, providing engineered secure supports, whilst reducing post-knitting labour. However, with the new Nike Engineered Mesh fabric the Flywire supports are asymmetrical and appear to be laid-in by hand, although it may be possible that the fabric has been produced on a modified Karl Mayer machine or similar where the Flywire is laid in automatically on the machine.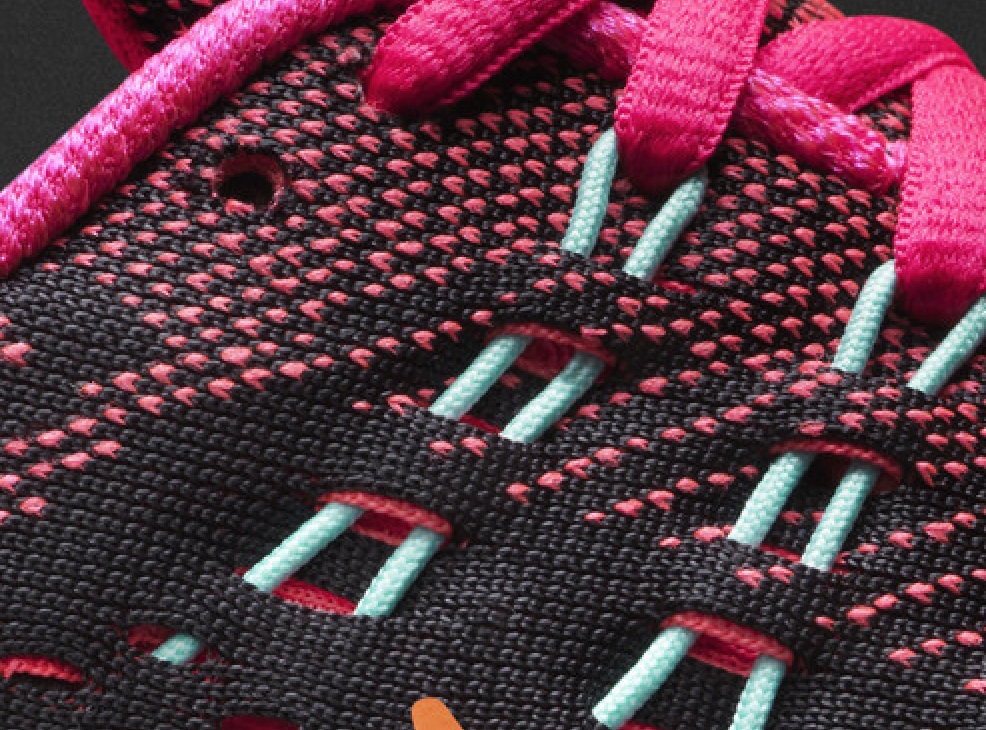 Knitting Industry sources say the Nike Engineered Mesh fabric has been produced on a Karl Mayer HDRJ 6/2 double needlebar raschel machine or similar. It is not clear from images provided by Nike with its press release, which gauge of machine the fabric is knitted on but it looks like it could be around 10 gauge (needles per inch).
So, does it become a case of highly engineered fully integrally knitted flat knit at a certain rate of production versus a part integrally knitted warp knit at a higher rate of production and possibly in finer gauges? There is almost certainly room for both. The Nike Air Zoom Structure 18 shoe upper is almost certain to be made from two separate pieces of fabric, whereas Flyknit uppers are advantageously knitted in one piece.
Natural movement
The Nike Engineered Mesh upper with Asymetrical Nike Flywire cables that wrap the foot and provide support without the bulkiness of previous models, are said to let the foot move naturally. Nike Engineered Mesh is also said to improve comfort and breathability. According to the company, Nike Engineered Mesh enables designers to precision-engineer ventilation and lightweight support where needed most, improving comfort and breathability.
The 18th version of the beloved workhorse delivers stability and performance that are unshakeable at high speeds, Nike reports. "Strength and growth come from continuous effort — but growing up doesn't have to mean slowing down, as proven by the new, revolutionary Nike Air Zoom Structure 18. Now in its 18th version, the Nike Air Zoom Structure raises the bar for a running shoe that delivers both speed and stability," the company said in its statement.
The statement goes on: "Over the last two-plus decades, Nike designers have debunked the notion that stable means slow. They've constantly pushed to make the Nike Structure shoe lighter, smoother and more responsive without sacrificing any of its vaunted stability features. The design of the Structure 18 is a quantum leap from past versions where designers revolutioned it from top to bottom."
Developed with elite athletes
The Nike team says it worked closely with elite athletes such as 10,000m silver medalist Galen Rupp and 3,000m world junior champion Mary Cain for insights to bring the distinctive shoe across the finish line. Rupp, who runs nearly all of his 120 miles per week in the Nike Structure, said the Structure 18 gives him a more stable ride and feels faster all the way through his runs.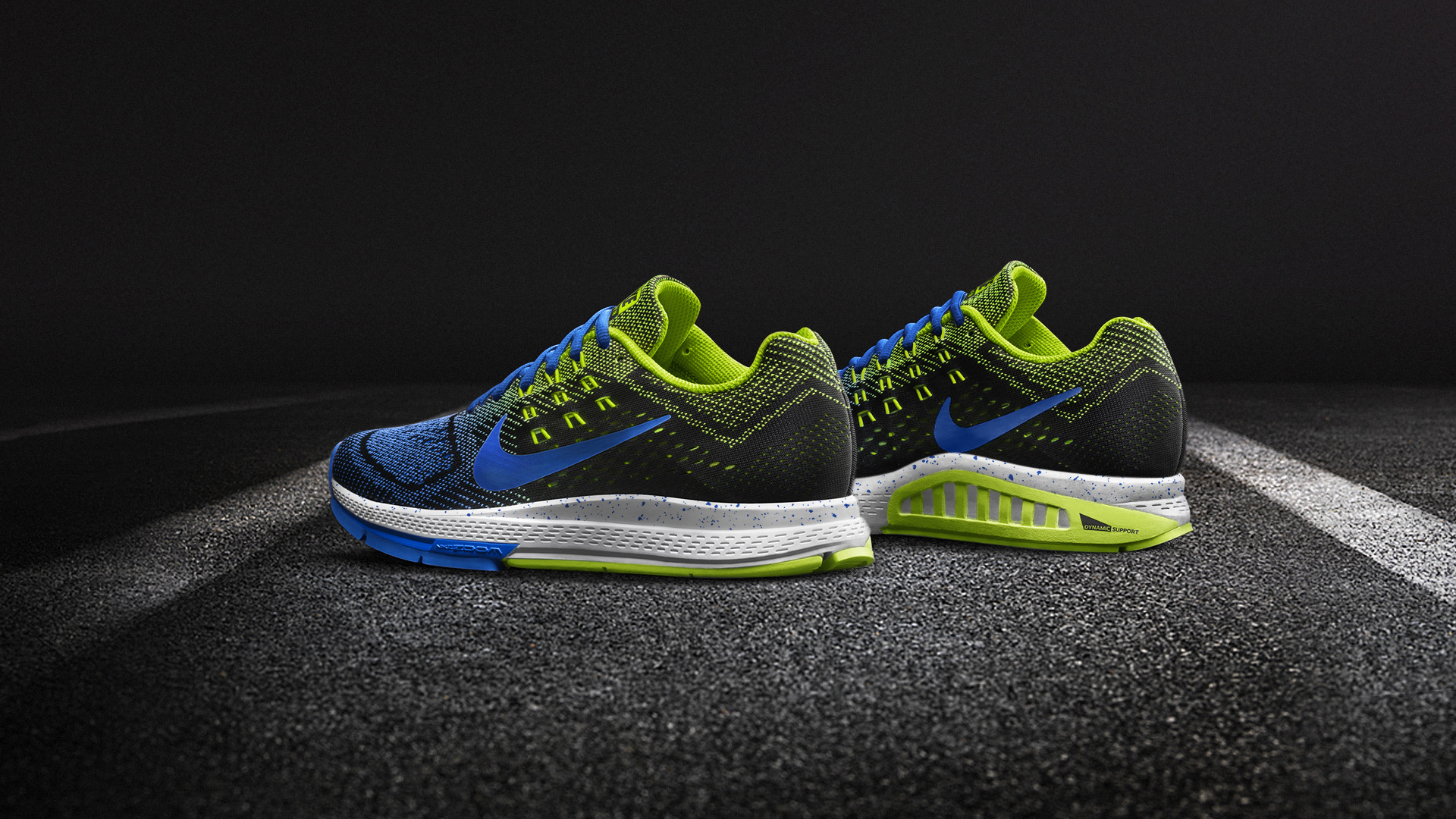 "The Nike Structure is the only shoe I've trained in since I started running, so it feels special to me to have input in the design of the new one," Rupp said. "I love the Nike Air Zoom Structure 18 because it hugs my foot in the right places, providing the support I need to go the distance. I was really surprised when I picked them up and felt how light they were. It's like Nike found a way to magically shave a few ounces off, and because of that, I feel like I can run faster in them."
Uncompromising stability
According to Nike, the Nike Air Zoom Structure 18 delivers uncompromising stability through the combination of an upper featuring Asymetrical Dynamic Flywire and a triple-density Dynamic Support system in the midsole. The new contoured last — created to provide a better fit and more responsive ride — combined with Nike Zoom Air cushioning, provides added toe spring for the snappy, quick-off-the-ground feel athletes expect from Nike Zoom Air.
Designed to provide runners with support and cushioning, the innovative Dynamic Support system uses opposing wedges of foam with different densities to help slow the rate of pronation. Designers enhanced the support in the Nike Air Zoom Structure 18 by adding a third, high-density foam to the existing system. When needed, the three-density Dynamic Support system kicks in to help provide added support and enhance the smooth transition upon foot strike.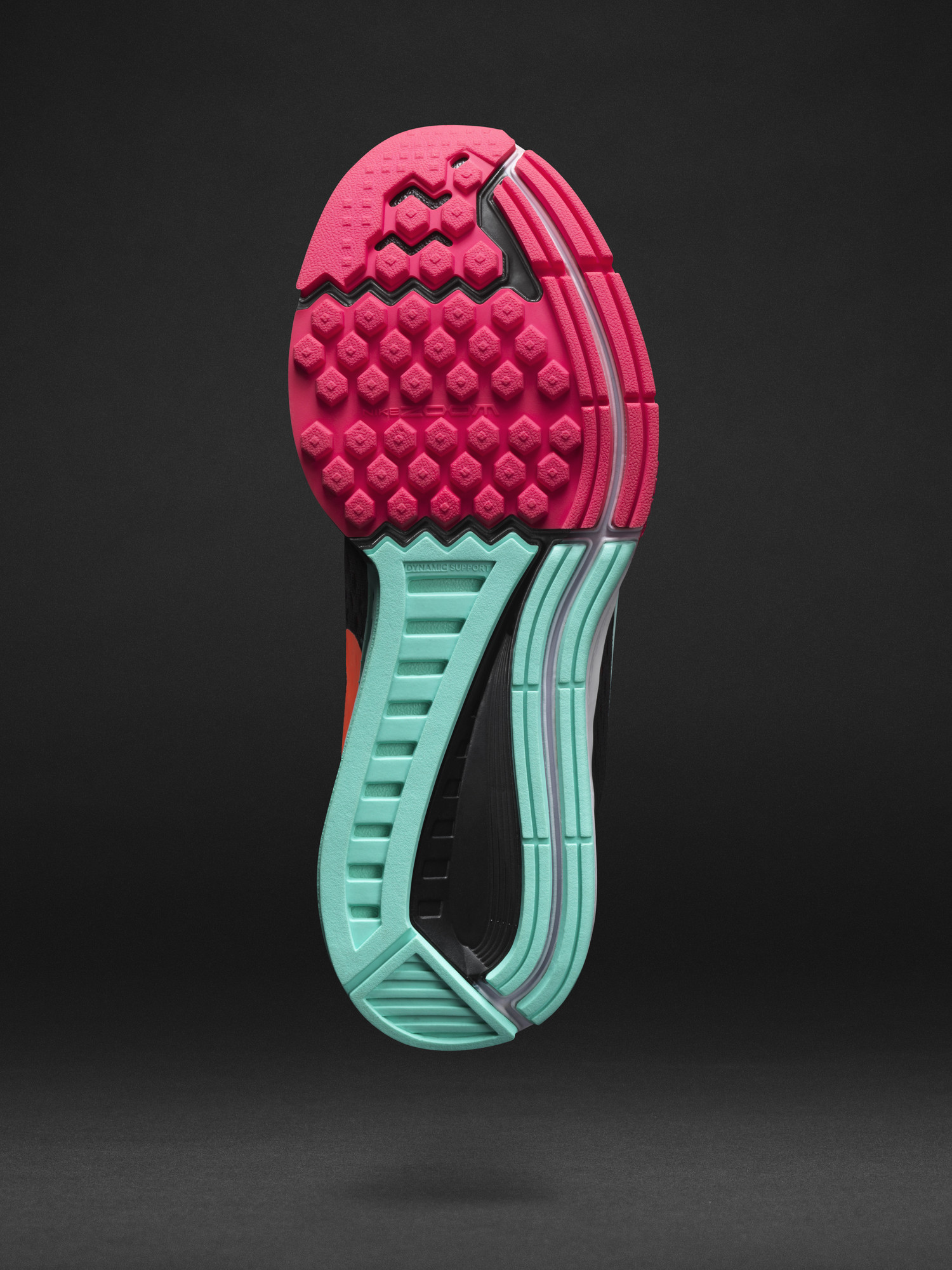 Nike Engineered Mesh enables designers to precision-engineer ventilation and lightweight support where needed most, improving comfort and breathability.
Nike's Zoom Air technology is the fastest, most responsive Nike Air cushioning, making it the cushioning of choice for many elite and everyday athletes, Nike adds. Highly responsive Nike Zoom Air cushioning in the forefoot combined with the added toe spring of the new Zoom last, provides the Structure 18 with a responsive snap and fast transition.
"We designed the Zoom Air collection to be a revolution in speed," said Rob Dolan, Nike VP and Creative Director, Footwear. "Whether athletes are racing or training, they repeatedly ask for Zoom Air because they love that fast, snappy, responsive ride and the energy return they get from it."
The Nike Air Zoom Structure 18 is part of a collection of Zoom Air running shoes that includes the Air Zoom Pegasus 31, Air Zoom Elite 7 and Air Zoom Streak 5.
Further reading
More articles about Nike Flyknit