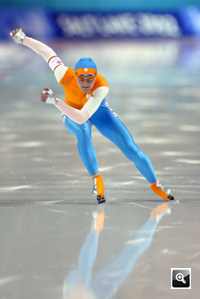 5 January 2010, Buhler - In 1974 a Swiss speed skater named Franz Krienbühl developed the first one-piece speed skating suit to optimize the aerodynamics of his racing gear. Today, 35 years later, Switzerland is still the home of innovative sports apparel and Swiss knit fabric specialist Eschler has developed a range of high tech fabrics for the speed suits of various national teams at the 2010 Olympic Games in Vancouver.
Managed by the third generation, Swiss brand Eschler has a long and well known tradition in developing premium knitted fabrics for elite sportswear. For the Winter Olympic Games in Vancouver, Eschler will be supplying brands like Nike and Descente that produce the speed skating racing gear for the world's leading speed skating nations. Nike engineers the suits for the US, Dutch and South-Korean national teams, Descente for the Japanese and Canadian squads.
Four different Eschler fabrics are used in one single speed skating suit and each body zone is equipped with a particular construction. The one suit system utilizes extremely durable and cut resistant fabric in critical zones which are specified by the International Skating Union (ISU).
Eschler adds that tight compressive fabric on the thighs reduces muscle vibration and supports muscle movement. Meanwhile, behind the knees and on the inner thighs, thin yet durable fabric is used. Mesh inserts also guarantee improved moisture management and ventilation. The company says that the fabric surface has been optimized in many lab and wind tunnel tests as aerodynamics are a crucial factor when it comes to shave off those milliseconds that separate the gold medallist from the rest.
This article is also appears in...