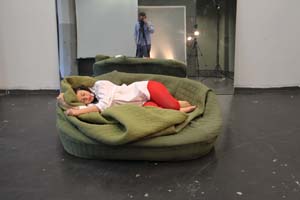 2011 is set to be a year of innovation for Eschler Textil GmbH. The German warp knitting company which specialises in technical textiles, moved into a new office and administration building in the Swabian town of Balingen in January, and is also planning to extend its production facilities during the year.
In terms of knitted technical textiles, Eschler Textil will be presenting its newest creations at this year's Techtextil in Frankfurt, in a number of product categories including medical and orthopaedic textiles, carrier fabrics for laminates and coatings, cleaning textiles and other specialist categories.
EXPO fabrics
A new focus in Eschler's technical textiles range is a recently introduced product group called EXPO. This includes fabrics developed for exhibition construction, protection against the sun and stage requirements.
Numerous interior and furniture designers are said to be interested in Eschler's new fabrics, including the young designer Hanna Emelie Ernsting, who created the so-called Moody-Nest (see image top right) for her collection of high-tech seats. The designer experimented with flexible shapes and innovative materials and in doing so discovered spacer fabrics, creating a unique seat using Eschler's 4.5 mm thick Elastic-Spacer.
The bi-elastic 3D fabric was used for the huge cover and lends the object the necessary flexibility and soft shape. "Moody-Nest gives the occupant the chance to let his or her mood expand and run free. The occupant's emotionality leaves traces in various ways, giving the object a lively appearance," says Ms. Ernsting.
Carrier fabrics for laminates and coatings
Eschler has had many years of experience in the carrier fabrics for laminates and coatings sector and offers a diverse range of fabrics, including very light weight polyesters and polyamides starting at 35 gsm, velvet-like surfaces and also rougher monofil knits.
"These fabrics can be used as base layers for membranes and functional coatings for a wide range of technical applications, from artificial leather components, aid for the manufacture of composite fibrous material, boat covers and military camouflage equipment," Eschler's Matthias Eschler says.
"The most important aspect in the development of such composite systems is the use of components which are optimally adapted to each other," says Matthias Eschler, Managing Director. "We thereby fulfil the highest quality requirements and supply individual textile-technical solutions."
Medical and orthopaedic fabrics
Eschler fabrics for medical and orthopaedic requirements are both protective and supportive. They include for example absorbent material for the incontinence sector, components for special pads for wounds, or systems which are low in particles for use in operations, offering patients protection against germs and bacteria.
According to Eschler, its textile components provide therapeutic support for numerous physical troubles. Specializing in velours for Velcro applications, the company provides a wide spectrum of velour qualities that were developed for very differing uses and requirements. Eschler says well-known orthopaedic manufacturers process these Velcro systems, or composite constructions, for example, combined with padding and pressure-stable spacer fabrics for bandages, orthotics and many more rehabilitation products.
The range also includes very robust and durable variants which are provided with special coatings. The company says it has also achieved very good results with the ability of this fabric to be fused, which is crucial for subsequent processing. The fact that Eschler supplies not only wide products but also customer-specific products is of interest to the orthopaedic sector.
This article is also appears in...