Eurojersey, an Italian warp-knitted fabrics producer, is launching a new Sensitive Fabrics campaign for environmental sustainability.
The message is very topical, highly evocative, bewildering and eloquent, with the environment and fabrics as the lead players, the company reports.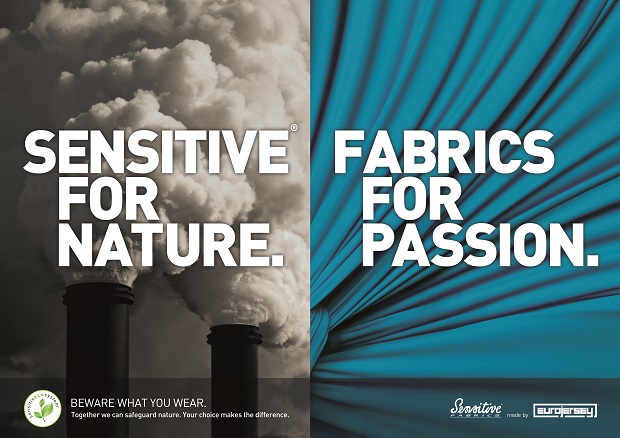 Ever-sensitive to the theme of eco-sustainability since 2008, Eurojersey continues its commitment to balanced and sustainable growth, showcasing its ethical conduct and its example as an industrial model attentive to respect for the land and common resources.
Creative and dualistic
This campaign includes many aspects and is highly visual in order to create a strong visual and emotional impact.
The headline is Sensitive for Nature. Fabrics for Passion, which, if read vertically, underlines the care Sensitive Fabrics have for the environment, yet also, if read horizontally instead, clearly references to the brand.
The creativity aims at showcasing the duality of Sensitive Fabrics's perception of sustainability and quality. In some cases images are associated with moments of ecological disasters; in others they are full of hope and positive thinking.
Statement and invitation
Beware What You Wear. "Together we can safeguard nature," the company believes. "Your choice makes the difference." The campaign is both a statement and an invitation to be aware of what you wear, how to choose quality and how you can make a difference in protecting the environment.
We Care For What You Wear. Sensitive Fabrics stands for high quality at low impact on the environment. The fabrics quality of Sensitive Fabrics is a statement of commitment to large-scale sustainable production.
This article is also appears in...