16th October 2019, Reutlingen
Latest Stoll technology for footwear market
CMS 330 TT sport BW machine. © Stoll
Stoll, a leading German flat knitting machinery manufacturer, was present in Spain this week at Futurmoda, the exhibition for leather and footwear industries.
In 2018, the Futurmoda exhibition served 288 trade fair exhibitors as a forum to introduce their company, their products and services. Key exhibit areas include footwear and leather goods, shoe machinery and technology, skins and leather, design and pattern, synthetics, supplies, chemicals and premade products.
Stoll exhibited at the show with two CMS 330 TT sport BW machines in gauge E7.2. The CMS 330 HP BW TT sport is a short (36" working width), high-quality machine with three fully-fledged knitting and transfer systems, with a weave-in device (same as ADF W) conceived mainly for footwear knitting industry (shoe components) in technical textiles field. Friction feed wheels ensure a reduced, constant thread tension. An optimum yarn supply device ensures a maximum number of threads.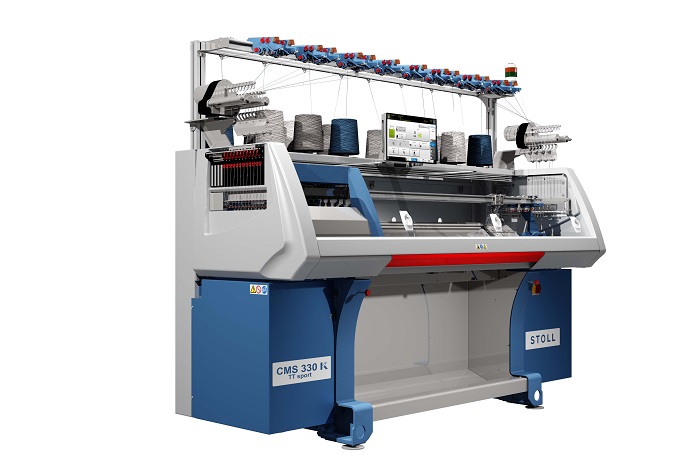 CMS 330 TT sport BW machine. © Stoll
Stoll, with headquarters in Reutlingen, Germany, is a leading manufacturer of flat knitting machines. The long‐established company was founded in 1873 and has 1,000 employees around the world. Its brand portfolio includes flat knitting machines and pattern software that are used to produce fashion and technical textiles.
Stoll exports its products to more than 50 countries worldwide and offers integrated services through affiliated companies, sales and marketing centres and numerous agencies. The Stoll product portfolio comprises 3D knitting machines and patterning software, which are used for the production of fabrics for fashion, as well as for technical applications. With innovative technical developments and a modern production environment, Stoll enables a broad spectrum of knitting trends.
This article is also appears in...