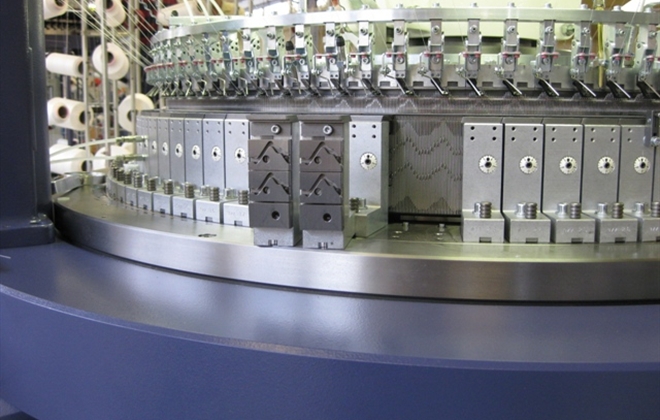 Terrot, a leading manufacturer of electronically and mechanically controlled circular knitting machines, has launched several updates, including the new transfer relief model UCC 572-TRE3, especially designed for the knitted footwear market, extending its current product range just in time for the fair season 2018.
The transfer relief model UCC 572-TRE3 is one of the newcomers within the Terrot product range. The large potential of this particular model is based on the stitch forming edges, which can produce hole or perforated patterns in combination with continuously designed areas, the company explains.
"The model has 2.4 feeds per inch and is therefore at least 50% more productive than other machines on the market for this application field with only 0.8 or maximum 1.6 feeds per inch. The 3-way technology in cylinder cam and 2-way technology in dial cam ensure unlimited multi-coloured pattern designs," the manufacturer reports.
Other company's innovative new products include I3P 160-R, I3P 160, I3P 584 and I3P 196 8-lock/rib, and I3P 196-6M mattress 8-lock/rib double jersey circular knitting machines, as well as UCC 548-ME2 and UCC 572-ME mattress, double electronic circular knitting machines.
The German manufacturer is known for its technology and has been developing new products to meet constantly changing market and customer requirements for 155 years. Its customers can choose between different machine types for producing single and double jersey fabrics. Textiles manufacturers use Terrot´s circular knitting machines to produce high-quality fabrics for different applications, including under- and outerwear as well as technical or home textiles.
For several years the German knitting machine builder has been concentrating on customer requirements such as production performance, individuality and fabric quality. Through close customer collaboration and creating a strategic focus Terrot has extended its product portfolio consistently.
Further reading
Producing advanced shoe uppers with Terrot machines
This article is also appears in...