19th May 2014, Changzhou City
Extra-wide Multibar lace machine goes on show in China
Karl Mayer is not only showing at this year's ITMA ASIA + CITME trade fair in the Shanghai New International Expo Centre (hall E3, stand D01), but will also be exhibiting at an in-house show at its subsidiary in Changzhou City, Jiangsu Province. Karl Mayer (China) will showcase a Multibar Lace machine with a working width of 210" at an in-house show.
The customer event will take place on 17, 18 and 19 June. By holding this event, Karl Mayer says it is reacting to the great interest being shown by the Asian market in its ML series of machines, which is now available with a working width of 210 inches.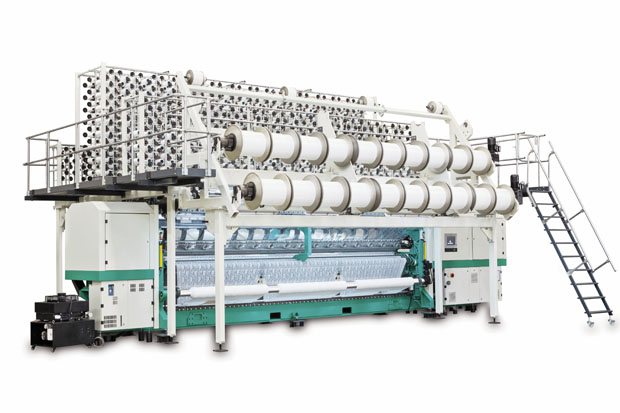 A representative of these successful Multibar Lace machines, with the new working width, will be demonstrating its features in the Technical Centre of Karl Mayer (China) Ltd. Included in the successful repertoire of this machine are patterns for the Indian clothing market, where the version with a width of 210" is setting completely new standards in terms of efficiency, the company reports.
Up to four sari panels with a width of 50" can be worked simultaneously – a performance that is also said to be generating interest in the fashion and lingerie sectors. Whether it is lace bands or all-over fabrics, multibar lace with its filigree patterns in a wide range of different designs on delicate grounds is a guarantee of efficiency and elegance, and is therefore generating excellent business, Karl Mayer concludes.
Karl Mayer's Sales Director, Oliver Mathews, is therefore looking forward to a well-attended event. He is expecting that many visitors from outside China in particular will make a detour from the ITMA trade fair to view the impressive performance features of the ML series, and also to visit Karl Mayer's modern plant in China.
In addition to being able to see the machine in operation, a tour of the company is being laid on for guests, and there will be plenty of opportunity for conversation and discussion. A shuttle service will run between the fair and Karl Mayer (China) Ltd.
This article is also appears in...