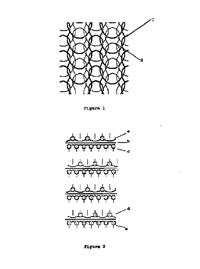 Applicant: BOYTEKS TEKSTIL SANAYI VE TICA [TR]; OZTOPRAK METEHAN [TR]; OZBEK METIN [TR]
Inventor(s): OZTOPRAK METEHAN [TR]; OZBEK METIN [TR]
Abstract of WO 2009088380 (A1)
This invention relates to a fabric made of base, inlay and front face layers that has the electromagnetic field shielding property which is obtained by knitting or weaving methods, wherein the base layer is formed by weaving or knitting metal filaments (1) coated with high conductive metals like silver, copper, steel, carbon or formed by alloyed metal filaments (1) and the front face layer is knitted or woven with filaments suitable for personal or home use. Filaments (b) that have the properties of delayed flammability and thermal insulation are also used in the fabric.
To view the full patent, click the link below
Fabric that has the property of shielding electromagnetic fields
This article is also appears in...