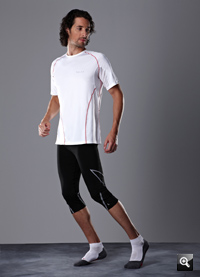 Falke, a world leader in the supply of functional sportswear, knitwear and hosiery, based in Schmallenberg, Germany, is using Advansa's Biophyl sustainable polyester fibre in its Spring-Summer running collection for 2010. Biophyl is made from a special PTT polymer made with renewable resources.
Highlights of the Falke running collection include the Idaho short-sleeve shirt, which stands out optically due to its clean-cut lines and thanks to Biophyl's advanced fibre technology, it is also very soft and provides pleasant wearing comfort, says Advansa. The lightweight fabrics used in the collection are made by Balingen, Germany based Händel + Diller, an innovative circular knitter and specialist in fine knit fabrics for underwear, well known for its high quality fabrics.
"The running collection is tailored to the needs of Falke customers who, as consumers looking for a specific experience in their sportswear, also place special emphasis on cutting edge designs in addition to health," notes Falke spokeswoman Kristina Falke.
"We strive to associate our name and products with the notion of maximum quality and design. With Biophyl knitwear, there is also an ecological component that sets new standards in our collection with regard to technical innovation and high-tech functionality that also addresses sustainability, which is becoming an increasingly important issue to environmentally conscious consumers," adds Ms. Falke.
Biophyl fabrics are produced from polyester yarns based on a unique PTT polymer. Advansa says the yarns not only guarantee brilliant colours and outstanding stretch and recovery properties, but also give the polyester fabrics a softness and touch that until now has been the domain of nylon.
Advansa claims that Biophyl considerably reduces dependence on petroleum and says that 37% of the polymer used in Biophyl is made of renewable material resulting in a reduction of up to 63% of CO² emissions compared with nylon.
"With growing demand for high quality products that also respect the environment, Biophyl presents an important step towards achieving sustainability for polyester textiles," says Luciano Colosanto, Advansa's marketing manager for Biophyl.
This article is also appears in...