21st August 2009, Singapore
Falmac faces board shake-up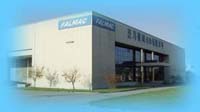 Money-losing circular knitting machine builder Falmac, faces boardroom upheaval over corporate governance woes, amid talk it might be the subject of a reverse takeover by a goldmine operator.
On 5 August, substantial shareholder Business Corporate Services (BCS) said that it wanted to call an extraordinary general meeting (EGM) in order to oust two directors, Mr Fei Xue Jun and former chief executive Charlie Cheng Ji Lai. BCS wants former banker Choo Chee Kong, accountant Kuan Cheng Tuck and Mr Wong Lock Chee to be appointed as directors to replace them.
Founded in 1982, Falmac Limited has been listed on the Singapore Exchange Securities Trading Limited (SESDAQ) since 1994.
Falmac manufactures its range of circular knitting machines in China and is also a producer of cotton yarns. The company acquired UK-based Camber International in June 2000 in order to expand into global markets. Camber is known worldwide for its single jersey, fleece, terry and the world famous wrapper and stripper machines.
Source: www.straitstimes.com
This article is also appears in...