14th December 2009, Dhaka
Fears for Bangladeshs knitters after yarn price hike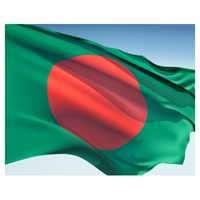 Bangladesh's small and medium businesses in its knitted goods sector are likely to collapse if the price of yarn does not come down, the Bangladesh Knitwear Manufacturers and Exporters Association (BKMEA) warned journalists at the weekend.
Fazlul Hoque, President of the BKMEA, told bdnews24.com that a sharp rise in yarn prices would badly hurt them as they will not be able to compete in international markets.
Speaking at a news conference on the forthcoming '2nd Worker Festival' in Narayanganj, Hoque said that the price of yarn had increased from $2.25 to $3.10 per kilo in the last few months, which led to a 15-20% rise in the production cost.
"Yarn prices have increased by eight to ten cents per kilo in the international market due to the rise in the price of cotton. Our local yarn mills have hiked the yarn prices up by 80 cents. This is illogical."
Mr Hoque said that the hike in yarn prices was causing a new crisis for the country's knitwear sector which was already facing negative growth over the past few months due to the global recession. He added that the industry however, had seen positive growth in October. Hoque expects the government to intervene to bring yarn prices to a reasonable level.
The BKMEA president said the 2nd Worker Festival, which is being held at Osmani Stadium in Narayanganj would help promote a friendly relationship between the knitwear industry workers and owners. State minister, Shamsul Haque Tuku, is expected to inaugurate the day-long festival on December 18.
Source: bdnews24.com
This article is also appears in...