Clerici Tessuto presents a fabric containing 87% Evo bio-based Fulgar yarn. © Fulgar
On 12 April 2019 in Florence, the Salvatore Ferragamo Museum has inaugurated a real narrative journey displaying the pioneering creations of its founder Salvatore Ferragamo, in the research on natural, recycled and innovative materials, as well as on the most recent experimentations in the field of sustainability.
Designed by Stefania Ricci, Director of Museo Salvatore Ferragamo and Fondazione Ferragamo, with Giusy Bettoni C.L.A.S.S. CEO and founder, Arabella S. Natalini, Sara Sozzani Maino and Marina Spadafora, the Sustainable Thinking exhibition shares an artistic-cultural perspective on the vital issue of sustainability. The exhibition will take place until 8 March 2020.
The exhibition features eco-sustainable products by Fulgar, representing Made in Italy quality and well-established expertise in the production of man-made fibres. The company has a long-standing commitment to sustainability in both corporate and production terms with a green strategy and an entire portfolio of eco-products.
On display
These include Evo and Q-Nova, a bio-based yarn and recycled polyamide respectively, which have been selected for applications in fabrics by Clerici Tessuto and Maglificio Ripa, companies that share Fulgar's Made in Italy traditions and its emphasis on environmental issues.
Clerici Tessuto presents a fabric containing 87% Evo, the bio-based Fulgar yarn made from castor oil, a naturally-occurring plant not grown for food. This renewable resource does not require large amounts of water and does not take up land that can be cultivated for growing food crops.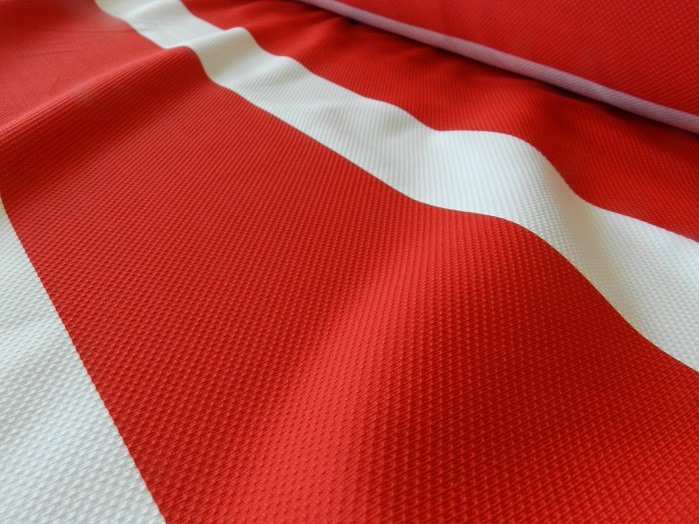 The Maglificio Ripa fabric contains 89% Q-Nova. © Fulgar
The Maglificio Ripa fabric contains 89% Q-Nova, Fulgar's eco-friendly fibre obtained exclusively from regenerated raw materials made using mechanical rather than chemical processes. It forms part of the eco-sustainable Earth collection, which includes a range of intimate, beachwear and athleisure fabrics, as well as providing a response to the increasing demand for green products.
Commitment to sustainability
Fulgar's Oeko-Tex Standard 100 class 1 recognition has been extended and updated to appendix 6 for all articles produced in 2019. Now, Fulgar is the first company to obtain it for polyamide across the range. In 2009 it became the first company producing polyamide 6.6 in Europe to obtain the Ecolabel. In 2016 it obtained LCA (Life Cycle Assessment) for evaluation of the environmental impact of its entire product manufacturing process. Furthermore, in 2017 Q-Nova was included on the Higg Index, developed by the SAC (Sustainable Apparel Coalition), which assesses the environmental impact of a garment's entire lifecycle.
Clerici Tessuto is Seri.co certified, a quality mark for Italian silk fabrics, and Oeko-Tex Class II for cotton, polyamide and polyester fabrics. Maglificio Ripa is also Oeko-Tex certified and was one of the first textiles companies to join Greenpeace's Detox programme to combat harmful chemical substances.
This article is also appears in...