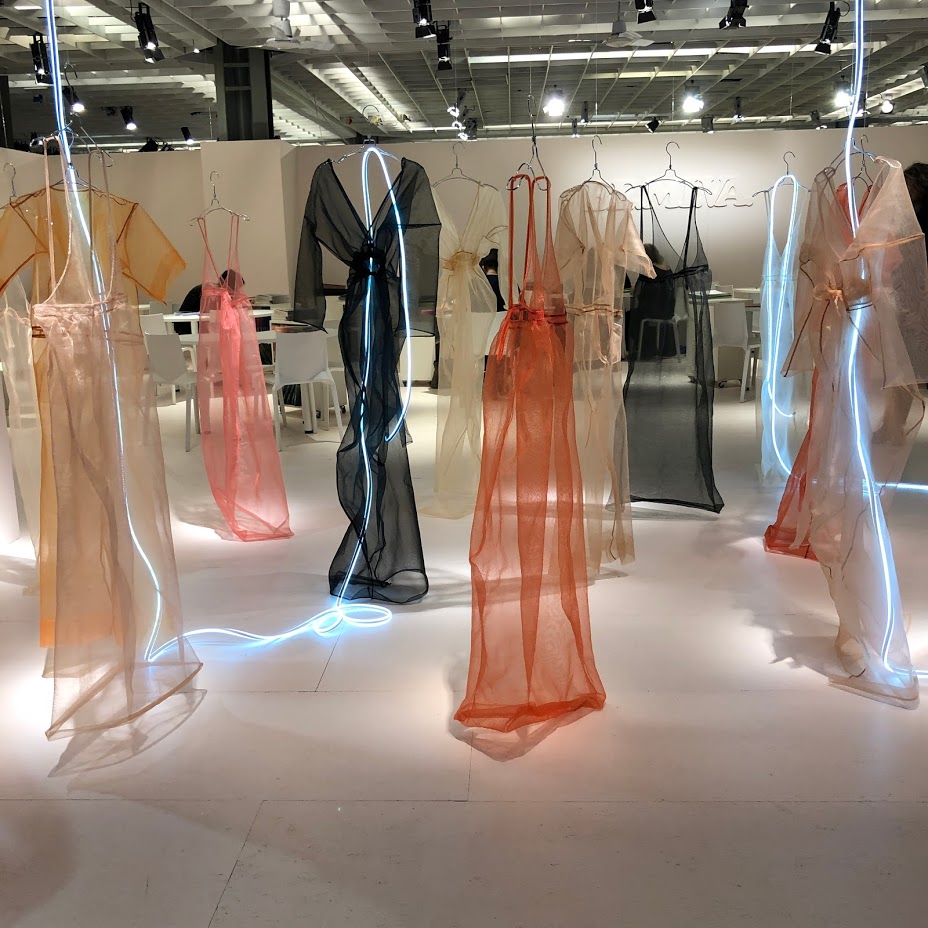 Transparent yarns, yarns for embroidering and artisan effects followed major new decorative directions. © Janet Prescott
Pitti Immagine Filati continues to develop and encourage research into yarns and knitwear, for which it has built quite a reputation. Spring/Summer 2020 revealed that uneasy world trade has if anything quickened the pace of technology. Raised consciousness of consumers worldwide is feeding into priorities already established on sustainability and ultimate disposal of fashion garments, giving scope for yarn companies to develop their plans and spread the word.
Digital sampling is finally coming into its own, seen in action at Tollegno 1900 working with Shima Seiki machinery, Virtual Yarn Project, is ready as a regular tool with verisimilitude of printed fabrics giving the illusion of texture and 3D looks, enabling bespoke designs without vast expenditure. This is seen as a green measure, saving wasted fabric, dye and ultimately time and money.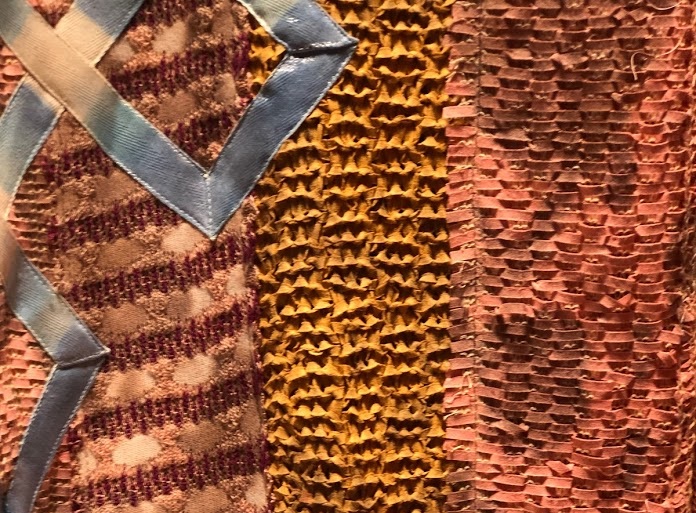 Designers used mixed structures and tactile effects twists, knops and weights. © Janet Prescott
Dyed yarn in stock is a growing feature as bigger investments are required to accommodate fluctuating timetables of production. Todd & Duncan have increased the large colour range of stock in various cashmere qualities taking advantage of their reputation for colour – seen this time inspired by Scottish fishing flies, or lures, and Penguin classic book covers with quirky colour combinations very effectively displayed.
The designer knitwear show put on by the Pitti Immagine Foundation this time featured garments by students of the Rome Accademia Costume & Moda e Modateca Deanna, on the Masters coCreative Knitwear Design (CKD) course. The mostly postgraduate, international students and young professionals worked with major participant fashion names to produce garments working to a brief in the brand's image; this last fact makes it different from other competitions and it had admirable results. The Woolmark Company was a major collaborator working with spinners Zegna Baruffa and Sudwolle to interpret the USP of environmental responsibility at ultra-cool label Napapijri; Benetton, MaxMara, United Colors of Benetton participated with Filpucci, Loro Piana, Iafil, Linea Piu, Millefili, Dondi Jersey; embroiderers like Ricami Laura, Forza Giovane and prints by Blue di Prussia, were just some of the A list participants.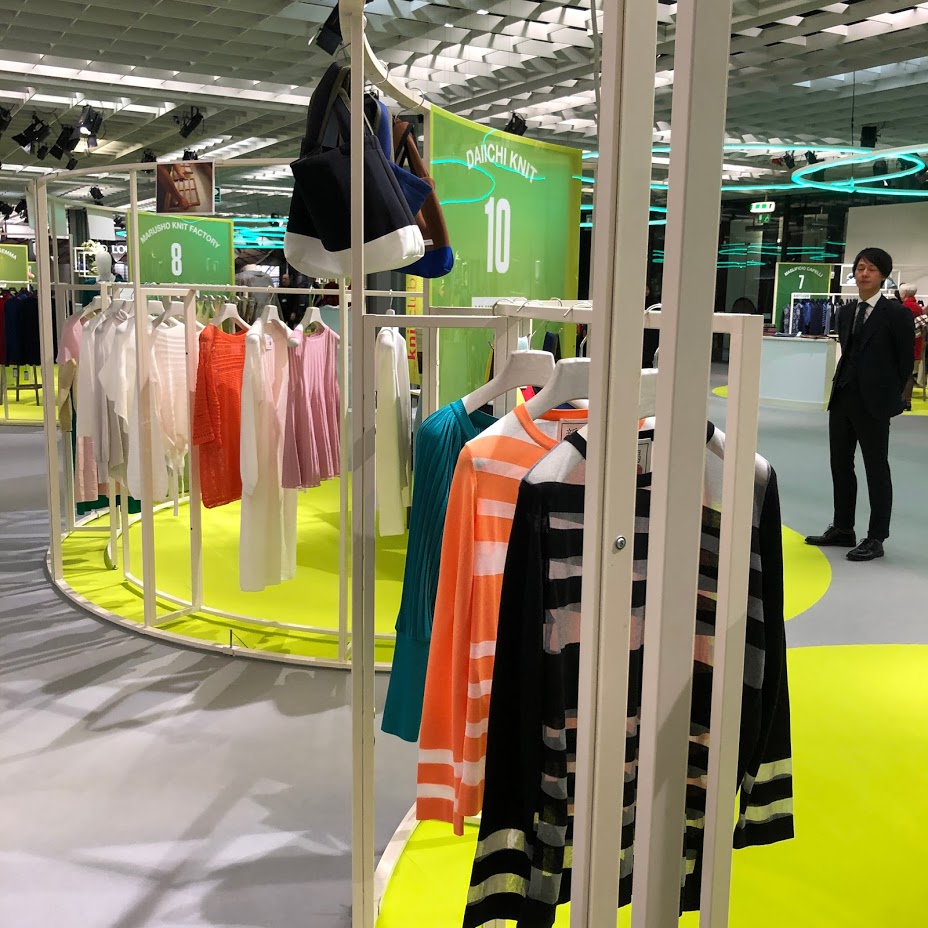 2020 colours differed widely. © Janet Prescott
Moves on reducing environmental and social impact are increasingly upfront. Lanificio dell'Olivo using natural fibres for its lightweight sustainable linen and cottons publishing a Green Report including social responsibility, expanding on the scope of green declarations. Filpucci, Zegna Baruffa, Botto Giuseppe, and many others published their commitment as a thread running through their offers.
Luxury fibres were strongly in evidence despite price rises in many areas, still with added value. For example, Filmar Mako cashmere is traced to specific flocks, and uses sustainable cottonforlife. Merino wool was generally used in 100% qualities, a popular summer fibre, with advances like washable H2Dry and techno features at Zegna Baruffa or Harmony 4.0 easycare at Tollegno. Special silk was slow and cruelty free at Botto Giuseppe.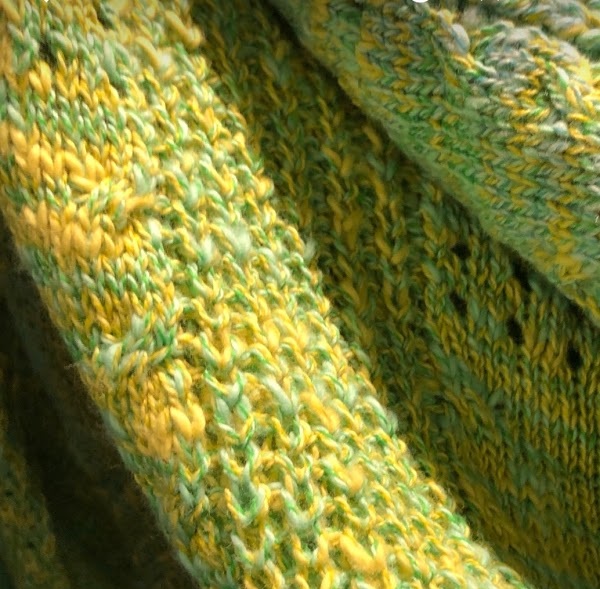 Luxury fibres were strongly in evidence. © Janet Prescott
2020 colours differed widely. Many palettes switched between refined pale floral pastels and green eco tones; natural colours of wool and plants, sometimes adding greys and darks for a less pretty effect. Urban sports were highlighted at the Spazio Ricerca trend area, set out like a very chic games court, anticipating the 2020 Summer Olympic Games in Japan. Designers Angelo Figus and Nicola Miller extrapolated themes from basketball, river surfing, skateboarding, and sports new to the Games, responding with athletic looks, knitted T shirts in reactive yarns decorated with embellishment and line drawings, sporty looks with Japanese themes using display and video techniques which drew the crowds.
Designers used mixed structures and tactile effects twists, knops and weights. Transparent yarns, yarns for embroidering and artisan effects followed major new decorative directions, aimed at the young, some of which were shown in the knitwear designs of CKD, the season forecasting decoration and embellishment. Mixes of fibres twisted together resulted in bright tweeds and neps with a wide range of viscose and Lurex. Filature di Pollone with Luxury silk 14 gauge with a semi-dull effect. New chain effects and colour with a 2/28 45% silk/ 55 linen.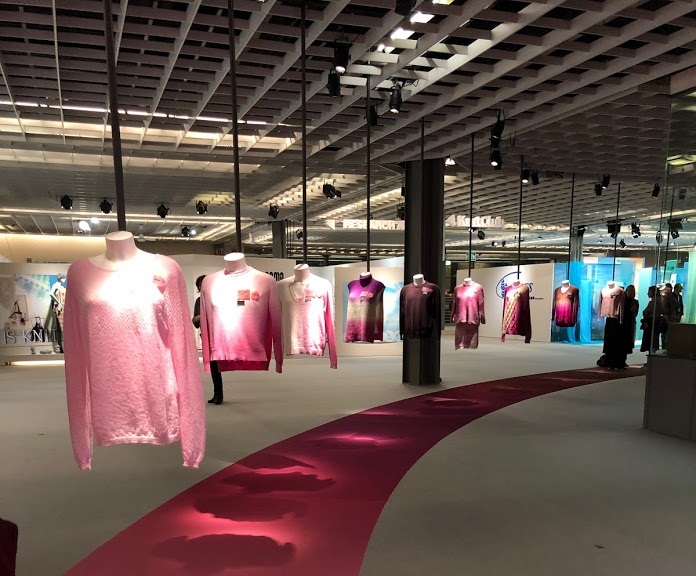 The focus of the show was on sustainability and ultimate disposal of fashion garments. © Janet Prescott
Pop looks resurfaced from the 1980s, shiny and bright seen at MilleFili, also Industria Italiana Filati describing the effect as a 'disco ball' mixed yarns like cotton and viscose, linen with Lurex, embellished with sequins and printed yarns, firmly aimed at the Instagram pop looks of the Far East and Europe, in quality fibres and blends.
Luxury Cariaggi cashmere flirted with very small yarn-embedded gold sequins. Some acid tones came with the shine option. Glossy viscose yarns and linen in bold colours at Ilaria while Lineapiu Knit Art took a rather more sophisticated approach with ideas expressed in designs with recycled materials and organic cotton, linen, hemp and bamboo viscose,
Sophisticated colours made reference to the Slow fashion movement. Zegna Baruffa showed natural greens, referencing the colours of Italian food, and blue stressing the technical performance and the softness of summer wool/silk blends. Filpucci showed elegant and rich sustainable yarns, innovations made easy and eco-friendly; chic thick yarn in fine linen, organic cotton and Mako cotton with recycled polyamide fibre, carefully sourced wool, ultrathin cotton reinforced with a polyamide surface for second skin knitwear, bearing Gots certification.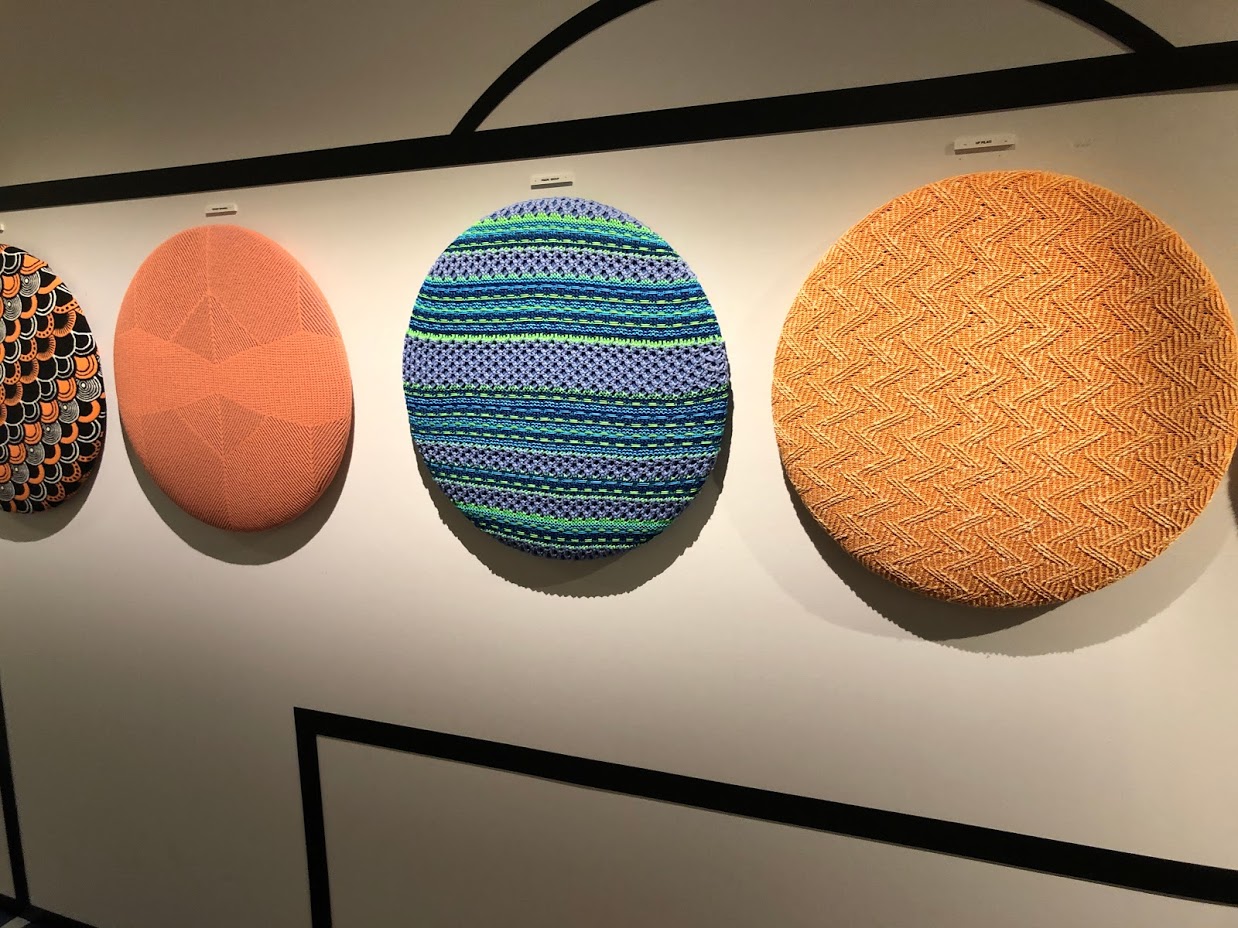 Sophisticated colours made reference to the Slow fashion movement. © Janet Prescott
Cotton was mixed with micromodal, and Icare performance, containing recycled polyester and Egyptian cotton at Filmar with a startling multicoloured stand inspired by the Sustainable Development Goals of the UN 2030 agenda.
Knitted shoes are going well, being heat and sweat reactive, preventing chafing, overheating and are waterproof too. Shown in Merino at Pitti Uomo with Z Zegna designs on display two weeks previously at Pitti Uomo. Pitti Filati's offering brought further developments by Tollegno 1900 Merino shoe socks developed with Santorini while Sudwolle's running shoes with Biella Yarns Merino wool and Di Ve with cotton shoes along the same lines.
A project to customise knitwear, inspired by denim customisation, created by Angelo Figus, with Maurizio Brocchetto, named CustomEasy, caught the spirit of the times, many of the garments selected from Knit Club exhibitors the top Italian knitters who are ideally placed to link up with the buyers and designers.
Feel the Yarn X, the 10th edition of the high-profile Pitti Filati competition for 2019 summer, is already selecting young international knitwear contestants to match up with yarn spinners sourced from the participating exhibitor mills, ready for next summer's Pitti Filati they will be using many innovations seen in this season's show.