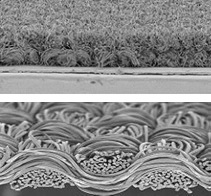 Teijin Frontier, the Teijin Group's fibre and products converting company, has developed a new sweat-suit fabric, 4-dimentional bulky Deltapeak, which aims to combine high quality with excellent absorbance and quick drying, thanks to a unique patent-pending four-layer structure.
Bulky, light and extra-soft 4-dimentional bulky Deltapeak will be released in time for 2018 Autumn/Winter collections, mainly for sports apparel, the company reports. Annual sales are expected to rise to 500,000 metres by the fiscal year ending in March 2019, according to the manufacturer.
New sweat-suit fabric
The new sweat-suit fabric is the latest addition to the Teijin Frontier's Deltapeak series developed to integrate physicality, functionality and quality. Due to its dense, flat-knit surface, it offers a great combination of look, feel, high-cushioning and high-elasticity. It is expected to meet demands for casual, functional synthetic materials substituting for cotton in a wide variety of applications.
According to the manufacturer, main features of the new line of Deltapeak include:
Bulkiness: lightweight and thick
Look and feel: soft touch and luxurious appearance
High resilience: high cushioning, resiliency and elasticity for comfort
Low drape: beautiful shape
Absorbent and quick-drying: due to different densities of surface and middle layers
Going forward, Teijin Frontier says it expects to combine the new fabric with other multifunctional materials for sportswear, fashionwear, uniforms and additional applications.
Deltapeak knitted nylon
The company developed a series of new nylon-based Deltapeak materials and related textiles last year, by adapting the company's well-established polyester production technologies for nylon materials. The newly developed products aimed to offer the high functionality of polyester products such as lightweight, moisture management, anti-transparency, and softness — while retaining the characteristics of nylon fibre produced by Taiwanese nylon manufacturer Chain Yarn Corporation.
The new fabrics are said to be ideal for outdoor, sports and casual wear, the company reports. Deltapeak's advantages include lightweight, softness, anti-transparency, stretchability, snag resistance and useful bulkiness thanks to its dense, flat-knit surface. It is also said to offer high durability and colouring properties.
Teijin Group
Teijin is a technology-driven global group offering advanced solutions in the areas of environmental value; safety, security and disaster mitigation; and demographic change and increased health consciousness.
Its main fields of operation are high-performance fibres, such as aramid, carbon fibres and composites, healthcare, films, resin and plastic processing, polyester fibres, products converting and IT. The group has some 170 companies and around 19,000 employees spread out over 20 countries worldwide.
This article is also appears in...