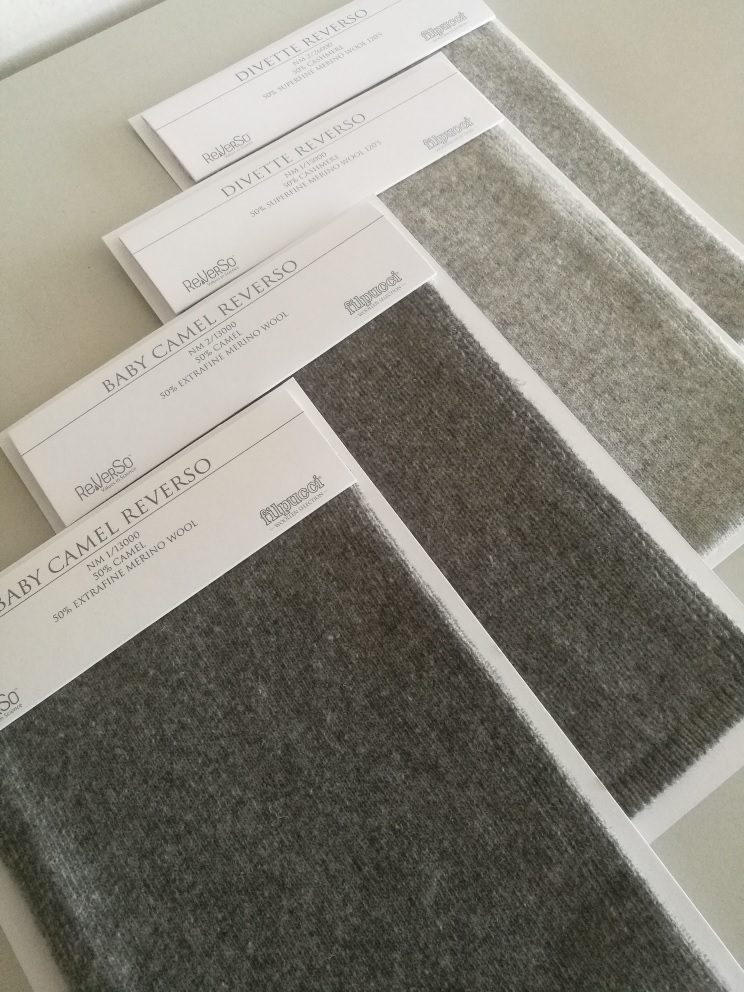 Filpucci, an Italian leader in the manufacture of creative yarns for quality knitwear, from Tuscany, has celebrated its 50th anniversary at the Pitti Filati trade fair, which took place in Florence last month. The company held a press conference entitled Fifty years of Filpucci - History tells the future on 28 June, at Sala Riunioni Area Monumentale.
The event included talks by Raffaello Napoleone, Managing Director of Pitti Immagine, Leandro Gualtieri, Filpucci President and founder, and Federico Gualtieri, Filpucci Vice President.
Re.Verso Ninetyfive cashmere yarns
The company's main focus at the exhibition was its Ninetyfive collection of high-end/low impact yarns for knitwear, demonstrating the company's values of traceability and transparency, and sustainable approach to circular economy, of which it is a member. According to the company, the collection present a selection of luxury, enveloping and fluffy low-impact cashmere yarns, with technical features capable of cutting consumption, and with a watchful eye for environmental resources.
Re.Verso Ninetyfive cashmere yarns line represents an integral part of the new Collection, now available in stock service. It features a sophisticated colour palette with mélange and mouliné shades, lending the yarns character and personality, as they are designed for knitwear featuring premium style, quality and comfort.
"The choice of only selected pre-consumer textile clippings sorted in a carefully way, allow offering products representing the best and most traceable one can find on the market, which have indeed aroused the interest of authoritative international brands that have chosen the Ninetyfive Re.Verso cashmere Collection for their high quality knitwear," the company says. "From Stella McCartney to Eileen Fisher, from Filippa K to Patagonia, the fashion system's big labels have opted for the regenerated yarns Re.Verso by Filpucci, thus sharing a new business philosophy: an environment-conscious and responsible approach, with does not relinquish style, but elevates it far forward style and trends."
Ethical and innovative
With a passion for ethical and innovative pathways, Filpucci has widened its range of smart Re.Verso products thus encompassing:
The yarn Baby Camel Re.Verso, produced with Re.Verso baby camel and mixed with 50% extra-fine Merino Wool, comes in two yarn counts (1:13000nm and 2:13000 nm twisted). A delicate, rich and super soft yarn preserves its natural proprieties and comes in a selection of refined shades. A blend of classicism and creativity, enhanced by the sophisticated colour palette.
The new Divette item, coming in two yarn counts (1:15000nm, 2:26000 nm twisted), yet again sheds light on the pioneering attitude of a manufacturer aiming to offer soft and creative combed and twisted yarns, that are innovative and come in different degrees of thinness. Sophisticated, soft and warm yarns, made with cashmere Re.Verso fibres mixed with extra fine wools, allowing to produce finer counts and functional yarns, offering a wide range of possible uses for a mix of classicism and creativity, enhanced by a sophisticated colour palette.
This article is also appears in...