Circular Knitting
First repeat order for spinitsystems technology
Mayer & Cie. has confirmed that it has received the first repeat orders for its revolutionary spinitsystems, combined spinning and knitting technology.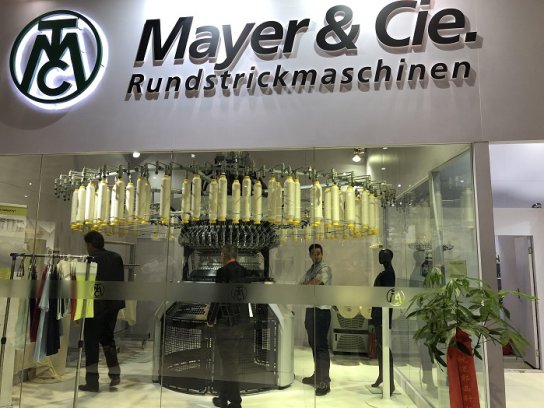 23rd October 2018
Knitting Industry
| Shanghai
Leading German circular knitting machine manufacturer Mayer & Cie. has confirmed that it has received the first repeat orders for its revolutionary spinitsystems, combined spinning and knitting technology.
Speaking at last week's ITMA Asia + CITME exhibition in Shanghai, a buoyant Michael Tuschak, head of marketing and sales for spinitsystems, told Knitting Industry: "We are thrilled to tell you that we have now received the first repeat order for our game changing spinitsystems technology."
Mr Tuschak declined to name the customer who had placed the repeat order, or even name the country where the new machinery would be installed, preferring to comment: "We cannot name names for reasons of confidentiality, but we can say that we are now active in Latin America, India and Taiwan, with Spinit – and of course, now China."
As well as the Spinit 3.0 E machine itself, a range of garments made using the technology was on show, exhibiting the characteristic Spinit soft handle fabrics. Applications included nightwear and T-shirts and other leisurewear items.
The Spinit 3.0 E spinning and knitting machine was presented for the first time 'in the flesh' in China at this year's ITMA Asia + CITME. Michael Tuschak, said that Mayer & Cie. had anticipated strong interest in the spinning and knitting technology, because of its relevance in established textile markets such as China, and expectations had been exceeded.
spinitsystems technology
With spinitsystems, knitted fabrics are manufactured not from yarn but straight from fibre based rovings. The three process steps of spinning, cleaning and knitting are combined in one machine and the rewinding process that was previously required has been eliminated. The single jersey knit production process can therefore be shortened significantly.
According to the company, fewer machines are needed, capital expenditure is reduced, significant space and energy savings can be made, and yarn storage can be reduced whilst less waste is produced. Production costs overall can be reduced considerably and the reduction in CO2 emissions makes a valuable contribution towards sustainability, Mayer & Cie. claims.
"The unique quality, the so-called Spinit Look & Feel, is a result of the false-twist spinning process in which the fibre roving is processed directly into knitwear. The fibres are knitted directly into loops gently and without twisting. High-quality single jersey knitwear is produced with totally new properties: fabulously soft, fluffy and even, with a luxurious sheen and without spirality after washing," Mayer & Cie. explains on its website."
Mayer & Cie. focussed entirely on electronic machines at this year's ITMA Asia & CITME. In addition to the Spinit 3.0 E, the company also showed its OVJA1.6 EE 3/2 WT shoe upper machine and its OVJA 2.4 EC electronic jacquard machine.
OVJA 2.4 EC
Speaking before the show, Rudolf Crass, Mayer & Cie.'s regional sales manager with responsibility for China, commented on its introduction of the OVJA 2.4 EC: "We have noticed for some time an increase in demand in the high-end machine segment in China. High-output circular knitting machines are trending too."
"With its 2.4 systems per inch it is a full jacquard machine that outperforms Chinese manufacturers' conventional models in productivity. Thanks to its three-way-technology, the OVJA 2.4 EC offers great variety in design patterns. It is aimed at Chinese customers, who produce fabrics for outer garments, sports and leisurewear."
Its design is borrowed from that of the OVJA 2.4 SE mini-jacquard machine and its functionality is based on that of the OVJA 2.4 E full jacquard machine. The most important difference between it and the two machines on which it is modelled is the implementation of the needle selection. The OVJA 2.4 E relies on electronic individual needle selection on one track via control board and the Chinese model uses 16 athermal electromagnetic actuators on eight tracks.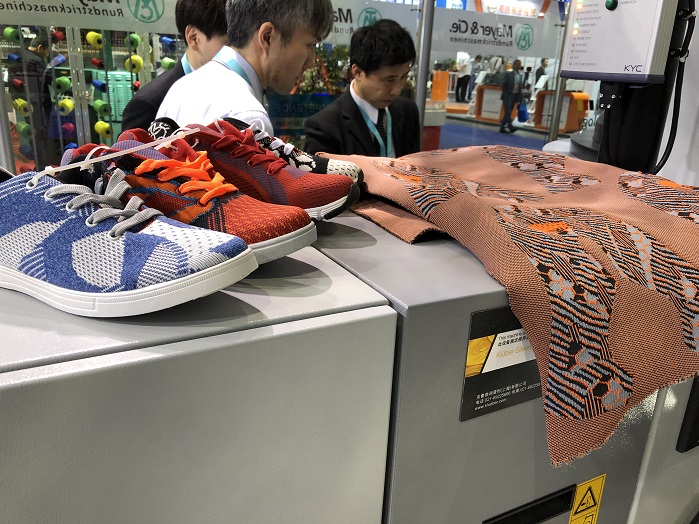 "That has advantages in terms of user friendliness because gauge changes are faster and easier," explained Crass. "It is also more attractive in terms of pricing combined with high productivity. Not to mention easy spare parts availability for it being domestic system."
The OVJA 2.4 EC is the first electronic machine to be finally assembled at Mayer & Cie. China.
OVJA 1.6 EE 3/2 WT
Mayer & Cie. also introduced a new machine for the booming shoe upper sector in Shanghai. "The OVJA 1.6 EE 3/2 WT is our first 'real' shoe machine," commented Hardy Bühler, Mayer & Cie.'s Key Account Manager Brands - Mr Bühler is particularly interested in the requirements of the shoe upper fabric growth market.
The new machine uses three-way technology in the cylinder and two-way technology in the rib dial. This is said to ensure a very wide range of patterns for the multi-colour jacquard machine, which can also produce a 'hole structure' look by means of multiple tuck loops. It also produces plain and multi-coloured spacer fabrics up to 5 mm thick, which Bühler says is very much in demand for shoe uppers.
"Producing spacer fabrics on a circular knitting machine makes sense for several reasons. For one, set-up times are much shorter than when using other means of production. A circular knitter also uses much less yarn to make multi-coloured spacer fabrics." That above all, Bühler says, makes manufacturing small batches of spacer on a circular knitting machine a winner.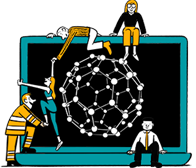 Business intelligence for the fibre, textiles and apparel industries: technologies, innovations, markets, investments, trade policy, sourcing, strategy...
Find out more