Footwear and particularly sports footwear is being highlighted by many flat knitting machine builders here at ITMA ASIA + CITME as a new potential market for flat knitters. Some of the world's leading flat knitting machine builders are showing samples of flat knitted footwear but the Chinese machines builders are showing machines knitting shoe uppers which are based on Nike's Flyknit and adidas' Primeknit technologies.
Stoll is presenting a very impressive range of fashion shoes based on the company's Denim collection which incorporate some interesting features such as spacer fabric technology for padding and plating techniques for pattern and function. The range is made on the company's latest CMS ADF3 technology.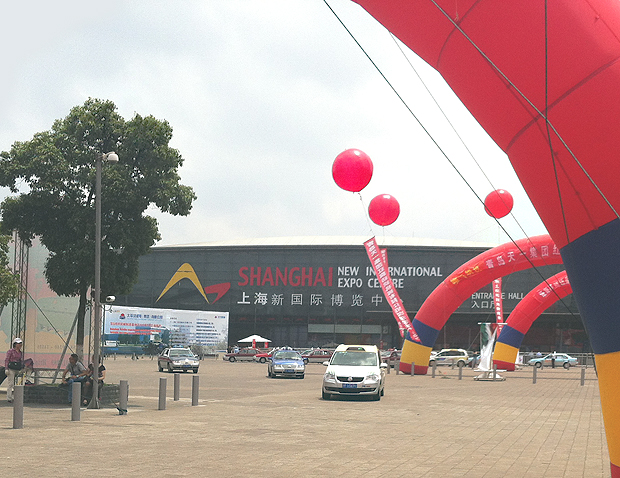 At Shima Seiki the footwear emphasis is on Wholegarment footwear although the company clearly has excellent footwear knitting possibilities in its new SRY123LP 'inlay machine.' Wholegarment shoes, or shoes knitted completely seamlessly, are being shown which are made on the company's SWG091N2 'mini' series model.
As football's World Cup gets fully underway (see last week's Editor's Viewpoint - Maracanã beckons for knitted football boots as Magista and Mercurial make World Cup debut, China's flat knitting machine builder's are offering both modified standard machines and machines specifically designed for sports footwear.
Leading Chinese flat knitting machine builder Cixing, owner of the Steiger brand, for example is showing an SF3-5ZS model which it refers to as its 'shoe machine'. Visitors are not encouraged to take samples away as they drop off the machine, although we did manage to get one. More on this later…
On the very next booth fellow Chinese machine builder Long Xing is showing a new 50 inch needlebed version of its KSC series '3D Vamp Knitting Machine. The shorter needlebed is the main difference between this model and the company's standard KSC. Long Xing is a big player here in China and elsewhere in Asia and other markets making somewhere between 800 and 1000 machines per month.
One of the more impressive machines for footwear on show was Matsuya's Super-J 212 SC 'Professional Fully Fashion Shoe Cover Machine'. The 48 inch needlebed machine uses the company's patented three way sinker system and a melt yarn to enable a 'tight stitch' appearance for a higher quality look.
More to follow…
This article is also appears in...