14th April 2020, Brooklyn, New York
Brooklyn company develops range of Social Distancing Masks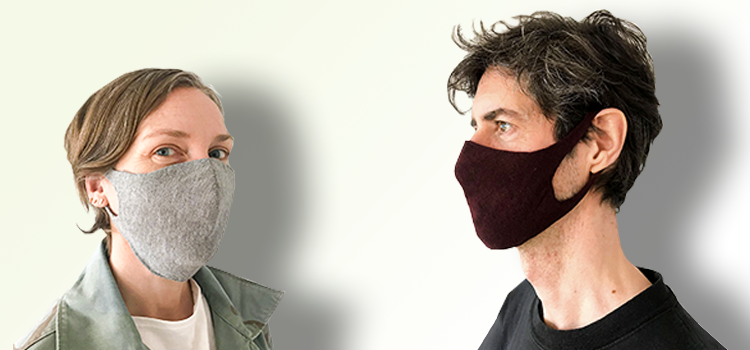 © M. PATMOS.
Brooklyn based womenswear company M. PATMOS has launched a range of WHOLEGARMENT knitted 'Social Distancing Masks', which it is selling directly to the public during the COVID-19 crisis which has ravaged New York.
"The novel coronavirus has created an environment where fashion companies to move away from business as usual and actively plan for supply chain disruption. As brands faces its own wake-up call, many of the business' own long-term challenges, such as speed to market hurdles and an over-reliance on China, are reflected in the struggle to bring enough medical face masks to market," the company says.
"In this time, a Brooklyn based womenswear company called M. PATMOS came to the challenge to offer some solutions from her deep understanding of manufacturing and production techniques. With a socially conscious and eco-friendly backbone M. PATMOS took innovative technological advances to create their Social Distancing Mask."
The Social Distancing Mask is produced to order and is available in various pack sizes and in a range of colours, including navy, dark grey, light grey, and burgundy. The mask is knitted in Brooklyn using Shima Seiki's WHOLEGARMENT – 3D Knitting technology and uses a 74% Viscose/ 25% Polyester/ 3% Lycra blend for a super soft and comfortable mask that, the company says, retains shape and contours to the face.
According to the company, the masks also feature a metal nose clip at bridge of nose for better fit on various face shapes. The masks are knitted with pocket inserts to be worn with or without filters*. Without the filter insert, the masks can be machine washed for repeated usage. M. PATMOS is also currently working on a children's size which will be launched soon.
Click this link to visit the M. PATMOS online shop to buy its Social Distancing Masks
Please note the following M. PATMOS guidance:
*Please note: this mask is meant for the general public to wear as per the Center for Disease control advice. It is not designed for medical professionals. 10% of the proceeds of each sale will be donated to https://www.foodbanknyc.org where $1 = 5 meals
*Due to the nature of this product, it is not exchangeable or returnable. All sales final.
*Approximate ready to ship date is April 17th. Due to the high demand, lead times are about 1 week. M. PATMOS is producing and shipping these as fast as they can. All orders will be processed in the order received.
This article is also appears in...