Flat Knitting
Drexel University develops masks and respirators for COVID-19
Drexel University design professor Genevieve Dion sprang into action last week, moving 3D knitting machines to the challenge of rapidly developing masks and respirators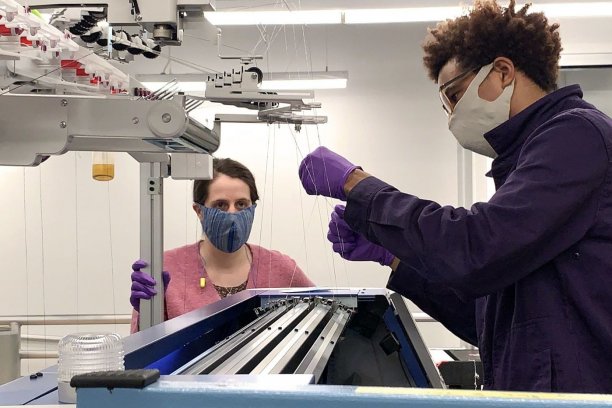 31st March 2020
Knitting Industry
| Philadelphia
© Drexel University.
On the front lines of the Philadelphia region's fight against the COVID-19 pandemic, there's no greater worry than the shortage of masks, respirators, and other protective equipment for doctors and nurses, the Philadelphia Inquirer reports.
Hearing of the desperate pleas for safety, Drexel University design professor Genevieve Dion sprang into action last week, moving 3D knitting machines from a Department of Defense project to the challenge of rapidly developing masks and respirators, the newspaper said.
"This is an opportunity to show what advanced manufacturing can do and rapid prototyping can do," Ms. Dion, who also directs Drexel's Center for Functional Fabrics (DCFF), told the Philadelphia Inquirer. The DCFF houses the Pennsylvania Fabric Discovery Center, which aims to revive the region's textile and garment manufacturing industries.
"The immediate goal is to develop surgical masks that can be washed, sized, and even be made of anti-bacterial and anti-viral material," said Charles Cairns, dean of the Drexel School of Medicine, who is helping Ms. Dion get her samples into the hands of doctors for feedback.
According to the Inquirer, if the designs are successful, they would be made available to knitting mills for large-scale production and could provide one example of how the COVID-19 disaster spurs industrial innovation. The Fabric Discovery Center can produce several hundred masks per day, Ms. Dion said. The mask is still at the prototype stage.
"While respirators, known as N95 masks, get more attention and are more critical to safety, there's a need for both N95 and surgical masks," said Cairns. "At our 11th Street clinic, there's just been a desperate plea for supplies," he said. "I think everyone is concerned with what's going to happen, especially within the next two-week period."
Andy Carter, chief executive of the Hospital and Healthsystem Association of Pennsylvania, told the Philadelphia Inquirer Tuesday that some facilities could run out of protective equipment in "hours or days."
"The immediate need for personal protection equipment is our priority right now," he said.
Protecting health-care workers from COVID-19 is crucial because as cases surge, staffing is also expected to be stretched thin. Health-care workers accounted for about 10% of Philadelphia's 252 cases as of Tuesday, according to the newspaper.
There are signs around Pennsylvania that manufacturers and health-care organizations are working together to relieve some of the supply strain, it said.
Brookville Glove Manufacturing in Jefferson County was shutting down last week to comply with Gov. Tom Wolf's order to close non-"life-sustaining" businesses. Then it got a call from a big nursing home operator based nearby asking if Brookville could make washable and reusable masks for its employees, according to the Pittsburgh Post-Gazette. The company, which was expecting to furlough 20 workers, pivoted to making masks, the Inquirer added.
The Center for Functional Fabrics (CFF) at Derexel University has gained national and international recognition for its ground-breaking functional fabrics research. Its methodology is defined by an integrated design thinking and doing approach that combines human-centred design with fabrication, from prototyping and product creation to full system integration.
Geneviève Dion is an award-winning designer with an extensive background in bespoke clothing and industrial design. Her research focuses on identifying production methods that advance the field of smart fabrics to create textile devices. She founded the Shima Seiki Haute Technology Laboratory, a state-of-the-art knitting facility dedicated to the design and prototyping of smart and technical textiles. Geneviève works with transdisciplinary teams to integrate electronics into textiles and to research versatile production methods that are mass customizable. "Our fabric production knowledge instills materials scientists and engineers with a new sense of how to design new materials to be integrated into the textile fabrication process so that they are compatible with large-scale manufacturing," she says.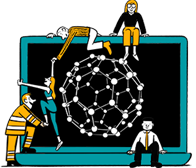 Business intelligence for the fibre, textiles and apparel industries: technologies, innovations, markets, investments, trade policy, sourcing, strategy...
Find out more