Germany has done its bit for the global Campaign for Wool this year by initiating a special fashion project called Wool School, a design competition in cooperation with selected retail partners and colleges of fashion and design.
The goal of the project is to demonstrate the natural and sustainable properties of wool as well as its many uses. During the competition, fashion and textile design students come up with creative wool designs featuring different themes. These are then judged by a jury made up of experts from the textile and fashion industry and the winning designs sold by select retailers at various locations.
Creative cooperation
As part of the Wool School Project 2013, students studying textile design at the Staatliche Akademie der Bildenden Künste Stuttgart (Stuttgart State Academy of Art and Design) are working together with the Campaign for Wool, fashion company Marc Cain GmbH and leading flat knitting machine manufacturer H. Stoll GmbH & Co. KG on the theme Free Felt.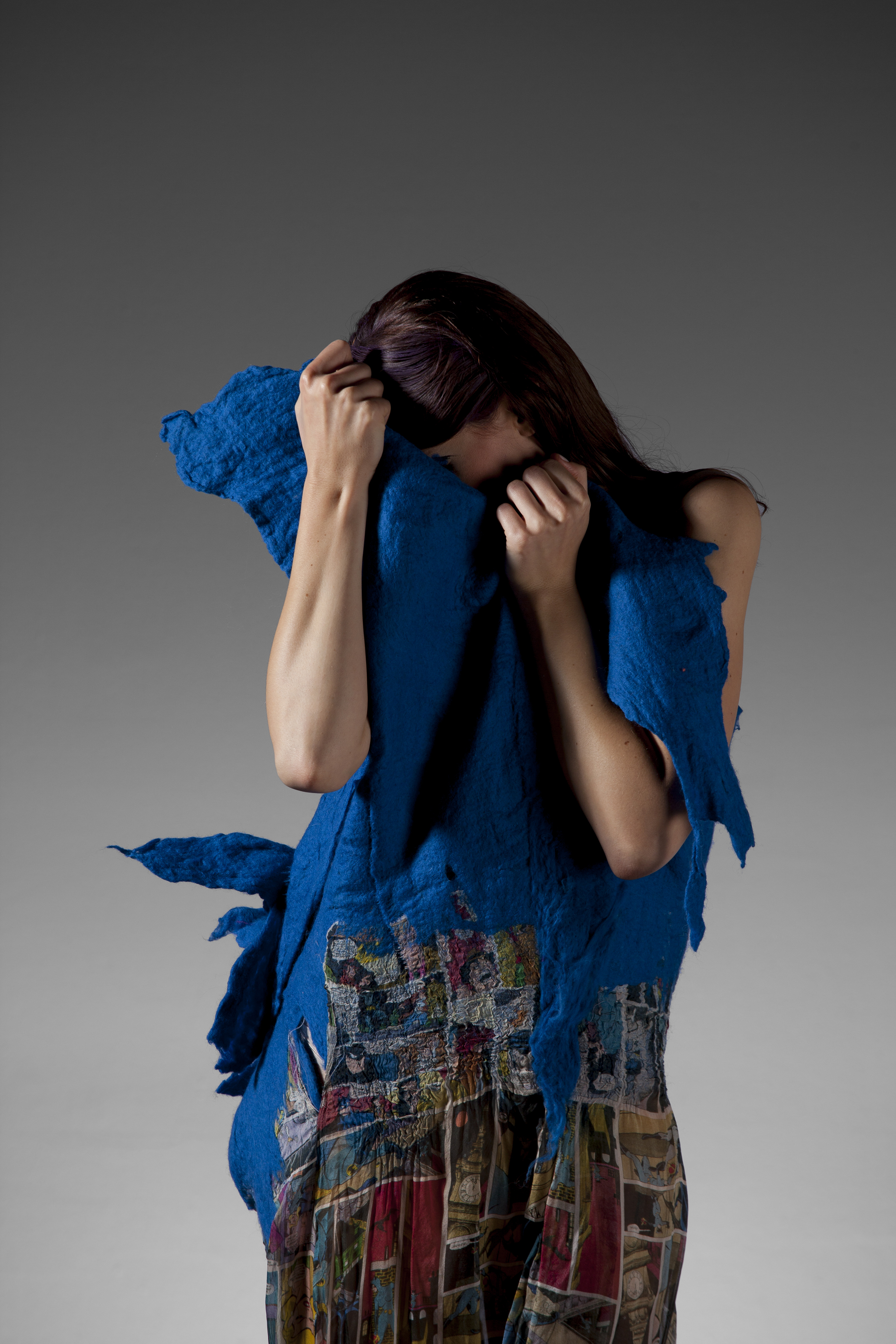 Under the creative leadership of Stoll's creative head Prof. Jörg Hartmann (In January 2012 Jörg Hartmann was appointed as honorary professor of the State Academy of the Fine Arts (SABK)) and Designer Sandra Disselhoff, five design students are developing innovative felt textiles on the Free Felt theme with help from Marc Cain and Stoll, which also sponsors the studio for knitwear design at the Academy.
"Due to the generous support from these companies and organizations, which have provided materials and shared technical expertise, students were able to test the special properties of wool and experiment with its diverse design potential and uses. Participating in this kind of competition teaches students how ideas are developed and implemented in a professional setting, and then turned into products. It also greatly enriches the textile design program and better prepares students for the realities of the fashion world," explained Prof. Karl Höing, Head of the Textile Design Program.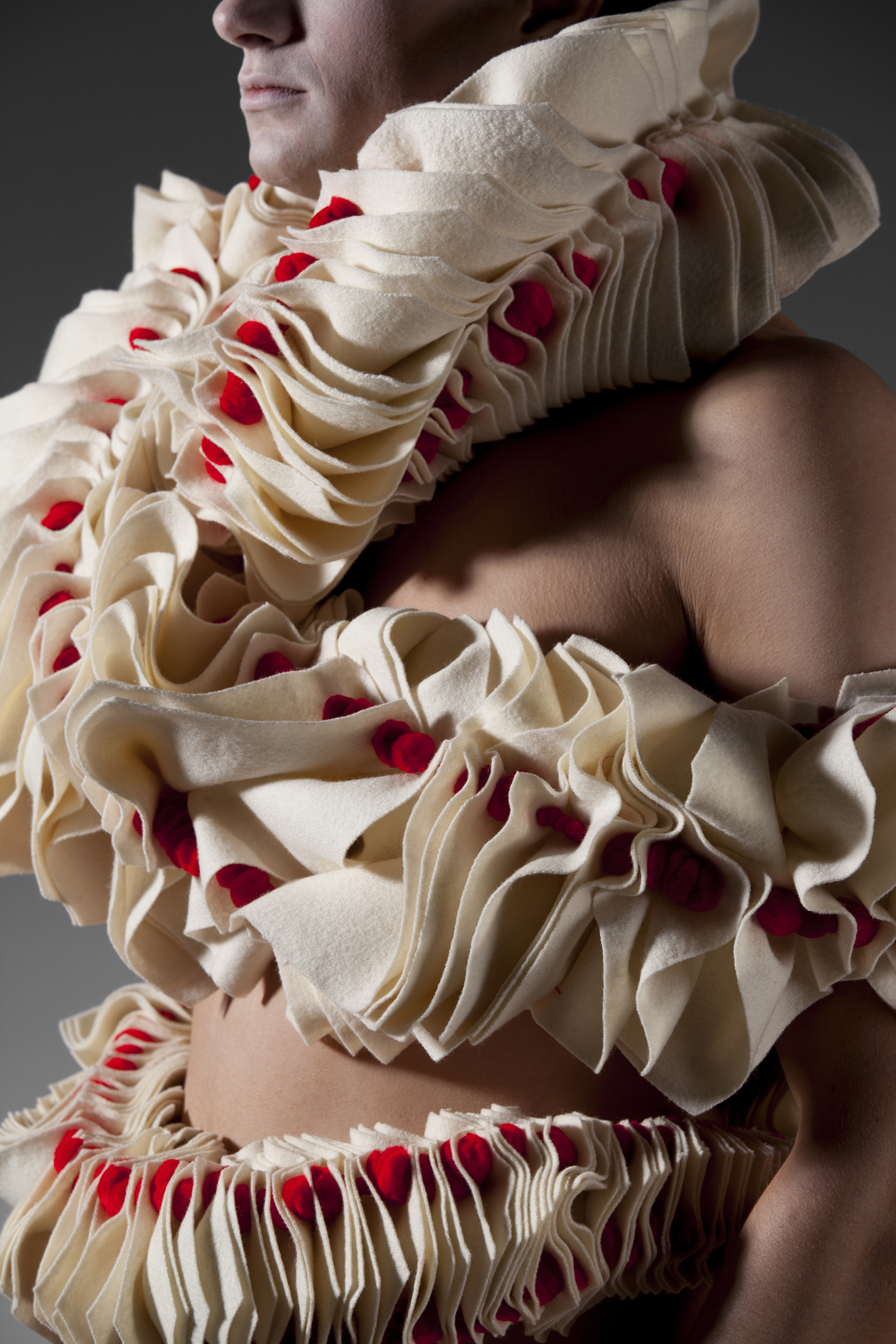 The design students developed fabrics made of wool and other materials using different traditional and non-traditional textile and non-textile techniques together with felting, thus crafting a modern and contemporary look.
This is the second time Marc Cain has supported the Wool School Project. "After our first experience with Wool School last year with the theme 'Knitted Wool Couture', we were so excited about the creativity of many of the students that we knew that we wanted to be involved again this year," said Karin Veit, Creative Director at Marc Cain.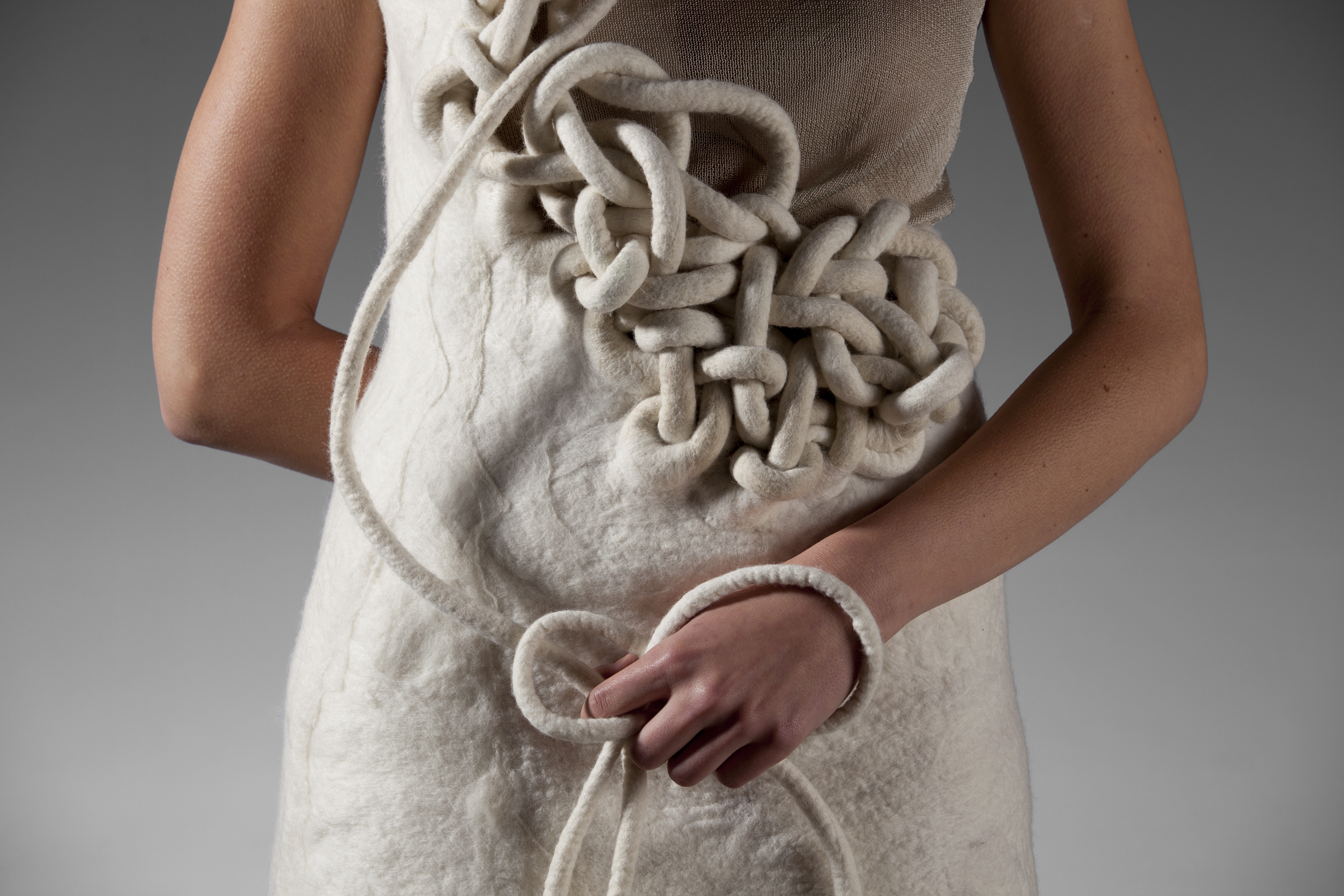 "This year's theme is 'Free Felt' and I'm curious to see what the students at the ABK Stuttgart will come up when they get into working with felt. Constant improvement and innovation, research and development have always been a focus here at Marc Cain. I am looking forward to seeing what this year's up and coming talent will create.
Presentation and award ceremony
Textile designs from the Kunstakademie Stuttgart will be shown in an extensive exhibit at the corporate headquarters of Marc Cain in Bodelshausen at the beginning of November. Mannequins will be used to demonstrate how to best use and combine the winning selection of fascinating, sophisticated and diverse textiles, some of which were manufactured by hand or using industrial machines. The designs will be exhibited in the imposing atrium at Marc Cain headquarters on a silver catwalk that extends down from the 18 metre high ceiling through the atrium. The student designs will be on show for ten days.

The grand opening of the joint project sponsored by the Campaign for Wool, the Staatliche Akademie der Bildenden Künste Stuttgart, Marc Cain and Stoll will be celebrated on November 5 at Marc Cain headquarters and during the event, the award for the best felt design will be presented.
The jury will include industry expert Nikolaus Albrecht (Freundin), Holger Blecker (Breuninger), Silke Emig (textile business management), rosalie (international artist, stage and costume designer), Fabrizio Servente (Campaign for Wool Italy), Karin Veit (Marc Cain) and Heinz Verhufen (Modehaus Jung, Augsburg). The group will judge the student's designs according to different criteria and the winner will receive prize money amounting to € 1500.
Wool School partners
Marc Cain
The internationally acclaimed fashion company Marc Cain was founded in 1973 by Helmut Schlotterer, today's Chairman of the Managing Board. Today, Marc Cain is a global premium brand for women's fashion with its own production facilities in Germany, including around 80 Stoll flat knitting machines. The company has over 800 employees, 164 Marc Cain stores, 275 shop-in-stores in 59 countries and over 941 premium stores worldwide demonstrate the company's selective distribution strategy.

Staatliche Akademie der Bildenden Künste Stuttgart
The history of the Staatliche Akademie der Bildenden Künste Stuttgart goes back 250 years and is one of the largest art colleges in Germany. With 18 programs in the areas of art, architecture, design and fine arts and restoration, it offers its approximately 900 students a broad spectrum of research and learning opportunities.
The design and creation of textiles and textile surfaces that are later found in fashion and in interior design are the main focus of textile design studies at the Academy. The intensive interaction between art and design goes hand in hand with the practical use of textile technologies such as dyeing, printing, textile, knit and experimentation in the student studios and well-equipped workshops. The communication between other design and fashion departments at art colleges both in Germany and abroad as well as institutions and companies in all areas of the textile industry is said to be outstanding and results in many joint projects on a routine basis.
H. Stoll GmbH & Co. KG
Stoll is a name that simultaneously inspires and also stands for quality and flexibility in the world of knitting. The Stoll brand has established a legendary reputation with many facets. For more than 140 years, the image of a consistently solution-oriented manufacturer of flat knitting machines has been maintained and further developed. Today, for many customers, the Stoll enterprise is the integrative link between highly sophisticated technology in developing and manufacturing flat knitting machines, on the one hand, and an innovative independent thinker and developer in the field of fashion and technology, on the other.
Campaign for Wool
The Campaign for Wool Ltd. is an international cross-industry coalition of companies that launched the Campaign for Wool in January 2010. Members include leading companies from the fashion industry, interior design and different production sectors in the wool industry.
The Campaign for Wool is a five-year campaign that is intended to show the naturalness, sustainability and outstanding versatility of wool. Organizations from all over the world have joined the campaign, including wool growers, manufacturers, designers and distributors. Even HRH the Prince of Whales has gotten involved by becoming the campaign's patron as part of the effort to promote a more socially responsible and sustainable lifestyle around the world.
Woolmark is one of the most well-known textile namesin the world. The Woolmark label was created in 1964 and belongs to Australian Wool Innovation (AWI), a not-for-profit organization owned by more than 25,000 wool farmers. Its mission is essentially to contribute to a flourishing, stable and profitable wool industry that supplies the world with "the best natural fibre – wool".
The company works worldwide at all levels of the global supply chain – from wool growers to the retailers and its goal is to strengthen the profitability, the international competitiveness and sustainability of the Australian wool industry as well as boosting the demand for Australian wool worldwide by tapping into new markets.
"Merino wool stands out due to its resistance and durability, yet is soft and luxurious when used in the textile industry. Wool has long been a favourite of designers, but younger consumers born into this era of the "throw-away society" are not as aware of its natural benefits. Wool is 100% natural and a fibre that regrows. Sheep live on grass, water, fresh air and sun. Wool is a fibre that grows naturally and is not created by humans. Every sheep grows a new fleece every year – that makes wool a renewable source of fibre. Merino - No finer feeling," is how Woolmark defines its product.