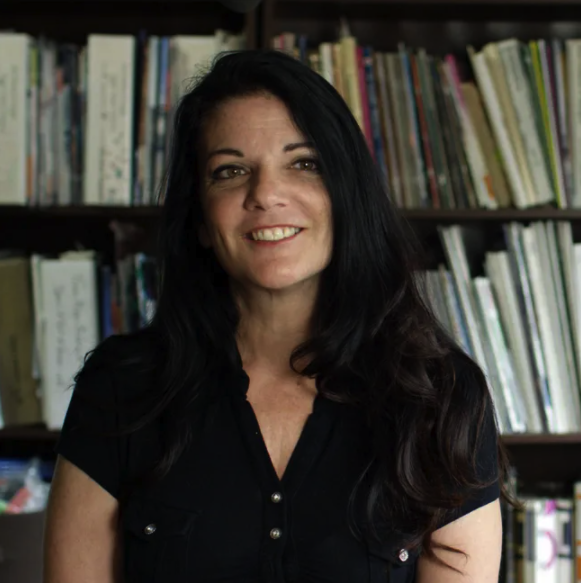 © Fabdesigns, Inc.
In the wake of the COVID-19 pandemic, as businesses around the world restart and open their doors after months of lockdown, many have pivoted to make much needed personal protective equipment, especially face coverings or facemasks for returning workers and for the general public.
California, USA, based Fabdesigns Inc. is a highly innovative company which offers product development and prototyping services in flat and 3D knitted technical textiles, technical training and other services to a wide range of international brands and manufacturers. Fabdesigns is owned and operated by husband and wife team Bruce and Connie Huffa, who are both known internationally as experts in their field. Knitting Industry spoke to Connie Huffa about how her company developed and brought to market an innovative range of 3D knitted face coverings. Here's what Connie had to say:
"When people used to talk about masks, normally we'd think of two things: either it was near enough Halloween, or superheroes. COVID-19 has changed us all, from how we see each other in our neighborhoods, to how we shop, socialize, and work the office. We're separated from, friends, co-workers, and clients by layers of cloth that muffle our words and hide everything but our eyes.
But what about this cloth, these pieces of fabric that we are trusting our health and lives to? With N95 masks relegated to first responders and health care workers, the general public is required to wear face coverings. If one takes a look around, these range from bandanas and scarves to highly sophisticated cut and sew models with pleats, to many repurposed quilting scraps. Most of these are very heavy, hot and sweaty, especially now that summer is upon us.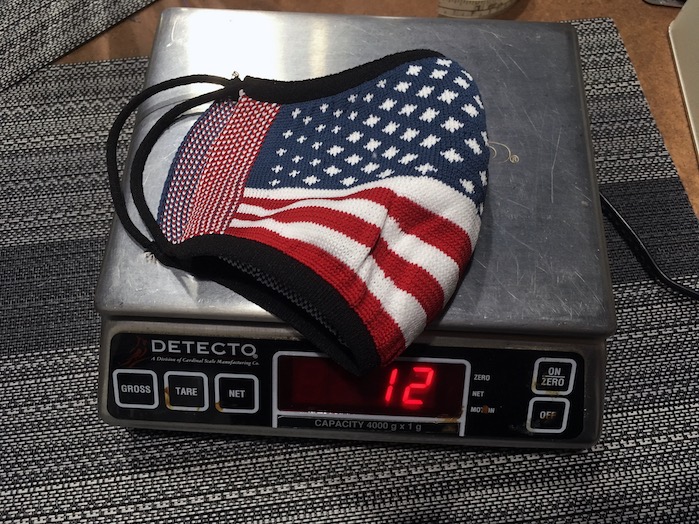 © Fabdesigns, Inc.
Breathability, filtration, fit, and weight also vary with the fabric types. Most cut and sew masks have bulky seams, thick straps, and fabrics that make it challenging to breathe, especially in summer heat. Few cut and sew masks are nice looking, or fun to wear, unless one looks at pricy custom and bespoke masks.
In California, our hot weather came in early April. It was nearly 100 degrees (38 C). Still, many people were jogging, biking, walking, and even working in public places with no masks or had masks tucked under their chins due to the heat.
Being innovative people ourselves, who created the lightest ever 3D knit running shoe, and also have a background in medical products, and materials science, Bruce and I knew there had to be a way to integrate performance materials just where needed in order to build masks that people didn't mind wearing, and could take on and off with just one finger and toss in the washer.
It's no secret that with 3D textiles, we're able to do more with less material, and that materials do matter. Technical textiles use each loop of each material that is knitted as additive manufacturing. Why not use the same performance yarns in workout gear to make masks that function the same as any general purpose, non-medical mask, but with a lot less material? But, how light could we actually make these, so that people would actually not mind wearing a mask?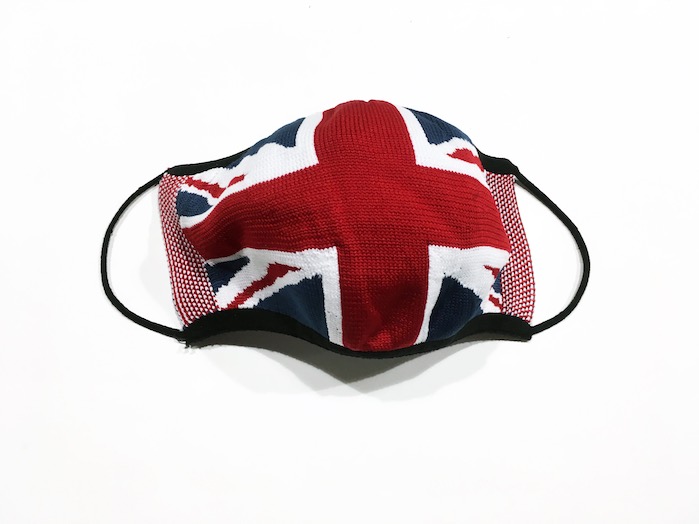 © Fabdesigns, Inc.
There are a lot of flat-knitted masks on the market, many by machine builders, and most trying to mimic surgical masks. What would make our mask different?
We built our mask designs in the same way we go about building any 3D project: First, we researched shapes, materials, and looked at what we liked and didn't like in what others were doing.
The US CDC gives guidance on face covering, use, laundering, and DIY tutorials on how to make general face covering from both woven and knit 'T-shirt' materials. The sizing fits about 80% of the adult population. (see: https://www.cdc.gov/coronavirus/2019-ncov/prevent-getting-sick/how-to-make-cloth-face-covering.html ).
The French AFNOR, EU (ECDC), and Belgium Health departments give directives on not only how to make general face masks, but also the desired filtration ratio of .3 micron penetration, and air permeability. A Cambridge University study compared everyday materials from pillowcases to T shirts for fit, filtration and breathability.
The Cambridge University researchers said: "The pillowcase and the 100% cotton T-shirt were found to be the most suitable household materials for an improvised face mask. The slightly stretchy quality of the t-shirt made it the more preferable choice for a face mask as it was considered likely to provide a better fit."
(see: https://www.cambridge.org/core/journals/disaster-medicine-and-public-health-preparedness/article/testing-the-efficacy-of-homemade-masks-would-they-protect-in-an-influenza-pandemic/0921A05A69A9419C862FA2F35F819D55 ).
Secondly, we created a design brief to set a direction. This was a project that needed to function really well and also look stylish and fashionable. We didn't want to just put white yarns on a machine like everyone else. Colour and texture are the first thing people respond to, so the initial idea was to work in a range of sport colours in yarn variations that people liked, while also giving them the function and structure a face cover required.
Our mask would:
• Need to function like a mask and not a sock or a sweater
• Be breathable, but double layered to comply with the CDC
• Need to fit the face or a variety of 3D face configurations
• Be integrated – no cutting or sewing
• Look cool
• Feel cool
• Easy to put on and take off
• Be reusable and washable like any other piece of work out gear
• Have nearly zero waste
• Be affordable
• It would be nice: Could we make these customized?
• It would be nice: Could we make these on demand?
At Fabdesigns, we blended the effectiveness of a double layered fabric, with the snug fit and dense stitch count that is recommended by the CDC and the Cambridge study. We considered making the adjustable nose wire style that could bend and fit more tightly to individual faces. We bought the materials, but after performing a risk analysis as we would in a medical DFMECA and PFMECA, we decided to omit the wire and the liabilities that it might create. We then broke our project down into phases:
· Phase 1 is experimenting with differing fibre, yarn types, yarn sizes, machine gauge variations, and structure combinations.
o Body fabric with 3D darts
o Inner pocket shape, thickness and tension
o Cheek side structure, structures and tensions
o Top edge – bridge of nose
o Bottom chin gathers
o Ear loops: structures, attachments and lengths
· Phase 2 is taking the elements that are approved from Phase 1 and placing them into the performance zone, connecting and transitioning them in 2D or 3D – depending on the design, and draping on a form.
o Matching the CDC and other government sizing to fit 80% or more.
· Phase 3 is taking the finalized design, refining the programs, and grading to each size until we're satisfied with the shape, wear, fit, material function, wash, and performance, as well as the manufacturing cycle time.
After dozens of iterations, we built several light-weight styles, which each contour the face looks like athletic gear in colours that people would want to wear, and which also can be produced 25% to 50% more rapidly than the machine builders'.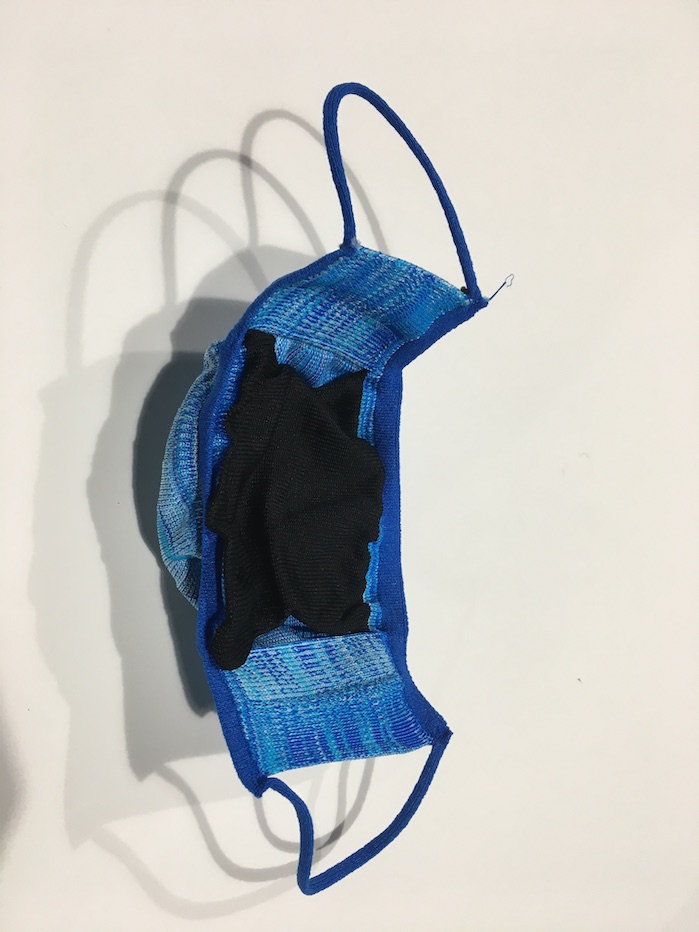 © Fabdesigns, Inc.
After selling the first few and speaking with clients who loved them, we found that the CDC measurements fit most, but not all adults. There aren't any other sizes given by the government - just the one size fits all. Once we started making these, we got requests in for 'small adult' size and graded it down a size. Then we got requests for XL and graded it up a size. We also had requests for kids' sizes since the CDC recommended masks for 2 years of age and over. After speaking to the Consumer Product Safety Commission and their extensive requirements for labelling, testing, and tracking of materials, we did not want to make children's products ever.
Fabdesigns designed and manufactured 4 styles of masks:
• 005 - double layer with pocket for filter material, available in S/M, M/L, L/XL, XXL
o 100% polyester body fabric – many from recycled drinking bottles and most are wicking fibres. The ear loops are a polyester blend for softness, stretch and recovery
o 100% combed cotton body fabric – per the CDC. The ear loops are a polyester blend for softness, stretch and recovery
• 003 - Triple knitted fabric in a snug fit with a rounded end shape to keep the fabric away from the mouth. This works best for athletes. Available in M/L.
o 100% polyester body fabric – many from recycled drinking bottles and most are wicking fibres. The ear loops are a polyester blend for softness, stretch and recovery.
• 007 – Double layered 3 colour tubular jacquard.
• 008 – a pleated version in 2 colour tubular birds-eye jacquard.
Fabdesigns successfully achieved the must have points in the original design brief, while also being flexible to customers' needs for size, colours, customization and larger quantities.
• Function with dense 12- and 14-gauge fabrics
• Are breathable, double layered fabrics
• Snugly fit a variety of 3D face configurations with the addition of sizes
• Are integrated – no cutting or sewing
• Look cool
• Feel cool
• Are easy to put on and take off with one finger
• Are reusable and washable like any other piece of work out gear
• Have 1 gram of waste
• Are affordable – we're making them at cost, so as not to profit from a pandemic
• Are customizable (full mask jacquard or graphics to logo placement depending on style)
• Making orders on demand works on a Kan Ban system
Our masks weigh on average 12 to 14 grams, depending on size - that's it! Bruce Huffa was able to get all the function, performance, and aesthetics of a pretty cool looking athletic fit from 12 grams of yarn."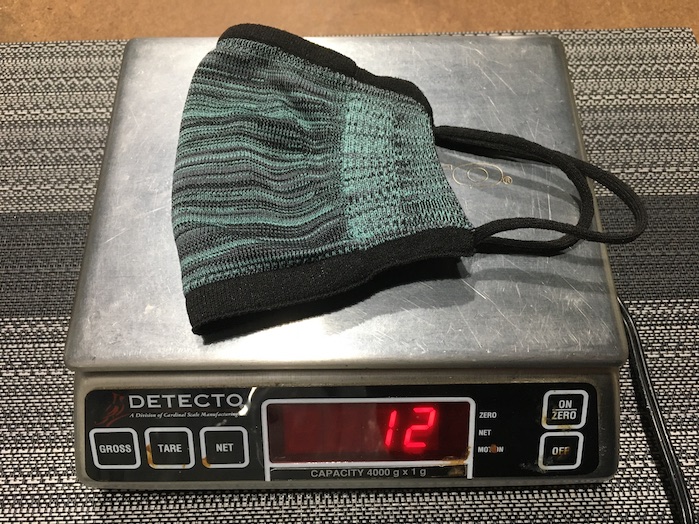 © Fabdesigns, Inc.
How to buy Fabdesigns masks
Masks are sold internationally on Etsy under Malibuknits and direct sales to many companies in US (Washington State, DC, Ohio, Texas, Silicon Valley, Michigan etc.) through the Fabdesigns, Inc. website, customized for businesses needing hundreds, a thousand, or more.