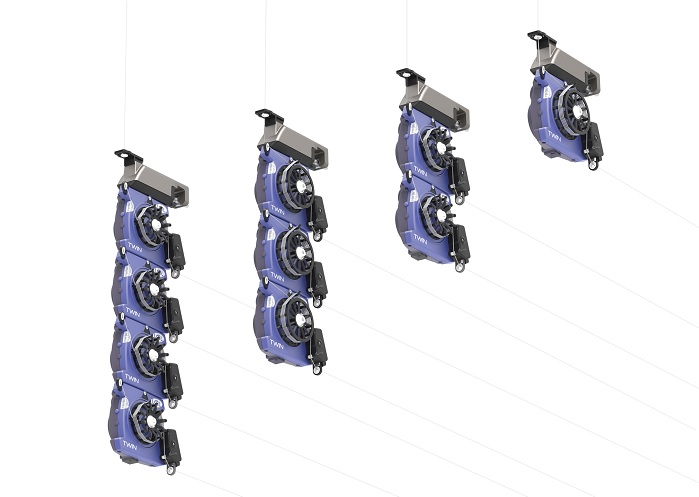 TWIN electronic positive feeder. © LGL Electronics
LGL Electronics, specialised in the development and manufacturing of yarn feeders both for weaving and knitting machines, will showcase innovative solutions for yarn feeding and tension control at the upcoming ITMA 2019 trade show that takes place next month in Barcelona.
For knitting applications, the company will present TWIN, an electronic positive feeder with yarn retrieving function, suitable for bare and covered elastomers, as well as for rigid yarn. The solution has a yarn measurement system, it is modular – up to 4 feeders can be stacked – and it offers quick reaction to speed variations of the machine. It also offers a ceramic tensor sensor granting precision, accuracy and quick response and a lower power consumption, according to the manufacturer.
Another product for knitting machines is REEL, a retrieving device for yarn in excess to be installed at the output of different type of feeders, either positive or negative, such as EcoPower 2 and Ecompact 2. It is designed to keep yarn tension constant between the feeder and the machine.
REATTIVO is a fast electronic brake that keeps the required tension correcting the variations very quickly. The linear motor with permanent magnets operates the TWM brake coaxially. It enables equal and constant braking all over the spool body at 360° degrees, according to the manufacturer, and is especially suitable for linear machines.
Further product developments in the knitting range include the new EcoPower 2 and Ecompact 2. The new EcoPower 2 has a motor with 74% higher torque for the version 57V DC, offering no increase in power consumption compared to previous model Ecopower.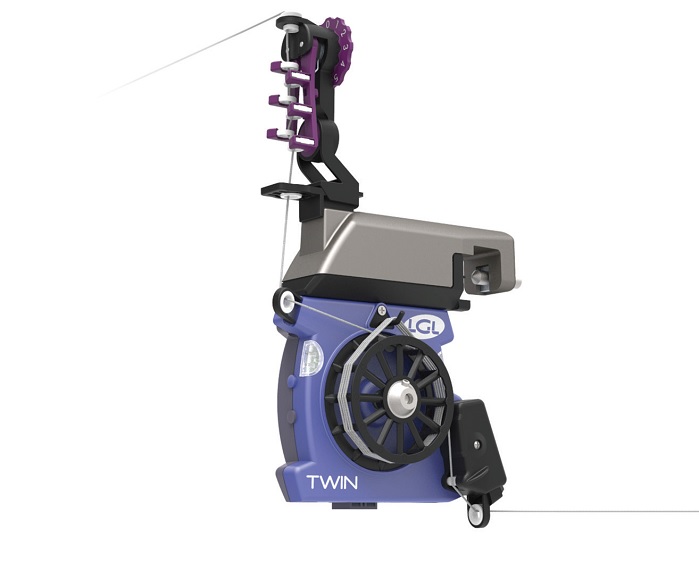 TWIN electronic positive feeder. © LGL Electronics
The new Ecompact 2 also has a motor with 74% higher torque for the version 57V DC and a load cell with variation of inductance, robust, reliable and resistant to chemical agents. The yarn consumption function measures and elaborates the yarn consumption of all the feeds, and yarn tension sensor is remotely programmable by laptop. Both solutions are available with electronic brake ATTIVO.
LGL Electronics was established in 1982 in Bergamo, Italy. The company is prolific in generating intellectual property and has been granted over 150 patents over the past thirty years. LGL is recognised as a specialist in the research, development and manufacture of yarn feeders for knitting and weaving machinery, offering innovative solutions.
The company is committed to the development of technology with low environmental impact. Since 2009, LGL's electronic feeders are green certified, granting high efficiency and reduction of energy consumption. "The development of every new device implies the challenge to further reduce power consumption compared to the previous one, goal achieved also by our new products on show at ITMA 2019," the company concludes.
This article is also appears in...